HappyFox Help Desk
What Is HappyFox Help Desk?
[New: Unlimited Agent Pricing] HappyFox is a web based customer support software hosted on the cloud. It helps to track and manage all customer support requests across multiple channels like email, chats, social media and phone in a centralized ticket support system. Integration with other web apps like CRM, live-chats, voice and bug tracking apps makes it practical help desk. Similar customer support queries can be handled using canned actions and smart rules to automate responses.
Who Uses HappyFox Help Desk?
Most commonly used by IT, Customer Service, Operations, Facilities, HR, Marketing and Finance teams. HappyFox is very versatile making it a great fit for companies of any size.
HappyFox Help Desk Details
HappyFox
Founded in 2012
HappyFox Help Desk pricing
Starting Price:
USD 29.00/month
Yes, has free trial
No free version
HappyFox Help Desk does not have a free version but does offer a free trial. HappyFox Help Desk paid version starts at USD 29.00/month.
HappyFox Help Desk Details
HappyFox
Founded in 2012
HappyFox Help Desk videos and images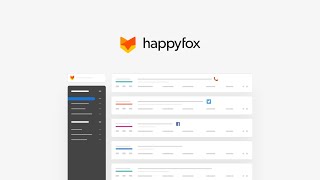 HappyFox Help Desk deployment and support
Support
Email/Help Desk
FAQs/Forum
Knowledge Base
Phone Support
24/7 (Live rep)
Chat
Deployment
Cloud, SaaS, Web-based
Mac (Desktop)
Windows (Desktop)
Linux (Desktop)
Windows (On-Premise)
Linux (On-Premise)
Android (Mobile)
iPhone (Mobile)
iPad (Mobile)
Training
In Person
Live Online
Webinars
Documentation
Videos
Features of HappyFox Help Desk
Abimbola K.
Customer Support Team Lead in Nigeria
Verified LinkedIn User
Entertainment, 51-200 Employees
Used the Software for: 6-12 months
Happyfox is changing the way helpdesk solutions run.
Pros:
First ,I have to commend the Happyfox team for running a good and effective support department. We switched to Happyfox in January and the experience so far , has been impressive. Setup time was a breeze ,and the support team were on hand to guide us through all hurdles during the first few weeks. I like how every conversation from emails ,social media messages ,voice calls etc are converted into tickets which we can track and respond to ,within the Happyfox interface.While making it easy to track key customer service metrics like first response time, time spent by each staff on tickets etc I will say Happyfox is changing the look ,function and feel of helpdesk solutions and I love this revolution.
Cons:
It is normal when trying a new innovative service to see it as all perfect. At this point, I see Happyfox as perfect,maybe I will find NEGATIVES as my organization continue using Happyfox.
Amanda K.
Sr Mangaer, HR in US
Retail, 5,001-10,000 Employees
Used the Software for: 1+ year
HR Help Desk Administrator
Pros:
We like that it is easy to use. It is rather simple and not overly complicated.
Cons:
The reporting is very challenging. I wish they had better reporting capabilities. I
Alternatives Considered: Zendesk
Reasons for Switching to HappyFox Help Desk: Happyfox could do about 75-80% of the features of the other 2, and was about 10% of the price of the others.
Kevin L.
Head of Operations in US
Computer Software, 11-50 Employees
Used the Software for: 6-12 months
Power User - HAPPY FOX, has allowed us to scale fast!
Comments: I am Head of Operations for an IpaaS company. We used Confluence and Jira but needed a ticketing system. ZenDesk being the one most people pointed to. However, after a lot of analysis, we decided upon Happy Fox - an excellent decision. Ease of use, low cost, scalable packages, solid integrations, and some of the best support we've worked clearly describe Happy Fox. Earlier this year we took on a larger client, requiring us to build out our SLA process - something HF does outstanding with their SLA features and Smart Rules. We then signed up for the HF BI reporting tool which drove it home - allowing us to clearly see in the report how we are doing before problems arise. Lastly, we've recently created branded support pages for key clients with tailored FAQ's and support articles. All throughout, the care of the HF employees is what truly stood out. [SENSITIVE CONTENT] with the BI team was relentlessly helpful and kind - never stopping until we had a resolution. [SENSITIVE CONTENT] in Sales was incredibly accommodating and never pushed more products. I cannot say enough about HF other than - sign up!
Pros:
Ease of use, scalability, price, support, integrations, and tools which make sense.
Cons:
There is nothing I do not like about Happy Fox.
Hospitality, 11-50 Employees
Used the Software for: 1-5 months
Source: SoftwareAdvice
DO NOT PURCHASE HAPPYFOX
Comments: We have had a most unfortunately experience with Happyfox, We contacted them as their product suited our requirements. About us:
We own 3 sales based businesses and are share holders major in another 2, now Happyfox do not know that we own several businesses, nor do they know that we are looking for a platform to roll out across the entire brand. Having a platform like happyfox is an imperative part of owning a sales based business. We contacted Happyfox regarding implementing Desk and Chat for our the two directors in one of our businesses. We sent a business email outlining research, potential opportunities for both businesses and also a implementation strategy for rolling out happyfox. Response:
10 days later, we received a generic email, that was a response from the head of sales that clearly hadn't read our email. 10 days later, now for a communication platform alarm bells are RINGING. If any of our consultants in anyone of our businesses responded to a potential client 10 days after the initial enquire, I would most definitely say they are not cut out for sales. Not only was the response incredibly late, the response itself as mentioned was generic and a completely erratic response offering a free trial. Which would be great usually, however we clearly put together a implementation plan for the HEAD of sales to read through. As a potential new client, you are left under valued, like your just another sale. We contacted the head of sales and requested the details of whom we could lodge a complaint to. As a business owner we grow as a business when someone leaves negative feedback. Its an imperative part of development that you dont want to hear, but when someones offering constructive feedback our ears as owners are open. Its an area we can potentially improve so the issue doesn't arise. Or if it does, then a action plan is in place. So instead of responding to our FB message, direct email, email to support and even a LinkenIn message that have chosen to completely ignore us.
Pros:
Great looking product Good website Good information
Cons:
Bad customer service Ridiculous email response times Failure to have a negative feedback process in place Happyfox treat you like your just another sale Undervalue you as a customer Generic responses Impersonal service (When you actually receive it) Mail track is a wonderful tool which enables you to know when someone reads your email. If you are going to read it, respond.
Verified Reviewer
Head of customer care in South Africa
Verified LinkedIn User
Retail, 1,001-5,000 Employees
Used the Software for: 1-5 months
Customizable to every need
Comments: The customer service from the team is beyond exceptional. Best ever.
Pros:
It is so adaptable. We could add fields we needed. We could add branding. Canned responses. It allows for tickets created by phone, email and social media.
Cons:
It is difficult to set up but the team is very helpful.
Alternatives Considered: Sprout Social, Klear and Meltwater
Reasons for Choosing HappyFox Help Desk: We grew too large in our business to not have a proper function build software.
Reasons for Switching to HappyFox Help Desk: It offer every thing I need. I could apadt it to match my current processes. It allowed for manual ticket entry if needed.