What Is ProWorkflow?
ProWorkflow is an industry-leading comprehensive project management tool for teams of 5 to 5000. 17 years of experience and trusted for over 3 million projects, we understand small details through to big data. Track Gantt chart tasks, Kanban boards, time, documents, communications, quotes and invoices. Our powerful API and customizable features let you easily tailor ProWorkflow. World-class customer support & free on-boarding makes the decision to join easy.
Who Uses ProWorkflow?
From small start-ups to huge enterprises - ProWorkflow is the best tool to keep track of progress and people. Customizable & adaptable to all of your business needs.
ProWorkflow Details
ProActive Software
Founded in 2002
ProWorkflow Details
ProActive Software
Founded in 2002
ProWorkflow videos and images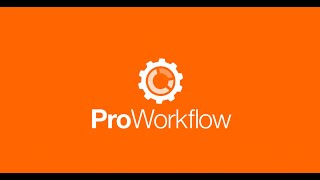 Compare ProWorkflow pricing with similar products
Starting price
USD 20.00/month
USD 99.00/month
N/A
USD 10.00/month
ProWorkflow deployment and support
Support
Email/Help Desk
FAQs/Forum
Knowledge Base
Phone Support
24/7 (Live rep)
Chat
Deployment
Cloud, SaaS, Web-based
Mac (Desktop)
Windows (Desktop)
Android (Mobile)
iPhone (Mobile)
iPad (Mobile)
Training
Live Online
Documentation
Videos
Jessica rose M.
Managing Director in South Africa
Verified LinkedIn User
Marketing & Advertising, 2-10 Employees
Used the Software for: 2+ years
Bring on tick Friday - Love ProWorkFlow
Comments: Our team are able to collaborate more. We have a greater transparency with clients & are overall much productive.
Pros:
Our team are able to collaborate & we are able to manage both projects (development/design) as well as monthly recurring tasks (agency social media posting/community management). ProWorkflow weekly workload app is a life saver & the team proactively have a "tick Friday" were we go home early if all boards are cleared and completed. Our business is able to see where the profitability lies within our services & where we can make improvements. Highly recommend this tool due to its ease of use & flexibility.
Cons:
For recurring tasks / monthly repetitive services of an agency you cannot just duplicate a current "project" and rename it. This would be an awesome time saving feature to have.
Hayley N.
Project Coordinator in US
Graphic Design, 11-50 Employees
Used the Software for: 2+ years
QA Graphics-Pro Work Flow Review
Comments: Overall Pro Work Flow has been a great experience. Their online chat and help service always helps when I'm stuck trying to update something or do something specific in a report. My customers have found it very easy to use as well which is a huge plus for me as we deal with hundreds of clients a month and multiple clients per project. The ability for me to be the administrator and to see everything for messaging, time reporting, time auditing, etc has also been a great tool for our business as well for my team.
Pros:
I like the ease of functionality on this software. I love being able to toggle between my work and my users and the ability to categorize projects, tasks, etc. The archive function is amazing and very easy to use. The ability to communicate between customers and my staff with the software is very smooth as well. Also, the ability of my customers to respond directly in their email inbox was a game changer. In the world where everyone has a million sites and passwords to remember, they don't necessarily have to remember this one in order to do business with us. My [SENSITIVE CONTENT HIDDEN] and I also really like the reporting that is available for staff time reporting, monthly project updates, etc.
Cons:
I feel like the app could use work. Honestly I don't use it and my clients tend not to use it as well. It's a bit hard to navigate to specific projects and the view is a lot different than the website so it's hard to communicate with them where they need to go.
Will M.
Director in New Zealand
Construction, 2-10 Employees
Used the Software for: 1-5 months
Source: SoftwareAdvice
Not worth the price
Comments: Overall for the price, there are far better, user-friendly & professional alternatives to Proworkflow.
Pros:
It has great features & reporting of data
Cons:
Terrible integration with Xero, a lot of double handing, inflexible invoices & quotes. Quotes & invoices look unprofessional. Outdated, expensive & glitchy.
Verified Reviewer
Administrative officer in Nigeria
Verified LinkedIn User
Government Administration, 501-1,000 Employees
Used the Software for: 2+ years
An impressive software at last
Comments: Our organization had more collaboration and transparency with clients since we opted to this software and productivity increased as projected. Thumbs up for a seamless operation.
Pros:
This software has a perfect team integration, custom field addition and also the integration of other financial softwares. Aside from the appealing interface, I love the fact that it easily connects with zero with an excellent tracking tool.
Cons:
Its almost impossible to duplicate a recurrent project,I believe such should be possible knowing fully well this is a monthly project. Another issue i have which must be considered is on the purchase of full account access on each of our contractors, its not economical if we have to purchase account access for 25 contractors who seldom use the software except when needed.
Design, 2-10 Employees
Used the Software for: 2+ years
Alternatives Considered:
I've tried everything else... ProWorkflow is the cream of the crop
Comments: I've been a customer for many years. I feel like a value to the company with the communication I get from you guys and support. I love how you take feedback and actually make your product better based on our suggestions. It makes me feel like I'm a part of building this great software.
Pros:
The customization is unmatched. You can really make this exactly what you need it to be. I have a very creative and visual brain but need to stay organized. This allows me to create what works best for my brain and has changed the game for onboarding clients, running projects and much more. I now come across like a type-a CEO.
Cons:
I wish there was more automation. That would be really great. I had tried out dubsado for this, but it is a really crap product in comparison. It automates and love the templates they had, but when it came to project management, there's no comparison.