What Is Salesforce Sales Cloud?
Drive growth with Sales Cloud 360, the best-in-class sales solution that has helped power the world's best sales teams on the world's #1 CRM platform. Firms of all sizes, industries, and geographies, realize value faster with Sales Cloud 360. Increase rep productivity with data driven selling by quickly deploying industry-specific apps and best practice processes. You also get access to 150,000+ sales organizations and a 2 million user-strong community that are passionate about sales growth.
Who Uses Salesforce Sales Cloud?
With Salesforce's multi-tenant cloud computing model we can serve the needs of companies of all sizes, in any industry. Our customers benefit from a shared main framework, while maintaining privacy.
Where can Salesforce Sales Cloud be deployed?
Cloud, SaaS, Web-based, Android (Mobile), iPhone (Mobile), iPad (Mobile)
About the vendor
Salesforce
Located in San Francisco, US
Founded in 2003
Phone Support
Chat
About the vendor
Salesforce
Located in San Francisco, US
Founded in 2003
Phone Support
Chat
Salesforce Sales Cloud videos and images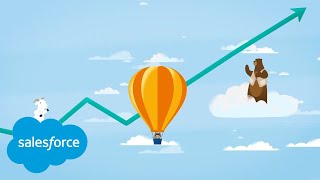 Compare Salesforce Sales Cloud pricing with similar products
Features of Salesforce Sales Cloud
Access Controls/Permissions
Activity Dashboard
Activity Tracking
Appointment Management
Appointment Scheduling
Auto-Dialer
Batch Processing
Bills of Material
Budgeting/Forecasting
CRM
Calendar/Reminder System
Call Center Management
Call List Management
Campaign Management
Cataloguing/Categorisation
Channel Management
Client Tracking
Client/Property Matching
Collaboration Tools
Commenting/Notes
Commission Management
Contact Database
Contact Management
Content Delivery
Content Management
Contract/License Management
Customer Database
Customizable Fields
Dashboard
Data Import/Export
Data Visualization
Document Management
Document Storage
Email Management
Email Marketing
Email Templates
Employee Management
Estimating
Financial Management
For AEC Industry
For Mac Devices
For Sales Teams/Organizations
For Startups
For iPad Devices
Interaction Tracking
Inventory Management
Key Performance Indicators
Knowledge Management
Landing Pages/Web Forms
Lead Capture
Lead Distribution
Lead Management
Lead Nurturing
Lead Qualification
Lead Segmentation
Live Chat
Marketing Automation
Mobile Access
Opportunity Management
Order Management
Performance Management
Performance Metrics
Predictive Analytics
Production Scheduling
Project Management
Prospecting Tools
Quality Management
Quotes/Estimates
Real Time Notifications
Referral Tracking
Reporting & Statistics
Reporting/Analytics
Sales Approval
Sales Pipeline Management
Scheduling
Search/Filter
Segmentation
Self Service Portal
Shared Contacts
Social Media Integration
Task Management
Territory Management
Third Party Integrations
Web-based Deployment
Workflow Management
Alternatives to Salesforce Sales Cloud
Reviews of Salesforce Sales Cloud
Federico A.
Manager in Uruguay
Verified LinkedIn User
Financial Services, 2-10 Employees
Used the Software for: 2+ years
Alternatives Considered:
Great product for all Business
Comments: This item is great and very important in our company, once you start using it you cannot go back to free or cheap CRMs.
Pros:
We loved that this tool became an indispensable part of our strategic meetings, provides valuable information, it is customizable, works in the cloud, not hard to implement and allow all levels in tha organization to perform analysis.
Cons:
The main disadvantage is the price, it is one of the most expensive CRMs in the market. It does have a 3-4 months learning curve.
Brett J.
Sales Associate in US
Automotive, 11-50 Employees
Used the Software for: 1+ year
The Only Sales CRM You Will Ever Need
Comments: I would 100% recommend Salesforce to any sized company seeking growth based around goal-setting and team collaboration. Whether your employer has a team of 2 sales people or even 200, salesforce is the only sales tracking, data management CRM you will ever need as the accessibility and individual components that are offered to each individual user are an incredible value for what the true cost is to use Salesforce. Our overall sales have boosted an additional 20-30% as a result of switching over to Salesforce!
Pros:
Salesforce is not only extremely user friendly but very beneficial to all sales associates within a set group as the reminders, sales tracking database, task manager, and calendar features have become integral components of each salesman's daily routine here at our dealership. Where we work in such a fast paced environment that's constantly changing and evolving, it's crucial to keep everyone on our Sales team on the same page regarding where vehicles stand within the sales/finance/service process to ensure we maximize every potential deal and are able to turn units as quickly and efficiently as possible with cost effectiveness in mind.
Cons:
There are no cons to using Salesforce that I have encountered yet as the software has been incredibly useful so far in keeping my Sales team updated, punctual, converting more leads, and more invested in their work output but having daily reminder's set to to held each Salesman accountable for their daily tasks and follow ups.
Shawn P.
Sr Partner Account Manager in US
Computer Software, 5,001-10,000 Employees
Used the Software for: 2+ years
The defacto CRM application for larger companies
Comments: As a user of the software, it works. We have a team of people dedicated to managing and customizing it.
Pros:
This is great for managing opportunities from every step of the sales cycle. It's incredibly customizable; it is completely different for each of the companies I've used it at.
Cons:
It's incredibly complex. I've never worked for a company that didn't say "our version of Salesforce is a huge mess". There needs to be more checks and balances before accounts are created, as there can be upwards of hundreds of accounts for what should be just one.
Santosh B.
Software Engineer in US
Automotive, 10,000+ Employees
Used the Software for: 2+ years
Alternatives Considered:
Excellent SAAS Platform - Salesforce
Comments: The overall experience with Salesforce Sales cloud was excellent. We are using Sales cloud to capture Lead generations using Web-to-Lead models, etc. A lot of features can be implemented using available out of box functions. There is less customization needed using the developers help to reinvent the wheel again and avoid more issues and downtime to release.
Pros:
Salesforce has a lot of features which we can use right away and has the benefit to build many automations and integrate other systems on the Salesforce platform with less hassle and more reliable way. Salesforce provides more ways to implement new things in the system using best practices.
Cons:
Salesforce support can be more quicker than current turn-arounds. The pricing could be less with purchasing more bundles in the Salesforce platform. The UI can be more better with changing color palettes and make the UI changes more quicker avoiding cache issues on the browser.
Robert G.
Business Development Manager in US
Printing, 51-200 Employees
Used the Software for: 2+ years
Alternatives Considered:
Excellent Software for Leads
Comments: I have found an immense amount of success generating leads and documenting my interaction with those leads. The cons are far outweighed by it's pros and I have found more success using SalesForce Cloud over any other sales/CRM software out there.
Pros:
I like this software over any of the others I have used and I find the functionality to be key to my success. It is by far its biggest pro. Being able to easily use the software as its intended to be used should always be paramount.
Cons:
The cons I have found are few and far between. If I had to pick one it would be the calendar and how it functions. I would like to see some tweaks there but, other than that, I have more pros than cons.