What Is QuickBooks Desktop Enterprise?
QuickBooks Enterprise (Save Up to 40%) is an end-to-end accounting software that can grow with your business. It provides all the tools your business needs, yet is easy to use. You can organize your books, manage inventory, track sales, and even run payroll, but at the fraction of the cost. With QuickBooks Enterprise, you save thousands of dollars a year vs. comparable solutions. Powerful and flexible, it also comes in editions designed to fit your specific needs. Take a free test drive today.
Who Uses QuickBooks Desktop Enterprise?
Editions dedicated to contractor, manufacturing and wholesale, nonprofit, retail, and more.
QuickBooks Desktop Enterprise Details
Intuit
Founded in 1983
QuickBooks Desktop Enterprise Details
Intuit
Founded in 1983
QuickBooks Desktop Enterprise videos and images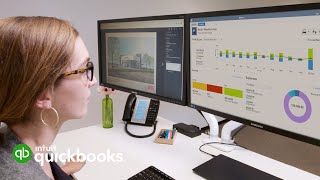 Compare QuickBooks Desktop Enterprise pricing with similar products
Starting price
N/A
USD 13.50/month
USD 8.00/month
N/A
QuickBooks Desktop Enterprise deployment and support
Support
Email/Help Desk
FAQs/Forum
Knowledge Base
Phone Support
Chat
Deployment
Cloud, SaaS, Web-based
Mac (Desktop)
Windows (Desktop)
Windows (On-Premise)
Linux (On-Premise)
Training
Webinars
Documentation
Videos
Features of QuickBooks Desktop Enterprise
Antonio E.
Product Consultant in US
Verified LinkedIn User
Information Technology & Services, 201-500 Employees
Used the Software for: 2+ years
Alternatives Considered:
Best Accounting Software for SMBs
Comments: With Quickbooks I can see the overall health of my business. I can track my expenses, sales, inventories, financial reports and other vital information for intelligent decision making.
Pros:
The thing I like most about Quickbooks is its completeness. For a small to medium sized business one gets to have a user friendly accounting and inventory system all rolled into one. Add to that its customizable reports suited to ones needed data. Some of these reports which are very vital to a business owner are Daily/Weekly/Monthly and even Annual Sales Report, Inventory related reports, Expenses Reports, Accounts Payables and Receivables, Banking and many more.
Cons:
Like any software, or for whatever product that is, Quickbooks also have some flaws. Personally, I would prefer the customization of forms to be more flexible where the user can have more control. An example of this is the addition of additional fields aside from those that are built-in. Another thing i don't like about Quickbooks is its limitation on the number of items and the size of its company file. In a previous company I worked at, I have reached the maximum number of items, thus I was faced with deleting some items, and those items had transactions connected to them. Finally, I suggest Intuit increase the maximum company size because in my experience, when I reached the maximum company file size, the system totally lagged big time.
Andrew K.
Chief Operating Officer in US
Verified LinkedIn User
Internet, 11-50 Employees
Used the Software for: 1+ year
Great Value for the Price
Comments: Overall, my company has been happy with our switch to QuickBooks. We previously used Netsuite for our accounting software, but the subscription fees were outrageous and the features were difficult to manage and execute. QuickBooks offers what we need for a very reasonable price on a user-friendly format. I would definitely recommend this to small businesses who do not need a lot of advanced functionality.
Pros:
The QuickBooks software is very affordable with lots of good out-of-box features. AR and AP functions are very easy to use for novice users of the software. There are a lot of templated reports that are very helpful for weekly and monthly accounting tasks (Payroll, Vendor Payments, Sales, etc.). The software also allows you to add on a variety of additional features through plug-ins, which you can access for a nominal monthly fee. For example, the BIll.com integration is excellent for paying your vendors online, eliminating the need for mailing out checks each month.
Cons:
The biggest issue with QuickBooks is their customer service department. Whenever we have issues that cannot be resolved by an internal administrator, it takes days and sometimes weeks before an Intuit rep returns our messages. We've been using the software a little over a year and have already been passed around to several different account reps. At one point, their response time was so poor I had to request a different rep. The other thing I find cumbersome with the software is the sales reporting. While the templates are helpful, I often end up with a lot of superfluous information, and the reports are not very malleable, even once exported to Xcel. This is an area I feel could be greatly improved with minimal effort from Intuit.
Albert T.
IT Tech in Botswana
Information Technology & Services, 2-10 Employees
Used the Software for: 1+ year
Of all the Accounting Software's I recommend QuickBooks Desktop Enterprise Proven best so far
Comments: Easy integration with other application/Software and makes invoicing easy and effective depending on your setup. QuickBooks is legendary Software and accommodates a very wide range of businesses. Most importantly it offers great tech support (On premise, Calls, Email and even Remote Support), another benefit is well represented documentation, and online help/Forums.
Pros:
The best and great news the online version of QuickBooks which means you can finish your work or do you from anywhere, will always be up to date with updates and new feature edition. File sharing Feature is the most needed tool for the accountant to easily exchange data they need to keep the books and do taxes. Payroll feature can be accessed through the software and has other features like loan funding all this can be done anytime, anywhere any device all you need in internet access.
Cons:
A software has to make your life easy problem in QuickBooks if you should make mistake it take hell lot of time to fix them as you have to follow all the steps for creation there has to be Delete, Undo or Edit button. Working under harsh boss your work is expressed so working with a Software keeps giving an Unresponsive error gets to your nerves as your boss will not take that for a reason but a bad factor on your part.
Medical Devices, 11-50 Employees
Used the Software for: 1+ year
quick but slow
Comments: This is a good product generally speaking however you have to pay close attention for simple deduction errors when finalizing.
Pros:
I like that it automatically calculates taxes for payroll accounts.
Cons:
Its pretty good product overall, but where it manages deductions and garnishments have to watch how much it is taking because it can be either too little or too much based on its calculations but may not be accurate for the individual.
Intuit Response
2 months ago
We're so glad you're enjoying QuickBooks Desktop, Corina! If you're seeing any inconsistencies with payroll tax calculations, this can typically be fixed/corrected by downloading the latest payroll updates and tax tables. You can do this in-product by: Selecting Employees, then select Get Payroll Updates. Choose the 'Download Entire Update' checkbox. Click Download Latest Update. Please also keep in mind that if there were any mis-calculations, payroll corrections, or rate adjustments done, Desktop will correct the payroll totals in small increments over time throughout future payrolls that are run to correct and compensate for the prior error/mis-calculation. This way, by the end of the Quarter and at year end, the totals for the taxes are correct over-all. This may be why you're seeing a slight variance in the payroll tax totals. However, don't hesitate to get in touch with our Tech Support Team using the (?) Help icon in-account, and we can take a look! -Faith, The QB Team
Verified Reviewer
VP Shared Services in US
Verified LinkedIn User
Construction, 11-50 Employees
Used the Software for: 2+ years
QuickBooks Enterprise - Got us back on track!
Comments: Ease of implementation, especially when pulling in data from multiple years. We also love the way you can switch from accrual to cash with one button.
Pros:
We recently switched back to QuickBooks after trying another accounting software for 2 years. The other system was a disaster, implementation was a nightmare and we never had true financial tracking or forecasting for the entire time we had it. Now that we are back with QuickBooks, we have accurate financial reports and perfect job costing. We will never leave again!
Cons:
I would say there are some minimal reporting shortfalls when looking at certain details of class breakdowns.