15 years helping Australian businesses
choose better software
What Is Zoho Creator?
Zoho Creator is an all-in-one low-code application development software platform that helps businesses digitize their operations 10x faster with a visual, intuitive approach to development.
We believe that every business is unique and our platform is built to address this uniqueness by delivering custom solutions. More than 13,000 organizations and 7 million+ users around the world trust us to be their technology partner. Start your custom application journey with Zoho Creator today.
Who Uses Zoho Creator?
A comprehensive low-code app development software that caters to the needs of businesses of all sizes (small, medium, and large enterprises) across industries.
Where can Zoho Creator be deployed?
Cloud-based
On-premises
---
Zoho Creator support
Phone Support
24/7 (Live rep)
Chat
Zoho Creator pricing
Starting Price:
USD 8.00/month
Yes, has free trial
No free version
Zoho Creator does not have a free version but does offer a free trial. Zoho Creator paid version starts at USD 8.00/month.
Zoho Creator support
Phone Support
24/7 (Live rep)
Chat
Zoho Creator videos and images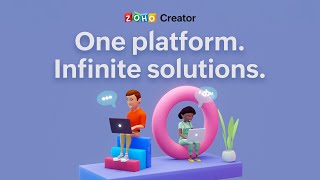 Features of Zoho Creator
3PL Management
API
Access Controls/Permissions
Accounting
Activity Dashboard
Activity Tracking
Activity/News Feed
Alerts/Notifications
Approval Process Control
Asset Tracking
Attendee Management
Audit Management
Audit Trail
Backup and Recovery
Barcode/Ticket Scanning
Business Process Automation
CRM
Calendar Management
Change Management
Client Portal
Collaboration Tools
Communication Management
Compatibility Testing
Compliance Management
Compliance Tracking
Configuration Management
Content Library
Contract/License Management
Corrective and Preventive Actions (CAPA)
Cost Tracking
Customisable Branding
Data Aggregation and Publishing
Data Dictionary Management
Data Import/Export
Data Replication
Data Storage Management
Data Visualization
Database Conversion
Debugging
Demand Forecasting
Deployment Management
Document Management
Drag & Drop
Email Marketing
Employee Database
Event Scheduling
Expense Tracking
File Sharing
Financial Reporting
Fleet Management
Forms Management
Graphical User Interface
Graphical Workflow Editor
HR Management
Incident Reporting
Integrated Development Environment
Integrations Management
Inventory Management
Inventory Tracking
Investigation Management
Iteration Management
Knowledge Management
Lease Tracking
Maintenance Management
Multiple Programming Languages Supported
No-Code
Offboarding
Onboarding
Online Payments
Order Management
Performance Metrics
Pre-built Templates
Process Modeling & Designing
Project Management
Purchasing & Receiving
Real Time Data
Registration Management
Reporting & Statistics
Reporting/Analytics
Requirements Management
Sales Forecasting
Self Service Portal
Shipping Management
Sourcing Management
Status Tracking
Supplier Management
Supply Chain Management
Support Ticket Management
Surveys & Feedback
Task Management
Templates
Tenant Portal
Tenant Tracking
Third Party Integrations
Transportation Management
Vacancy Management
Vendor Master Data Management
Vendor Payment
Version Control
Visual Modeling
Warehouse Management
Web/Mobile App Development
Workflow Configuration
Workflow Management
Alternatives to Zoho Creator
José
IM Manager in Dominican Republic
Verified LinkedIn User
Oil & Energy, 1,001–5,000 Employees
Used the Software for: 1+ year
Reviewer Source
Amazing tool for database creation and application
Comments: The amazing thing about creating applications, rules, and approval flow. The ease of creating tables with its different types of data, the ease of easy or complex calculations. The resources of the mobile application to be able to use it from anywhere.
Pros:
What I like most about this application is the ease and resources available so that the user with less experience in application development can intuitively generate an application that meets the needs of the moment.
Cons:
So far everything is adjusted to the required needs.
Alternatives Considered: Microsoft Access
Reasons for Switching to Zoho Creator: Easy way to create and manage the database.
Publishing, 11–50 Employees
Used the Software for: 2+ years
Reviewer Source
Extremely Versatile - Perhaps Too Versatile.
Comments: All in all, I would rate my experience as a 9 out of 10. Building basis databases and creating reports is very straightforward and by and large you can do a lot of things with their drag-and-drop interface quite easily. I do admit to not being very impressed with their support, and occasionally we've had issues with server uptime, but their pricing is fair and the tool is powerful. In spite of the shortcomings I have expressed, I still wouldn't hesitate to deploy Zoho again in another enterprise. It continues to drive our daily production schedule with hundreds of projects simultaneously in motion.
Pros:
I ran a web development firm for nearly 20 years prior to moving into a different industry, so I knew the power of databases and the importance of them in day to day processes. Moving in to a startup with zero infrastructure, one of my first tasks was to get a production database going. We struggled along for awhile passing Excel spreadsheets back and forth for a few months and quickly outgrew that. I did not want to create a web app from scratch with mySQL. We didn't have the developers, time, or budget to do that. So, I started looking around for a tool that would let me do what I needed to do. Zoho Creator was a perfect match. To be honest, there's not much you can't do with this tool. It will probably handle 90% of what most mid-sized businesses need. It's totally customizable, and their Deluge programming language lets you do special things that most basic web-based drag-and-drop solutions wouldn't be able to handle. To be honest, Zoho is almost too powerful. It fits our needs and we've barely scratched the surface of its abilities.
Cons:
The documentation for Zoho Creator is fair, but if you can't get your questions answered through their knowledge base, finding an expert isn't easy. Their support email is not too helpful. And while they do have a database of experienced Deluge developers that you can call on, it seems a little cumbersome to have to bring in a third party. Also, there are a couple of different versions of Zoho Creator currently in deployment. So, depending on which version your account is on, the documentation might differ - the features certainly do differ. It's a very very powerful product, but because it is a closed-source, proprietary solution, you're somewhat at the mercy of Zoho to get answers to your programming questions.
Phill
New Zealand
Verified LinkedIn User
Food Production
Used the Software for: 2+ years
Reviewer Source
Source: GetApp
Security flaw within Zoho Creator
Pros:
I've been using this app for a couple of years and a lot of my business is based around it. I would usually rave about how good it is
Cons:
I have a data security issue with the app. The product claims that your user data is protected, but there is a flaw with the way the dropdown menu data is shared. Lets say you enter some data in one sheet, and want to use this data in another sheet via a dropdown menu. Not only is your data shown, but so is everyone else. This cannot be fixed by profiles / roles / filters etc. I am on the unlimited users plan and this is a serious flaw in the system for me. I have been unable to further develop my app for a month or so and take it to the next level for my business. I have communicated this with Zoho and they have acknowledged the issue and told me a developer can fix the problem. I have paid one of their certified developers to fix this for me - but he just took my money and hasn't been in touch for a month or so. I have made a formal complaint to Zoho about him, but he is still listed on their website as a certified and recommended developer. I have asked numerous times for help and have got no where. I am now just being passed from one unknown support person to the next. I am absolutely fed up. It seems that this issue could be solved in an hour or so, but I have now probably spent over 12 hours of my own time on it and still don't have a solution.
Gabriela
Support enginner in Peru
Verified LinkedIn User
Computer Software, 2–10 Employees
Used the Software for: Free Trial
Reviewer Source
Building applications without code.
Comments: It has helped me to make tests or design paths of applications at a surprising speed, it is suitable for all types of developers: from a junior to a senior.
Pros:
Its most outstanding functionality is the possibility of creating applications without the need to know programming through codes, thus streamlining processes and adapting to the needs of each company.
Cons:
It is a good application but it has difficulties in the construction of complex software, besides the security measures required may not be those given by Zoho.
Zach
Music Teacher/ Business Owner in US
Music, Self Employed
Used the Software for: 2+ years
Reviewer Source
Happy User
Comments: Tracking billing, services, expenses, and clients in one place has made zoho my one stop shop. Great customer service whenever I need it.
Pros:
It is what you put into it. I'm happy with mobile access through the web and endless customization abilities.
Cons:
Some time so many customizable options can be overwhelming. It's clean, but if you aren't in it regularly and they make a big backend design change... you may get lost really easy.
Alternatives Considered: Salesforce Sales Cloud
Switched From: TrackVia
Reasons for Switching to Zoho Creator: I needed something more like a simple relational database. I didn't really feel like what I needed from a product was customizable in other strictly CRM products.