Who Uses Trello?
Trello is for teams of all sizes, for the creators and doers, and for those who take dreams to done. Trusted by millions, Trello powers teams all around the world.
What Is Trello?
From sales and marketing to HR and operations, teams can design and customize Trello to fit their unique needs and work styles. And with over 100+ integrations with other key tools like Google Drive, Slack, Jira and more, Trello is a living, breathing project hub of cross-team collaboration no matter where your work needs to happen. Trello brings joy to teamwork by making it transparent and easily shareable across boards and teams.
Trello Details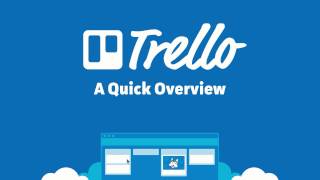 Play
Trello has a free version and offers a free trial. Trello paid version starts at USD 12.50/month.
---
Pricing Details
Trello offers Free, Business Class, and Enterprise plans priced per user/mo See pricing details
Trello deployment and support
Deployment
Installed - Mac
Cloud, SaaS, Web
Installed - Windows
Mobile - iOS Native
Mobile - Android Native
Training
Live Online
Webinars
Documentation
Trello Features
Agile Methodologies
Budget Management
Client Portal
Collaboration Tools
Cost-to-Completion Tracking
Customizable Templates
Gantt Charts
Idea Management
Kanban Board
Milestone Tracking
Portfolio Management
Resource Management
Time & Expense Tracking
Traditional Methodologies
Collaboration Tools
Create Subtasks
Gamification
Gantt/Timeline View
Mobile Access
Percent-Complete Tracking
Recurring Task Management
Reporting/Analytics
Spreadsheet View
Task Board View
Time Tracking
To-Do List View
---
Review software
Share your experiences with other software buyers.
Write a Review!
Handel H.
Videographer
Media Production, 2-10 Employees
Used the Software for: 1-5 months
Overall Rating

Ease of Use

Features & Functionality

Customer Support

Value for Money

Likelihood to Recommend
Reviewer Source

Reviewed on 28/07/2019
"Incredibly useful task planner"
Comments: Overall since implementing, the entire team has grown in efficiency of task planning. We are getting more accomplished with this program. We are all very happy with its use despite the drawbacks listed.
Pros: The "card" system is innovative and highly efficient. The ability to see all your tasks allows you to prioritize and organize what to accomplish. Overall runs smoothly with a very clean user interface. It is easy to use and requires little to no training. Tasks can be assigned to multiple people, and can be checked off as "completed" by whomever - making tracking and rewards a breeze. The calendar plugin is very helpful. The use of plugins is incredibly useful as well.
Cons: There are several lacking features. There is no ability to set a time-stamp on a project, (how long it will take) outside of using the calendar feature. You cannot assign an approximate time to complete a project. Also there is no messaging function, only "comments". This is very limiting. Also, there is no way to divide cards and tasks under a single person. A single person will only have all their tasks in a big pool, color labels help but do not break it up making it easy to read. When a card is archived, who knows where it goes, it vanishes really. no ability to delete cards.
Reviewer Source

Reviewed on 28/07/2019
Pearl M.
Client Service Associate
Computer Software, 11-50 Employees
Used the Software for: 2+ years
Overall Rating

Ease of Use

Features & Functionality

Customer Support

Value for Money

Likelihood to Recommend
Reviewer Source

Reviewed on 27/10/2020
"Task management and project handle never been this easy for me"
Comments: I enjoy and use it regularly for my personal and professional life, very strong task management platform .
Pros: Trello can be used by the company for very unique tasks. We were also able to specifically decide where tasks need to be. We also have used certain resources that connect with Trello in order to provide much more features. Trello does have many functions that these can be modified. I must admit I am just a board collector for Trello so I use various boards in multiple ways. My regular schedule, my residence stock, medical information for family use, and many more, I use this for personal usages. I use this for my organization to monitor of my proposals for ideas.
Cons: Trello operates very well mostly. We get some difficulties of our automated Zapier product from time to time use it to a considerable extent, where even the rate limitations are surpassed. However we modified those things at the Zapier side, So we prevent repeated issues. This will be great if customized automation became possible to help sustain a structure of notifications and indicators, as well as a level of administration management. So we could notify specific person for specific task or project automatically
Reviewer Source

Reviewed on 27/10/2020
Verified Reviewer
Senior Producer
Computer Games
Used the Software for: 2+ years
Overall Rating

Ease of Use

Features & Functionality

Customer Support

Value for Money

Likelihood to Recommend
Reviewer Source

Reviewed on 10/07/2018
"Great for the basics, but struggles with anything more."
Comments: It helps us with quick organisational tasks, and seeing ideas laid out infront of us does help with productivity. But sometimes Trello just isn't powerful enough for actual task management and tracking, and this is a chore having to move your cards into another system all the time. It should have a pro-level tier for people who want more control over their management of the boards.
Pros: Trello is great, it's simple to use, and has loads of clever UX devices that make tracking and updating tasks a joy. We use it quite often within our organisation whenever something needs "organising fast" - we're not expecting to track the progress of the entire project through Trello, but the occasional breakout. We've most often used Trello to round up our "ideas" phase, and then moved onto a more complex project management tool after that. The interface is simple, the free level is "about right" and there are just enough features for you to get going quickly. Trello is great for quick organisational tasks, that need to be presented in a visual way, or they are good for information sharing (literally a pin-board of ideas works well) - and has reduced the need for post-it-notes everywhere in the office.
Cons: There comes a point in every Trello boards life when the user will go "ok, now it's time to move this all away from Trello" Task management is .. laborious at best, with no real way of tracking time, burndowns, productivity, velocity, or any other metric that tells a project manager if the job is "getting done", it's simply not built for that and trying to implement methods that will make it work, just result in frustration. It's also a bit lightweight on the features for the free trial version, quite a few things are locked off behind the paywall (which is fine) - but also, we feel that there isn't *enough* features behind the paywall which would incentivise us to purchase a license. So the bottom line with Trello is it's great for short term, simple tasks and idea sharing, but anything more heavy duty that needs to be updated regularly and it will struggle.
Reviewer Source

Reviewed on 10/07/2018
Brian S.
Marketing Consultant
Marketing & Advertising, Self Employed
Used the Software for: 2+ years
Overall Rating

Ease of Use

Features & Functionality

Customer Support

Value for Money

Likelihood to Recommend
Reviewer Source

Reviewed on 21/10/2020
"Trello is Perfect for a Single User Who Likes Kanban"
Comments: I've been using Trello since 2015 (it's almost 2021) and I plan to continue using it every day. I have dropped it occasionally for other project management tools (JIRA, Asana--both because of clients) but I came back because I need something very simple for my client work. I wake up every day and pop open my calendar and Trello to see what's on the agenda. I also check it in between almost every work session or meeting. I move cards around as they get done or re-prioritized and try to focus only on the tasks I need do each day. My work output is measured on the outcomes I get for my clients and how much I can accelerate their learning while working together. I just need a tool to get out of the way of my work and Trello does that really well. Highly recommend for a single consultant or freelancer. I can see this working well for small teams that work in semi-formal sprints and need to collaborate too.
Pros: Simplicity. Trello uses a very simple hierarchy to organize tasks. You can have 1+ boards and each board can have vertical lists that contain your cards. I use it to organize my tasks into these lists: "To Do Today", "To Do This Week", "Done", "Backlog", and "Blocked". With very little maintenance throughout the week and then at the beginning of every week, I can easily see the roadmap for the week. Major plus is the addition of labels. I only work with 3 - 6 clients at one time. Instead of having several boards and having to click through each one to manage tasks, I have them on the same board and tagged with different colored labels. Since I will have 10 - 20 tasks in a week, this makes it easy to see that all my client projects are making progress. All in all, I need simple task management across a few projects and this is better than other software that I use for that. I actively use Asana on a specific project and have used JIRA extensively but I still prefer this for my consulting work. Lastly, getting one free power up on the free plan is nice. I use the recurring tasks power up and have 5-10 recurring tasks (monthly for payroll, weekly for recurring meetings).
Cons: The search function and the reporting are the weak points. In particular, the search function makes it very hard to find information. I think if you have a robust team or use your project management tool as a way to look back at past solutions, you may find this lacking. I keep most of my notes in G Docs because of this so this isn't an issue very often. I probably run into this 1-2x/month. Reporting isn't part of Trello from what I can tell. I don't need super robust reporting but I did start using a process where it would be nice to get an export. I ended up upgrading to the basic paid plan to do that but I didn't find it useful enough to continue paying for. Related, you only get one free power up. I think this is acceptable amount since...it's free. But I rarely look into the other power ups since I know I need the recurring one. I did see that they have a Trello Gold plan for $5/month which gives you 3 power ups. That seems worth it as a single user (although I won't revisit needing to upgrade until I revisit my processes at the turn of the year).
Reviewer Source

Reviewed on 21/10/2020
Traci W.
Blogger
Online Media, Self Employed
Used the Software for: 2+ years
Overall Rating

Ease of Use

Features & Functionality

Customer Support

Value for Money

Likelihood to Recommend
Reviewer Source

Reviewed on 12/10/2020
"My number favorite organization tool ever"
Comments: After not being very productive with my blog for a long time, because for me in order to be productive I need to be organized, Trello was the answer to my prayers. I have been so much more productive since implenting Trello. I can find things that I need quickly instead of wasting time finding or not finding what I need when I need it.
Pros: Trello is so customizable and has so many features. I have to admit I am a Trello board hoarder and I use different boards in different ways. I use it for personal use- my daily calendar, menu planning, kids school stuff, household management, household inventory, family medical records, and so much more. For my business, I use it to track all my content ideas, content calendar, affiliates, training, workflows, products, product ideas, and so much more. It is so customizable and easy to track where I am with things. If I have someone help me on a project it is easy to keep track of who is where so we don't have to keep checking in with the other person which frees up more time to get things done.
Cons: I haven't really found anything I don't like about it. The worst I could say about Trello I guess, and it is just a personal thing, I wish it would be easier to see/access cards that are lower. I can scroll down but I like to see everything on my screen at once. I don't know how they would fix this as I just have so many cards.
Reviewer Source

Reviewed on 12/10/2020