What Is Buk?
At Buk we know that as a human resources manager you want to create a happier workplace. We understand the importance of people and the need for companies to provide an excellent work environment, that is why we have already helped more than 1,200 managers and heads of hr with software solutions that tremendously facilitate administrative tasks and paperwork. This way they have more time to create a happier workplace and be the hero of their employees.
Who Uses Buk?
Todo encargado de recursos humanos en búsqueda de crear un lugar de trabajo más feliz. Un Software de Recursos Humanos para atender todas las necesidades de tus colaboradores.
Buk videos and images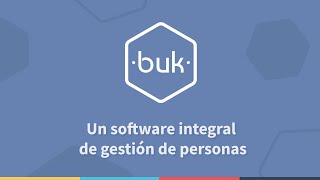 Compare Buk pricing with similar products
Starting price
N/A
N/A
N/A
USD 4.00/month
Buk deployment and support
Support
FAQs/Forum
Knowledge Base
24/7 (Live rep)
Jose B.
ingeniero en sistema in Chile
Verified LinkedIn User
Computer Software, 201-500 Employees
Used the Software for: 1-5 months
impressive
Pros:
what i liked and impressed with this software is that i can sign important documents with one click without having to be in person, also the benefits of points to redeem for rewards, it is excellent, i love it
Cons:
at the moment I have nothing bad to say.
Cristian V.
Jefe de Control de Gestión in Chile
Leisure, Travel & Tourism, 11-50 Employees
Used the Software for: 6-12 months
Alternatives Considered:
Gran Experiencia con BUK
Comments: La forma de acompañar en los procesos de implementación, y posteriormente como soporte, ha sido muy beneficioso para nosotros. Particularmente por mi parte, no había experimentado previamente gestionar las operaciones relacionadas a RRHH. Al usar BUK, he podido clarificar consistentemente mis dudas sobre los procesos de remuneración en general, considerando todas las variables que inciden en sus cálculos.
Además, hemos tenido una relación muy satisfactoria desde el punto de vista comercial con BUK. Nos han apoyado en estos tiempos difíciles de pandemia.
Pros:
En general creo que es un excelente software, robusto y rápido. Muy recomendable.
Cons:
Sé que no depende de BUK, pero sería muy bueno lograr integrar la información disponible en PREVIRED, a fin de no estar verificando mensualmente. (Indiferente de las notificaciones de FUN que envía el sistema PREVIRED)
Daniel R.
JEFE RHH in Chile
Hospitality, 201-500 Employees
Used the Software for: 6-12 months
MUY BUENA ACCESIBILIDAD Y FACILIDAD
Comments: En general muy bien, fácil acceso y fácil de usar. Servicio al cliente debe mejorar si o si, mucho tiempo de respuesta.
Pros:
La facilidad de uso y las constantes actualizaciones y mejoras. El que tenga otros proceso incluidos lejos lo mejor, evaluación de desempeño, beneficios etc..
Cons:
el proceso de finiquitos vacaciones progresivas
Francisca lissette G.
analista de rrhh in Chile
Pharmaceuticals, 201-500 Employees
Used the Software for: 1+ year
Alternatives Considered:
Buen sistema de RRHH
Comments: En general mayores problemas no he tenido, para mi es de fácil uso, es práctico, solo que cuesta un poco que las personas se adapten a las tecnologías y a los cambios.
Pros:
Destaco la firma electrónica de documentos, es un sistema práctico y fácil de usar, tiene amplitud en el área de rrhh, buena calidad de servicio al cliente, amabilidad , en general estamos muy satisfechos con el uso de buk en la empresa.
Cons:
que faltan algunas funcionalidades, he enviado la propuesta pero aún no tengo respuestas.
Ilis R.
Encargado de RRHH in Chile
Management Consulting, 11-50 Employees
Used the Software for: 6-12 months
PRACTICIDAD
Comments: Excelente, me ha facilitado mucho mi labor diaria, he tenido mayor rendimiento y eficacia en los procesos.
Pros:
Es una herramienta muy útil para llevar el control del RRHH, desde las remuneraciones, hasta las evaluaciones, encuestas, ayuda a agilizar los procesos de firma de documentos, el mismo colaborador puede visualizar y descargar su liquidación de sueldo, solicitar vacaciones entre otros.
Cons:
Algunos aspectos han sido un poco complicado sobre todo para la parte de las evaluaciones, son muchos los procedimientos.