What Is QuadMinds?
The most complete route optimization software to organize your deliveries
Who Uses QuadMinds?
E-commerce, Textil and fashion industry, Food and beverage, logistics, couriers, among others
Where can QuadMinds be deployed?
Cloud, SaaS, Web-based, Mac (Desktop), Windows (Desktop), Linux (Desktop), Windows (On-Premise), Chromebook (Desktop), Android (Mobile)
About the vendor
QuadMinds
Founded in 2010
Phone Support
Chat
About the vendor
QuadMinds
Founded in 2010
Phone Support
Chat
QuadMinds videos and images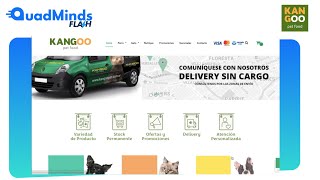 Compare QuadMinds pricing with similar products
Features of QuadMinds
3PL Management
Carrier Management
Customer Database
Customer Management
Customer Portal
Delivery Tracking
Dispatch Management
Drag & Drop
Driver Management
Employee Management
Fleet Management
For Courier Services
Fuel Management
GPS
Incident Reporting
Inspection Management
Live Driver Tracking
Maintenance Management
Mileage Tracking
Mobile Access
Mobile Signature Capture
Order Management
Performance Metrics
Proof of Delivery
Reporting/Analytics
Route History
Route Optimization
Routing
Scheduling
Shipment Tracking
Shipping Management
Third Party Integrations
Transportation Management
Two-Way Communication
Alternatives to QuadMinds
Lucas C.
Veterinarian in Argentina
Veterinary, 11-50 Employees
Used the Software for: 1-5 months
Quadminds Review
Comments: A system that allowed me to save time, reduce costs and grow with the same structure
Pros:
View all my orders on a map and make the most favorable delivery route
Cons:
once optimized and manually corrected it is not possible to load new orders to the same route without deconfiguring the changes made
Pablo anibal F.
director in Argentina
Veterinary, 11-50 Employees
Used the Software for: 1-5 months
Excelent and useful product
Comments: The system is really useful and the programmers are very kind.
Pros:
What I like most about this product is that it broadly simplifies our job. It has lots of different tools.
Cons:
Sometimes the geolocation is poorly provided, so this kind of mistakes make our jobs less efficient.
Alfredo luis S.
Jefe Logistica in Argentina
Logistics & Supply Chain, 11-50 Employees
Used the Software for: 2+ years
Monitoreado y optimizado
Comments: A lo largo de los años he usado Quadminds en distintas empresas, en todas con muy buen resultado
Pros:
Muy practica la implementación y la interacción con excel. Muy claro el monitoreado de vehículos, choferes y vendedores. Lo importante en mi caso es la información que se obtiene de los distintos reportes. No estamos pudiendo rutear con la herramienta por un problema de nuestro ERP, pero lo he usado en otra empresa con buenos resultados
Cons:
Hoy dia la respuesta de soporte a clientes esta siendo muy lenta y no siempre dan curso a lo planteado
Joaquin I.
Gerente de Operaciones in Argentina
Logistics & Supply Chain, 501-1,000 Employees
Used the Software for: 1+ year
Suprema plataforma
Comments: Solucionamos los problemas de ruteo, mejoramos la previsibilidad y la información sobre los pedidos. Tenemos un control exacto sobre las entregas y su estado.
Pros:
El realmente increíble la facilidad de implementación y las prestaciones que brinda la plataforma, todo esto apoyado en un planificador solido que los dueños del programa se preocupan en seguir mejorando. Constantemente están pidiendo retro alimentación en los usuarios, para luego agregarlas como funciones generales que puedan ser utilizadas por otros clientes.
Cons:
Echo de menos la función de mantenimiento, que no ha sufrido mejoras.
QuadMinds Response
6 months ago
Muchas gracias Joaquin por tu feedback.
Gabriela D.
Jefe de Distribucion in Paraguay
Verified LinkedIn User
Logistics & Supply Chain, 51-200 Employees
Used the Software for: 1-5 months
Alternatives Considered:
De lo mejor en cuanto a productos de rápida implementación
Comments: La implementación fue rápida y sencilla, la herramienta es fácil de entender y la capacitación fue muy bien acompañada a la par de las pequeñas customizaciones que se realizan en la puesta en marcha. Las veces que recurrimos al soporte tuvimos respuestas rápidas.
Pros:
Rápida implementación, facilidad de uso, herramienta intuitiva, respuesta de soporte rápida y efectiva. Atiende a gran parte de las necesidades del negocio.
Cons:
Faltarían algunas funcionalidades necesarias para el negocio como rendición de viajes, cobranzas. Poder agregar mas segregaciones además de "agrupación". Nosotros hoy lo utilizamos para diferenciar el laboratorio pero además podría ser interesante poder filtrar el tipo de cliente y así rutear primero ciertos tipos de clientes.
QuadMinds Response
6 months ago
Gracias Gabriela por tu feedback.