What Is Roofr?
Roofr offers accurate roof measurement reports for $10 delivered same day or you can measure it yourself using the free DIY software. Every report includes 6-pages outlining total squares, pitch, edges (including hips, valleys, ridges, flashing, and more).
Roofr also allows users to send impressive branded proposals to leads so they can stand out from the competition and sell more jobs.
Start for free now and start winning more work!
Who Uses Roofr?
Roofing Contractors - $10 roof measurement reports delivered same day or use the free DIY software. All reports are accurate and include all details of the roof. No fees. Unlimited users.
Roofr Details
Roofr
Founded in 2017
Roofr Details
Roofr
Founded in 2017
Roofr videos and images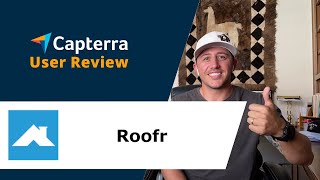 Compare Roofr pricing with similar products
Starting price
USD 10.00/one-time
USD 18.00
USD 129.00/month
USD 12.00/month
Roofr deployment and support
Support
Email/Help Desk
FAQs/Forum
Knowledge Base
Phone Support
Chat
Deployment
Cloud, SaaS, Web-based
Mac (Desktop)
Windows (Desktop)
Linux (Desktop)
Chromebook (Desktop)
Training
Live Online
Documentation
Videos
Features of Roofr
Accounting
Accounting Integration
Activity Dashboard
Activity Tracking
Aerial Measurement
Alerts/Notifications
Billing & Invoicing
CRM
Calendar Management
Commercial
Contact Database
Contract/License Management
Customer Database
Customer Portal
Customizable Fields
Customizable Reports
Customizable Templates
Dispatch Management
Document Storage
Electronic Payments
Electronic Signature
Email Templates
Equipment Tracking
Estimating
GPS
Industrial
Inspection Management
Interaction Tracking
Invoice Management
Job Costing
Job Management
Job Scheduling
Job Tracking
Lead Management
Material Ordering
Mobile Access
Mobile App
Photo Capture
Purchase Order Management
QuickBooks Integration
Quotes/Estimates
Real Time Reporting
Real-time Updates
Reporting & Statistics
Scheduling
Task Scheduling
Team Management
Time & Expense Tracking
Work Order Management
Workflow Management
Nicholas L.
President in US
Construction, 11-50 Employees
Used the Software for: Free Trial
Alternatives Considered:
Pleasantly Surprised - Understatement of 2020
Comments: Our business is predicated on the fact that we are precise in every measurement we make, and thus, are able to competitively provide solutions to our clients which are priced according to the market we serve. Without being thorough, replete in our ability to heavily rely upon the technologies which guide our proposal process, we would not maintain the trust we have with our clients. Roofr allows such precision, as it is embedded in their product stem to stern.
Pros:
We have relied heavily upon a software we've used for years, and until switching to Roofr, never had the need to look elsewhere. A friend of mine whose company also switched to Roofr recommended it to us, and I should be paying him for his recommendation. Not only is Roofr incredibly intuitive technology, it is also patterned in the same fashion as other, much more highly priced technologies, which pale in comparison to what Roofr provides.
Cons:
From everything we've seen thus far, I honestly can't recount any cons.
Susan J.
Owner/Office Manager in US
Construction, 2-10 Employees
Used the Software for: 1-5 months
Alternatives Considered:
Easy to use and great price
Comments: Roofr has made estimating easier and faster. Roofr helps cuts down on human error.
Pros:
Measuring the specific building is so helpful.
Cons:
Operator error is pretty easy to log in to the homeowner portion of Roofr rather than the contractor portion.
Derrick S.
Production Manager in US
Construction, 2-10 Employees
Used the Software for: 1-5 months
Makes my job easier
Comments: So far so good I know this is a newer company so I am giving it a chance and hoping they improve with time and experience
Pros:
I like this because it is cheaper than all the other companies offering the same service
Cons:
The pitches are ofter incorrect, and need to be fixed after the order is completed. this slows our process down
Construction, 2-10 Employees
Used the Software for: 1-5 months
Alternatives Considered:
GREAT PRODUCT
Comments: Great. Services are good so far.
Pros:
Ease of functionality. I like to measure my own roofs and I've used iroofing in the past. This product is free to use for self-measuring and the price for them to measure it for me is super cheap.
Cons:
If there was a way to have those satellite images be free that would be great 😅 I get why I would have to pay for it though so as time goes I'm probably going to buy it.
Construction, 2-10 Employees
Used the Software for: 6-12 months
Good...but not Great...yet
Comments: It does help measure a roof with fairly good accuracy from aerial satellite views. This helps on steep or difficult to measure roofs. Overall, it's a good product. Need to develop a mobile app ASAP.
Pros:
It's a simple program to use, literally takes less than 30 mins to become familiar with and be able to at least do basic roofs.
Cons:
The fact that it lacks a mobile app. Was unable to download an app on either an apple or android device. The software must be used within a browser.