15 years helping Australian businesses
choose better software
What Is Deel?
Deel is the all-in-one HR platform built to hire, manage and grow global teams. By bringing together cutting edge HR tools, payroll solutions, compliance and more, Deel enables companies to scale globally with unmatched speed and flexibility.
With Deel, you can hire and onboard any type of employee, compliantly, in 150+ countries in minutes. You can run payroll in 100+ countries and all 50 states in a click of a button. You can offer competitive benefits, equity, manage equipment and more.
Who Uses Deel?
Deel is for businesses of all sizes looking for a better way to hire teams abroad. Deel serves more than 20,000 customers, from SMBs to publicly traded companies.
Where can Deel be deployed?
Cloud-based
On-premises
Deel pricing
Starting Price:
USD 49.00/month
Deel has a free version. Deel paid version starts at USD 49.00/month.
Deel videos and images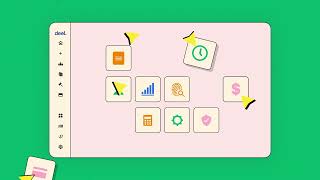 Features of Deel
ACA Reporting
API
Access Controls/Permissions
Activity Dashboard
Alerts/Notifications
Approval Process Control
Benefits Dashboard
Benefits Management
Budget Management
Budgeting/Forecasting
Collaboration Tools
Compensation Management
Compensation Plan Modeling
Compliance Management
Compliance Tracking
Contract Drafting
Contract/License Management
Customizable Fields
Customizable Reports
Dashboard
Data Import/Export
Deduction Management
Digital Signature
Direct Deposit
Document Management
Document Storage
E-Verify/I-9 Forms
Electronic Forms
Electronic Signature
Employee Benefits Administration
Employee Database
Employee Management
Employee Onboarding
Employee Portal
Employee Profiles
Engagement Tracking
Feedback Management
HR Management
Health Insurance Administration
Invoice Management
Job Management
Leave Tracking
Market Data Analysis
Meeting Management
Merit/Bonus Management
Onboarding
Org Chart Creation
Orientation Workflow Management
Payroll Management
Payroll Reporting
Pre-built Templates
Pulse Surveys
Recruitment Management
Reminders
Remote Support Software
Reporting & Statistics
Reporting/Analytics
Retirement Plan Management
Salary Planning
Self Service Portal
Status Tracking
Subcontractor Management
Surveys & Feedback
Talent Management
Task Management
Tax Compliance
Third Party Integrations
Time & Attendance
Time Off Management
Timesheet Management
Vacation/Leave Tracking
W-2 Preparation
Workflow Management
Becka
Chief Operations Officer in US
Verified LinkedIn User
Entertainment, 11–50 Employees
Used the Software for: 1+ year
Reviewer Source
The best solution for our small company's global-hiring needs remains Deel
Comments: We went with Deel, even though they were slightly more expensive than comparable products, solely for their customer engagement and service factors. They have been a boon to our studio's ability to hire internationally and compliantly, and we could not have done this without them. We consider the Deel teammates assigned to our studio as a part of our overall payroll and HR team and chat with them constantly to better serve our teammates, but also to help improve the overall Deel experience for small businesses like us, who are looking to go global and tap into the talent around the world but lack the means to do it themselves.
Pros:
First and foremost, the customer service is top-notch at Deel. Their teams are responsive, knowledgeable, and also self-aware enough to know when they may not have a ready answer, but they do know how to find and deliver one in a timely manner. We love the flexibility of options for hiring internationally - be it as an EOR or as a contractor but without the overhead of compliance and ensuring we're adhering to international requirements and laws we do not understand. They're also always listening to suggestions about how to provide better services and options, regardless of company size, which as a small company, we greatly appreciate.
Cons:
There are still some rough edges with Deel's billing system and fully fleshing out some optionality within different countries, but while this is something we don't particularly see as a pro - the opportunity that the Deel team has taken to turn cons into wins balances these negatives out. They will work through your understanding and take suggestions -- it's never a "this is it, so deal" from them. They remain collaborative and aware of their weaknesses and areas for improvement. Sometimes billing statements aren't the clearest unless you talk to their support team to decipher them, but we've already seen updates on this front and look forward to continual improvements.
Deel Response
5 months ago
Hey there, Thank you for your kind words and for taking the time to leave your feedback. We're committed to providing excellent services and appreciate your feedback. Best, Deel Team
Malvika
TA Manager in India
Marketing & Advertising, 51–200 Employees
Used the Software for: 6-12 months
Reviewer Source
Simple, efficient and compliant EOR service that is value for money
Comments: Deel was a great EOR partner service platform that delivered quality, value for money service throughout its course. We were extremely satisfied with the customer support team which has been ever responsive and kept up with all our queries at all odd times. Definitely a partner worth working with for all our future international hiring that require contract and payroll support
Pros:
Value for money Ease of use Simple, efficient dashboard systems Responsive Customer Support
Cons:
Over-reliance on customer support for easy doubts or query resolutions
Alternatives Considered: Omnipresent
Reasons for Choosing Deel: For us the previous EOR ran into compliance issues that were affecting both invoices billed to company and consequently payroll run to employees.
Switched From: Multiplier
Reasons for Switching to Deel: We had excellent reviews and had also good relations with team who we were to onboard last year in 2022 but ended up choosing a different partner at the time. For us the choice became simpler when the team helped customize the offering to tailor fit all our requirements while promising and delivering o the promise of remaining compliant
Tiffany
HR Coordinator in UK
Information Technology & Services, 51–200 Employees
Used the Software for: 1+ year
Reviewer Source
Good Support and User Friendly
Pros:
Deel's global reach and support for numerous countries and currencies make it a valuable tool for businesses with international teams.
Cons:
Integrations? It took some time to become fully comfortable with the system and its intricacies.
Marvin
Cost Estimator in Honduras
Construction, 11–50 Employees
Used the Software for: 1-5 months
Reviewer Source
A very easy to use payment software
Comments: Overall, my experience has been great. My boss asked me to look for ways I could receive payments along with my other team members, I found Deel, and until now, payments are on time, costs are less and we don't have to wait too much time to receive the money on our bank account.
Pros:
I like the fact that I can have a contract and automatically receive my payments on time.
Cons:
I would like to be elegible for a Deel card. Also, the bank where my debit card is associated no longer accept Deel's transactions, but I still can get the money through Swift, which is expensive.
Alternatives Considered: Payoneer
Reasons for Choosing Deel: Costs from PayPal were very high, but the decision was made when the bank didn't accept PayPal no more.
Switched From: PayPal
Reasons for Switching to Deel: Low fees, the hability to have individual contracts and automated invoices. But specially, I read many reviews and were positive.
Deel Response
4 months ago
Hi there, Thank you for your glowing review! We're thrilled to hear that you loved using Deel. We're constantly working to improve our service and hope to exceed your expectations in the future. Best, The Deel Team 🚀
Vicki
Global HR Operations Director in Taiwan
Computer Software, 501–1,000 Employees
Used the Software for: 1+ year
Reviewer Source
Global HR Operations Director
Pros:
What like the most is the responsiveness of the custmer services, like sending a ticket and having their response in 24 hours. The account manager connecting us to the resources timely. However, the customer success manager changed frequently.
Cons:
The cost/pricing which is not very friendly to SME like us, when we really need a good long term partner for global expansion and scale up. The flexibility to solutions, or platform, or payroll cycle lag time is long which adding a lot of extra work to the current time. Like we already have our own system to apply leave, and reimbursement, or boarding etc. How to synergize those process between Deel and Appier to make better employee experiences to our employees, who won't feel they are outsider, or different than regular employees.