What Is eLogii?
eLogii is the leading cloud-based delivery management software solution. eLogii unifies logistics from delivery planning, multi-stop routing, and route optimization, and helps you to manage it effortlessly across the entire last mile. With eLogii, you can automate dispatching, gain real-time visibility over drivers, vehicles, and orders, collect proof of delivery, and handle reverse logistics. eLogii is trusted by operations across the globe, including Caldic, Unimasters, and Ananas E-Commerce.
Who Uses eLogii?
Perfect fit for SMBs and global enterprises that embrace delivery efficiency, manage multiple orders & customers each day. Tailor eLogii to your operational needs with custom features and integration.
Where can eLogii be deployed?
Cloud, SaaS, Web-based, Android (Mobile), iPhone (Mobile), iPad (Mobile)
About the vendor
eLogii
Located in London, UK
Founded in 2019
Phone Support
24/7 (Live rep)
Chat
eLogii pricing
Starting Price:
USD 359.00/month
Yes, has free trial
No free version
eLogii does not have a free version but does offer a free trial. eLogii paid version starts at USD 359.00/month.
Pricing plans
get a free trial
About the vendor
eLogii
Located in London, UK
Founded in 2019
Phone Support
24/7 (Live rep)
Chat
eLogii videos and images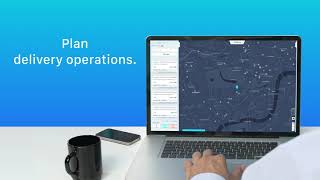 Features of eLogii
Accounting Integration
Alerts/Notifications
Contact Database
Customer Database
Customer Management
Customer Portal
Delivery Tracking
Drag & Drop
Driver Management
Electronic Signature
Employee Management
Fleet Management
Food Delivery Dispatching
GPS
Label Printing
Live Driver Tracking
Mileage Tracking
Mobile Access
Mobile Signature Capture
Order Management
Payment Collection in the Field
Performance Metrics
Proof of Delivery
Reporting/Analytics
Route History
Route Optimization
Routing
Scheduling
Service History
Shipment Tracking
Shipping Labels
Third Party Integrations
Two-Way Communication
Alina
Distribution Manager in US
Food Production, 11-50 Employees
Used the Software for: 1-5 months
Angelic Organics
Comments: This was our first time creating and implementing a home delivery system for our CSA farm. We did a lot of research to find the appropriate software that included everything we thought we needed and Elogii Not only provided that but also included other features we didn't even know we needed. We have had many learning curves and growth in our business through the process of fitting this software into our operation. Every question we've had, got an immediate and comprehensive response and we could not be more grateful for the support we've had and how this software has allowed us to succeed in providing in house, home delivery this year.
Pros:
The dashboard is really easy to navigate once you get the hang of it. Every feature is easy to understand and makes sense for the purpose of the APP which is very beginner friendly given that we hadn't had any experience with distribution before this. Elogii has very thorough training and support for the software. Anything that we came across that we needed help adapting to our needs was possible with the understanding and help of the Tech team.
Cons:
The integration process was a bit complicated for us but it was probably more because of our lack of experience and Understanding when it came to handling the data. Other than that I would like to see the driver app be a little bit more developed to have an option to go back on a task or select a date to have an overview of the week perhaps. As we continue to grow and take note we will also love to share our thoughts and work to collaborate on a more efficient solution. But elogii and their team definitely Have thought things through and are very Mindful of foreseeing what one may need for a more satisfying and effective experience with the software
Alternatives Considered: Road Warrior
Reasons for Switching to eLogii: Elogii provides more than just an efficient route, it has all the customer and driver support tools you can ask for and that is why we chose this over the alternative products.
eLogii Response
2 years ago
Hi Alina, Thank you very much for your review, your feedback and support is very much appreciated. We have some exciting developments on our product roadmap, including further enhancements to the Driver App, which will streamline the solution further. Kind Regards, eLogii Team
Manuel
Ogando in Portugal
Logistics & Supply Chain, 2-10 Employees
Used the Software for: 6-12 months
We couldn't have done it without Elogii
Comments: Onboarding was very easy, with ongoing support.
Bugs are very rare, and get reported, flagged and fixed in reasonable time.
New features are being added every month, some we didn't even knew we needed.
The customer support goes above and beyond to make sure our needs get catered.
Pros:
A solid all-round DMS. You get a nice package of all the features you need to set up your day to day operations. Best features: - several different ways to input tasks (different customers have different needs): API, csv import and Customer Dashboard all in one place is very valuable for a business like ours. - solid routing and re-optimization - very fast, no loading times and no lag between dispatcher and driver apps. - excellent customer support on demand
Cons:
The driver app needs some polish, but it's functional. Apparently it will be revamped soon.
Alternatives Considered: Onfleet and Track-POD
Reasons for Switching to eLogii: Because of all the features already implemented and a streamlined experience. It just solved our needs and we made a bet that Elogii would support also future needs. So far, beyond expectations.
eLogii Response
5 months ago
Manuel - thank you for this amazingly positive review. We are so glad to see your business benefitting from eLogii. You are quite right - the driver app is going to be completely overhauled with a new version being targeted later this year. Watch this space!
Batuhan
Technical Support Engineer in Turkey
Food & Beverages, 51-200 Employees
Used the Software for: 6-12 months
batureview
Pros:
Its fresh. Warehouse and map are looking good.
Cons:
UI is complicated. Date chosing can be rearrange at the page.
eLogii Response
5 months ago
Batuhan - we are surprised to see 3* and somebody from our support team is getting in touch as we speak. Strangely enough our UI being simple and intuitive is something we receive a lot of positive feedback on from customers so we are sorry you don't seem to have had quite the same experience. Changing the date should not re-arrange the page apart from showing tasks for the particular new date in question. Our support and customer happiness teams will be on hand to make sure you are fully satisfied with eLogii!
Colin
transport manager in UK
Building Materials, 51-200 Employees
Used the Software for: 6-12 months
Transport Planning
Comments: I found the start up process easy to grasp and the more you use it like everything else it gets easier.
Would not be without it now.
Pros:
The ease of the planning of the orders. The notification's to the customers.
Cons:
Multi day routing sometimes difficult. But that could be down to our order sizes.
eLogii Response
3 months ago
Hi Colin - thank you for your positive review. We are so happy to see that eLogii has lead to an improved planning as well as customer service experience. We are working hard to make the multi-day routing process even more seamless for our customers who make a lot of adjustments to the multi-day / long-haul routes post planning. On our next catch up together it would be good to review some of the issues you are still having and we can see how we could best support and make easier.
Zelimir
Warehouse and Transportation Supervisor in Canada
Food Production, 201-500 Employees
Used the Software for: 1-5 months
Paperless proof of delivery and Route Optimizer
Comments: We are going paperless, easy to track bill of ladings, eliminates need to have someone do the filing, saves time when it comes to making the route for the fleet.
Pros:
For our organization two of the best features Elogii provides are traceability of bill of ladings, Elogii stores it on their website, one click away, no need to have someone filing all the paperwork, no need for filing cabinets and most importantly, in case of dispute no need for anyone to look thorough files, we are able to pull POD with one click of the mouse. Elogii has ability to take pictures, enter notes, which again is great help when talking about damage claims. Electronic copy of the bill could be Emailed to a customer, with all notes, pictures, signatures and electronic step by step time stamps. We use Elogii to check trucks when they come in and when they leave, it helps us track any waiting charges too. Other important part of Elogii is Route Optimization, anyone that has a fleet this is very handy tool. We have 8 trucks for local deliveries and Elogii sets up the run (route) for 8 trucks under 30 seconds. Route for every driver is visible on the map and this portion we use to track daily progress. This part is very much customizable: We set up our trucks based on weight limit, hours of driving for every driver and area they are servicing.
Cons:
Some of the filters and wording were confusing at the begging for end users, it took few weeks for people to get used to it, nothing out of ordinary.
eLogii Response
last year
Dear Zelimir, We'd like to thank you for taking the time to share your detailed feedback, and we are very pleased that you've managed to significantly streamline and digitise key parts of your operations. We have a number of new features and updates now available, which definitely includes improved search, filtering and export options - so we look forward to providing you access with these soon! Thanks again for the review and for being such a great customer. Kind Regards, eLogii Team