15 years helping Australian businesses
choose better software
Local product
What Is Datapel WMS?
Datapel is a trusted Order and Warehouse Management System that supports you to lower costs, be more efficient and dramatically improve your inventory control.
Gain real-time insights and streamline operations with efficient order fulfilment and automated backorder management.
Your Datapel Cloud WMS combines powerful features into one easy, automated system. With a dedicated local support team, implementation is seamless.
Who Uses Datapel WMS?
Designed for growing businesses that need improved warehouse/manufacturing functionalities - Warehouse Operations Manager, Buyer & Stock Controller, CSM, Supply Chain Consultant.
Where can Datapel WMS be deployed?
Cloud-based
On-premises
---
Countries available
Australia, Malaysia, New Zealand, United States
Datapel WMS pricing
Starting Price:
USD 300.00/month
Yes, has free trial
No free version
Datapel WMS does not have a free version but does offer a free trial. Datapel WMS paid version starts at USD 300.00/month.
Countries available
Australia, Malaysia, New Zealand, United States
Datapel WMS videos and images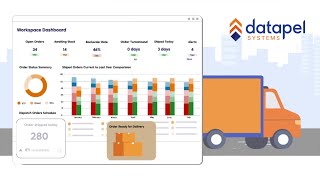 Features of Datapel WMS
3PL Management
Alerts/Notifications
Barcode Recognition
Barcode/Ticket Scanning
Barcoding/RFID
Billing & Invoicing
Bills of Material
Check-in/Check-out
Cost Tracking
Customization
Expiration Date Management
Forecasting
Inventory Auditing
Inventory Control
Inventory Management
Inventory Optimization
Inventory Tracking
Item Management
Kitting
Label Templates
Mobile Access
Multi-Location
Order Management
Order Tracking
Product Identification
Production Management
Production Tracking
Purchase Order Management
Purchasing & Receiving
Quality Control
Quality Management
Quotes/Estimates
Real Time Data
Real Time Synchronization
Receiving/Putaway Management
Reorder Management
Reporting/Analytics
Returns Management
Search/Filter
Serial Number Tracking
Shipping Management
Supplier Management
Third Party Integrations
Transportation Management
Vendor Management
Warehouse Management
Work Order Management
Alternatives to Datapel WMS
Prudhvi
Business Development Specalist in Australia
Verified LinkedIn User
Warehousing, 11–50 Employees
Used the Software for: 2+ years
Reviewer Source
Best in the Market
Comments: Very happy with datapel. Highly recommend.
Pros:
-Creating multiple Purchase orders from one screen - Inventory management - Multiple locations - Barcoding - Reports - Stocktake - Despatch sales orders - Can be Customized based on business requirements
Cons:
- Would be great if Integrations with E-commerce platforms are ready and available to connect ( integrations are still possible but will be a custom job)
Alternatives Considered: CartonCloud, NetSuite, Xero and Unleashed
Justin
Managing Director in Australia
Wholesale, 2–10 Employees
Used the Software for: 2+ years
Reviewer Source
Datapel WMS Review
Comments: It has given us the ability to integrate MYOB with a Warehouse Management System.
Pros:
- Easy to use once you understand the system - It gives us the ability to integrate MYOB with a Warehouse Management System. - Integration between cloud based and server based applications.
Cons:
- Unable to have multiple windows open at the same time. Specifically we are unable to access important information such as customer reports, item list and New Sales Order at the same time. - Stock transfers are convoluted, and we are only able to do 1 item at a time. - Special pricing doesn't show the profit margin per line. - When confirming sales or purchases there should be an option to email reports. It would be handy if there was a script to open the email program, not just composing an email that sit in the outbox until the email program is manually opened. - It would be great if there was more specific information on customers. i.e list of lines a customer purchases with the last time they ordered them, last purchase price and product margin; customer gp for the last 3 months - Would be good if it had an integrated email client
Alternatives Considered: 3PL Warehouse Manager
Reasons for Choosing Datapel WMS: We went from a 3pl service provider to having to manage our own stock.
Reasons for Switching to Datapel WMS: For it's ability to integrate with MYOB at a competitive price.
datapel Response
9 months ago
Thanks for your feedback here - we're excited to share that the issues you raised have an existing simple solution as below... Multiple Windows - Being a web app you pop up each form and continue to select information as required then return back to your original inquiry form. Stock Transfers - Allows for multiple stock lines including full pallets, in bulk to any bin and any warehouse location. Profit Margins - Can be added for individual products at the time of sale. This feature can be toggled on/off. Integrated Email Client - Allows users to send Sales Invoices and Purchase Orders, via email, to any contact with the click of a button. Purchase History - When creating a new Sales Order, right click on a sales line to see the customers last purchases (max of 3) and the price they paid. Thanks again for your feedback and apologies for the belated public reply. Glad to see your still with us and a growing user! We appreciate your support of our solution and services.
Sarah
Financial Controller in Australia
Cosmetics, 11–50 Employees
Used the Software for: 2+ years
Reviewer Source
Datapel has completely streamlined our business processes
Pros:
The main reason we chose Datapel was due to it's integration with MYOB. Datapel manages all of the purchase order and sales order generation and then transfers the data automatically to MYOB. It is great for managing these processes and for keeping track of inventory and is extremely user friendly. The implementation process was very smooth and we didn't have any business down time. What we didn't expect was the massive impact that the system has had across all of our business processes and productivity. Datapel can be customised to meet the particular needs of any business. For example, we are a manufacturing company that exports globally and our customers all have different documentation and labelling requirements. The system can be designed to automatically generate different documents for different customers. There are so many other ways that the system has been customized to meet our specific needs.The feature that has had the biggest impact on our business is the ability to export information from the database to generate customized business specific reporting. We work regularly with a Datapel consultant to design reports that otherwise would have to be prepared manually. For example if we need to send a report to Head office regularly in a specific format, we can set the report up in excel and link the database to that report template to auto-populate.
Cons:
The only thing that we have found difficult is that Datapel automatically assigns a work order reference in the assemblies module, and there is no ability to change it to your own reference.
datapel Response
last month
We're thrilled to hear about your positive experience with Datapel! It's fantastic that Datapel's integration with MYOB has streamlined your business processes so effectively. The seamless handling of purchase orders and sales order generation, along with the automatic data transfer to MYOB, is indeed a great convenience. It's particularly noteworthy that Datapel's adaptability has allowed your manufacturing company to cater to the diverse needs of your global customer base, especially in terms of documentation and labelling requirements. The ability to generate customised reports from the database has had a significant impact on your productivity. We appreciate your feedback regarding the work order reference in the assemblies module. Your input is valuable to us as we continually work to improve our services. Thank you for choosing Datapel, and we're delighted to have contributed to streamlining your business processes. If you ever have further suggestions or questions, please don't hesitate to reach out.
Jodie
Business Manager in Australia
Machinery, 11–50 Employees
Used the Software for: 2+ years
Reviewer Source
Review
Comments: We find response to our queries is extremely slow. Queries get passed from one person to another and requires constant follow-up by us to resolve any issues.
Pros:
Easy to raise POs and sales orders. Accurate tracking of inventory
Cons:
Reporting options could be better Very limited features for recording information although we do have an earlier version of Datapel so maybe it has improved
datapel Response
3 years ago
Hi Jodie, Thanks for your review - you are correct - the version you are on is a little old and we are not able to help customers using versions of our system connecting to unsupported Accounting Software - which have been out of cycle for a few years now. We have put through a few requests for your system to be upgraded - but will try contact your team again ASAP to see if we can connect with the right person to get you on the latest and greatest WMS edition. We will be in touch soon...
Eamon
General Manager in Australia
Wholesale, 11–50 Employees
Used the Software for: 2+ years
Reviewer Source
WMS helped us go from 2million to 10million
Comments: We are providing better all-round service to our customers thanks to Datapel which is increasing our success in the marketplace.
Pros:
We love Datapel - WMS inventory and bin management ability to track inventory in the warehouse, multiple bins, and multiple warehouses. We enjoy the Pick and pack Smarts employed by the software. The Backorder functionality - for example identifying a percentage of an order that is stock allows us to make fast decisions on allocating or holding backorders. The Ability to export and import from xls / csv / paste functionality makes light work of lots of data. Email templates connected to customs forms expedite the communication process of stock availability / overdue / and other processesDatapel WMS's ability to overcome integration challenges with our front-end provider (E-Commerce Vision) is a testament to their technical knowledge and capacity.
Cons:
Sometimes we get duplicate orders/invoices due to syncing issues between MYOB Account right Datapel. To remedy this, we run a reconciliation report once a week to review and remove duplicates. It would be convenient to cancel multiple sales orders in the system at one time.
datapel Response
last month
Thank you for taking the time to share your fantastic review of Datapel! We're thrilled to hear about the remarkable transformation it has brought to your business, taking you from 2 million to 10 million. It's great to know that you've found Datapel's inventory and bin management capabilities, as well as its Pick and Pack Smarts, to be so valuable. The Backorder functionality and its ability to expedite communication through email templates are indeed essential features for efficient warehouse management. We understand that occasional syncing issues resulting in duplicate orders and invoices can be an inconvenience. Your proactive approach to the weekly reconciliation report is commendable, and we appreciate your feedback regarding the ability to cancel multiple sales orders simultaneously. We're constantly working to enhance our system, and your input is invaluable in this regard. We're delighted that Datapel Cloud.WMS has not only met your budgetary requirements but has also seamlessly integrated with MYOB, addressing the concerns of your accounting department. It's excellent to hear that Datapel has contributed to your ability to provide better service to your customers and has led to increased success in the marketplace. We're committed to continuing to support your growth and success. Thank you for choosing Datapel, and we look forward to being a part of your ongoing journey towards even greater achievements. If you ever need further assistance or have more feedback to share, please don't hesitate to reach out.