What Is Microsoft Project?
Microsoft Project helps you keep track of everything you need to run successful projects, even when working remotely. Collaborate and work with remote teams anywhere, streamline processes, optimize tasks and resources, engage across different functional teams, keep track of all associated costs, and customize visual reports for actionable insights. Familiar Office tools and pre-built templates allow you to kick off projects quickly to get more done while saving your business time and money.
Who Uses Microsoft Project?
Microsoft Project is a simple, yet powerful tool to manage work from quick projects to more complex initiatives. With Project, anyone can get started quickly and collaborate with remote teams anywhere
Microsoft Project Details
Microsoft
Founded in 1975
Microsoft Project Details
Microsoft
Founded in 1975
Microsoft Project videos and images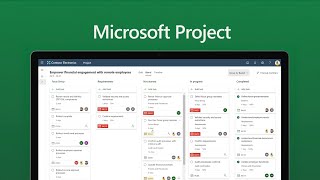 Compare Microsoft Project pricing with similar products
Starting price
USD 10.00/month
N/A
N/A
USD 5.00/one-time
Microsoft Project deployment and support
Support
FAQs/Forum
Knowledge Base
Chat
Deployment
Cloud, SaaS, Web-based
Windows (Desktop)
Windows (On-Premise)
Linux (On-Premise)
Features of Microsoft Project
Gayan D.
Senior Project Manager in Sri Lanka
Verified LinkedIn User
Information Technology & Services, 51-200 Employees
Used the Software for: 2+ years
Alternatives Considered:
Project and Timeline Management done right
Comments: MS Project has been an absolute lifesaver when it comes to planning out projects with clear requirements.
The timelines and task tracking features give you a clearer picture of how your project is doing and if the project is going off track, allowing you to assess corrective actions you take according to the timeline changes.
It will take some time to create a perfect project plan through MS Project, but once done it will paint a clearer picture of the timelines/deadlines and what needs to be done to achieve those deadlines to everyone involved.
Pros:
The absolute best way of setting and managing timelines of projects, and defining what resources/personnel will be utilized when so that they are also aware of what needs to be done to achieve a given deadline. The tracking aspect of MS Project also helps in identifying delays and how these delays will impact the overall timelines and in turn the final delivery deadlins.
Cons:
Could be challenging for a first-time user to grasp all the features provided by MS project, so it would be wise for to watch a few crash courses/tutorials before jumping head first into using it. Some elements I feel could be more user-friendly without users having to go through obscure menu structures to find them.
Carlos hugo martin C.
Consultor in Peru
Information Technology & Services, 11-50 Employees
Used the Software for: 2+ years
Alternatives Considered:
Experience with Microsoft Project
Comments: We use it for software project.
Pros:
The flexibility with which a project can be done, as well as being able to relate tasks in an easy and simple way.
Cons:
Managing resources can become very complex in the face of major plan changes. Agile project planning is artificial.
Jinnie A.
Brand Manager in US
Marketing & Advertising, 11-50 Employees
Used the Software for: Free Trial
Project Management Software
Comments: Poor functionality, limited compared to other options available.
Pros:
Microsoft Project has a easy to sign up for free trial. It's compatible with Microsoft Office programs.
Cons:
There are far better project management softwares available and I would recommend Asana or Monday.com over Microsoft Project any day of the week.
José eduardo A.
Consultor Tecnológico in Ecuador
Verified LinkedIn User
Information Technology & Services, 2-10 Employees
Used the Software for: 2+ years
Alternatives Considered:
Microsoft Project, la herramienta perfecta en planificación y control de un proyectos en general.
Comments: El seguimiento y/o gestión de proyectos de mediana y alta envergadura son fácil de realizar y permite el monitoreo y toma de decisiones en tiempo real al permitirme estar siempre actualizado. Es probable que para proyectos simples talvez sea un poco abrumador la cantidad de herramientas, pero para proyectos corporativos, es sin duda alguna la solución perfecta.
Pros:
Con funciones infalibles en la administración de proyectos, mejora mis perspectivas de gestión con las plantillas personalizadas que incorpora, también me permite gestionar al detalle los recursos asignados a cada tarea y persona cuando realizo los cálculos de costos. Aparte de generar visualizaciones rápidas que permiten seguir la situación de desarrollo de mis proyectos, entre más factores que mejoran mi experiencia de gestión.
Cons:
Una de las limitaciones que tiene este software es que no es multiplataforma; ya que solo se instala bajo el sistema operativo Windows, lo que dificulta que cuando se realizan proyectos interdisciplinarios y de variados frentes de seguimientos, buscar alternativas o compartir recursos ya que existen algunos equipos con otros OS (Sistemas operativos).
Matt R.
Senior Project Manager in US
Verified LinkedIn User
Construction, 1,001-5,000 Employees
Used the Software for: 2+ years
Your best project in the cloud
Comments: when working in a construction company. I found this app very useful due to the different projects of each work. He has shown me the possible flaws of a design or project before it happens. I can make efficient and detailed calendars of activities.
Pros:
When accessing the main menu, it gives you templates for various types of projects. When you get to master the program, it gives you ease and simplicity in its use, which is why organizing data is very easy. Streamlines decision making thanks to the data that is scheduled. Due to its accuracy in times it is easier to know the schedule of a certain project.
Cons:
Its handling is somewhat complicated and tedious to learn. Which can stress some users with basic knowledge. Its economic availability is very high reaching the price of 620 $. so it is not available to entrepreneurs with a low budget.