15 years helping Australian businesses
choose better software
What Is DejaOffice PC CRM?
The perfect CRM Alternative for your PC and Office! DejaOffice is a Classic On-Premise CRM - single and multi-user - that makes it easy to create notes, history, tasks and scheduled events. Multi-user scheduling calendar. Easy Migration from most common PC and Web based CRM systems. Integrates with Outlook for history tracking, and merge form emails. 10 times faster than any web based CRM and all for a one-time price.
Who Uses DejaOffice PC CRM?
Classic PC-Based CRM Alternative, faster and more secure than any web based system. You own your customers and your database belongs on your computer! A great alternative to slow web based apps.
Where can DejaOffice PC CRM be deployed?
Cloud-based
On-premises
---
About the vendor
CompanionLink Software
Located in Portland, US
Founded in 1987
DejaOffice PC CRM pricing
Starting Price:
USD 69.95/one-time
Yes, has free trial
No free version
DejaOffice PC CRM does not have a free version but does offer a free trial. DejaOffice PC CRM paid version starts at USD 69.95/one-time.
About the vendor
CompanionLink Software
Located in Portland, US
Founded in 1987
DejaOffice PC CRM videos and images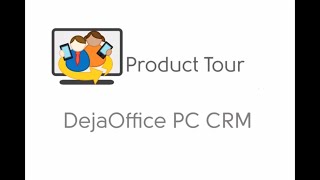 Features of DejaOffice PC CRM
Calendar/Reminder System
Contact Database
Contact Management
Customizable Fields
Data Import/Export
Email Management
For Small Businesses
Interaction Tracking
Lead Management
Mobile Access
Search/Filter
Segmentation
Shared Contacts
Task Management
Third Party Integrations
Alternatives to DejaOffice PC CRM
Reviews of DejaOffice PC CRM
Textiles, Self Employed
Used the Software for: 6-12 months
Reviewer Source
Great Contact Managment System
Pros:
Simplicity. Have used the mobile app for a long time but switched over from Act on my computer. This gives me all I need.
Cons:
Have a little trouble get used to the process of putting the history in completed meetings, tasks, etc
Alternatives Considered: Act!
Reasons for Choosing DejaOffice PC CRM: Had to upgrade software to work with new operating system and would not pay the price for Act especially since I could not transfer data without paying a lot more to have that done
Switched From: Act!
Reasons for Switching to DejaOffice PC CRM: Had used DejaOffice on my phone for a few years syncing with Act. Liked it do it was an easy decision
Textiles, 2–10 Employees
Used the Software for: 1+ year
Reviewer Source
Deja Office vs ACT
Comments: i definitely like it very much. I can not say anything bad about the program. The management was very
kind to start me out with a reasonable price unlike ACT.
I might want to move up a notch to gain some of the features i had at ACT.
Pros:
Price and similar to ACT that I have been using for 12 years.
Cons:
The search is not always accurate. I lose information. I can not Email direct (I do not know how) I can not follow easy steps. I have to add i am 84 and still running my business in Textiles. I would pay to have someone come on my computer set up Document that will auto fill in the customer information. I would like to group my customers Products. I would like to pull up list by Town, State and have it ready to make calls while in that area. I am pretty sure I can but I can not seem to follow instructions well as they are written. I get discouraged and quit trying.
Robert
Airline Pilot in US
Airlines/Aviation, 5,001–10,000 Employees
Used the Software for: 1+ year
Reviewer Source
A necessary evil.
Comments: I think I've said enough.
Pros:
User-unfriendly as it is, it's what I committed to as a replacement for my old Palm PDA. It retains most of the data...so that's good. But I wish I had time to shop for and switch to something more efficient and easy to learn.
Cons:
Oh, where do I start? I guess if I could pick one thing, it would be how cumbersome the desktop is to use. It is SO SLOW!!! On my Palm desktop, I could modify tasks, memos, etc. and the changes would take place instantly. With Deja, it's like having a bad internet connection even when it's only talking to my hard drive! "Dum-de-dum-de-dum..." And then when it's done thinking, if I've changed a category, for instance, it's jumped to the new category - which then necessitates my navigating back to where I was, and again, LLLLAAAAGGGGG. AAARRRGH!~ Cumbersome. Consistently frustrating. LET ME ADD - that one big reason I haven't sought help from customer service is how unpleasant my first experiences were trying to go that route. The agent I dealt with (or who dealt with me) was terribly condescending. Wouldn't let me finish describing my issue(s) before jumping in and unloading a bunch of mumbo-jumbo at me that usually ended with "must be a problem on your end."
Financial Services, Self Employed
Used the Software for: 1-5 months
Reviewer Source
It gives me what I want
Comments: The system is far simpler than the one I'd used for the previous twenty years, and took a little getting used to. However, now that I am used to it I find it very simple and straightforward to use.
Pros:
Inputting data is very simple, and the category filters are very useful. The installation and integration with my previous CRM system was simple and straightforward.
Cons:
I'm unable to create email and document templates in the way that I should. Got the impression that technical support didn't how how to fix it so gave up on it. I have worked out a way of achieving the odd letter, but don't know at this stage how to create an address list template for use with labels.
Alternatives Considered: Act!
Reasons for Choosing DejaOffice PC CRM: Act! had gone from being a one-off purchase that did everything I wanted to becoming a far more comprehensive and sophisticated package, with lots of features that I would never have a need to use, on a high annual subscription.
Switched From: Act!
Reasons for Switching to DejaOffice PC CRM: I did consider staying with Act! but decided against because of the increasing cost. I could have stayed with a very basic package that would have no technical support. However, my experience with Act! over the last few years told me that I would need their technical support. I was surprised by the number of times I had to use it over the last couple of years
Mechanical or Industrial Engineering, 2–10 Employees
Used the Software for: 2+ years
Reviewer Source
Source: SoftwareAdvice
Only thing that would do everything I needed without using Outlook
Pros:
It works fairly well, although I needed to use tech support a few times: when I first got it and had to buy Companion Link to make it work, and a couple of times after that when there were Windows and / or DejaOffice upgrades.
Cons:
The Contacts portion constantly creates new Labels with the same name as existing labels. Sometimes these Labels (groups) are empty and sometimes they have some of that category's contacts. It's annoying and time consuming. I use Google contacts on the phone, and there seems to be some problem keeping everything straight between Google contacts and DejaOffice contacts. Perhaps I am just expecting too much from this software.