What Is HammerTech?
HammerTech empowers Owners, Engineers, and Contractors with centralized safety, and daily jobsite field management in one platform - improving productivity up to 32%. Connect jobsites to the office. Eliminate paper and spreadsheets resulting in increased job profits and seamless collaboration.
Who Uses HammerTech?
Companies seeking market leading EHS solutions, on any device, to manage and integrate on site processes, safety and quality. Construction, Civil, Manufacturing, Utilities and related industries.
Where can HammerTech be deployed?
Cloud, SaaS, Web-based, Android (Mobile), iPhone (Mobile), iPad (Mobile)
About the vendor
Hammer Technologies
Located in Seattle, US
Founded in 2013
Phone Support
Chat
Countries available
Australia, Canada, New Zealand, United States
HammerTech pricing
Starting Price:
Not provided by vendor
No free trial
No free version
HammerTech does not have a free version and does not offer a free trial.
Pricing plans
About the vendor
Hammer Technologies
Located in Seattle, US
Founded in 2013
Phone Support
Chat
Countries available
Australia, Canada, New Zealand, United States
HammerTech videos and images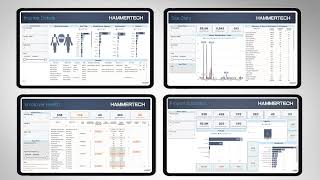 Features of HammerTech
Alerts/Notifications
Audit Management
Audit Planning
Barcode / Ticket Scanning
Compliance Management
Corrective and Preventive Actions (CAPA)
Dashboard
Document Management
Forms Management
Image Capture
Incident Management
Incident Reporting
Inspection Management
Mobile Access
OSHA Recordkeeping
Occupational Health Management
Report Templates
Reporting/Analytics
Risk Assessment
Risk Management
Task Management
Training Management
Alternatives to HammerTech
Mark W.
OHS Manager in Australia
Verified LinkedIn User
Construction, 51-200 Employees
Used the Software for: 6-12 months
Increases productivity so we can spend more time on site supervising and identifying hazards
Comments: An enormous productivity dividend. We are estimating that our site safety supervisors are on site, identifying, assigning and fixing hazards about 2 hours more each shift, a 25% dividend just there. But more than that we have safer sites. We are also now collecting very sophisticated data to monitor site teams performance, safety performance and contractor performance. This software has many, many hidden benefits.
Pros:
Uses our forms and templates, creates a huge productivity dividend by having our safety supervisor on site more (instead in office completing forms), The real time notice and assignment of safety issues to a responsible person, data reporting, Site Managers (and myself as the OHSA Manager) can monitor everything on site that is safety related at just a few clicks of a mouse, I can also compare team and contractor performance. We are getting better contractor data now, very helpful for me in calculating more accurate incident frequency rates and a bonus for our contract admin team in assessing financial v productivity performance of a contractor. I have assessed and reviewed many of these types of platforms and HammerTech is the ONLY one that ticked ALL of the boxes i needed. Their customer support is fantastic too and they are very keen to better their product and tailor it to their clients' needs.
Danny O.
National Health & Safety Manager in Australia
Construction, 1,001-5,000 Employees
Used the Software for: 2+ years
HammerTech as Hutchies' WHS Support Tool
Comments: HammerTech has a genuine desire to improve their product offering in line with client requirements.
The owners and senior management are active in seeking opportunities that will enhance the client experience.
Since the implementation of the HammerTech system Hutchinson Builders has experienced;
- improved data integrity and elimination of data conflict due to operating within a single system.
- gains in productivity through a significant reduction in double handling of data,
- increased visibility into trends and spikes in 'issue' and 'incident' outcomes,
Other areas which have had positive outcomes are;
- contractor registration process
- plant induction process and records
- Permit To Work process
- inspection and issue recording processes
HammerTech is currently re-configuring the incident and injury management modules to better match Hutchies current operational requirement.
Pros:
HammerTech has an overall good fit for the construction industry. HammerTech presents as a 'partner' in our commercial arrangement opposed to a 'fee for service' supplier. This is amplified by the fact that the owners and senior staff have hands-on construction industry experience and understand the challenges of maintaining internal and external compliance requirements that present as a part of the construction industry.
Cons:
Some aspects that could be redesigned to better suit construction businesses in today's environment are the; - the recording and management of regulator notices, - the issue an receipt of CARs, - the recording and management of incidents. The system as it stands does have functionality in these areas however recent internal reviews and external audits have highlighted opportunities for improvement to our systems in these areas. We are currently in positive discussions with HammerTech to facilitate these revisions on our behalf.
Alternatives Considered: Procore and myosh Safety Management Software
Reasons for Switching to HammerTech: 1. Owners are directly involved in the business 2. Company has operational experience in the construction industry 3. Australian owned private company 4. Developers are based in Australia 5. Owners and Senior staff listen to their customer feedback, and more to the point they respond appropriately with a genuine desire to improve the collective lot of the client base 6. Owners and senor managers are available
John A.
Superintendent in US
Construction, 5,001-10,000 Employees
Used the Software for: 1+ year
Construction Review
Comments: My experience is alright so far.
Pros:
The access to utilize the software to streamline subcontractors from project to project is awesome. The ease of having pretty much everything in 1 spot.
Cons:
There is no app. Doing safety inspections is a cumbersome at best and takes substantially longer than the time we have.
Frank B.
Sr. Superintendent in US
Construction, 201-500 Employees
Used the Software for: 1+ year
Efficiency in Safety management
Comments: My experience has been positive and enjoyable. As with everything new there is a learning curve which is unavoidable however the results are worth the effort allowing a construction team to implement a large range of safety tools on a project in an effort to have better communication and zero injuries.
Pros:
What I like most about this software is the ability to utilize a complete range of Safety management tools from one accessible platform that the entire construction team.
Cons:
I have not found anything I am displeased with so far. If the user is willing to engage with the software and learn it's capabilities it can be beneficial for any construction team application.
Matthew E.
PM in Australia
Construction, 11-50 Employees
Used the Software for: 6-12 months
Safety Software that suits
Comments: Hammertech has been integral in the upskilling of staff and standardising of our safty system. It's ease of roll-out has struck the right balance with not being dumb whilst ensuring everyone is educated to use it as a tool to do their job.
Pros:
Its totally customisable to the company. This means you can be compliant but streamlined in your approach.
Cons:
It's lack of integration with document management and other software, sure you can use it for multiple aspect but it's key focus is compliance and safety