15 years helping Australian businesses
choose better software
Local product
What Is MYOB Business?
MYOB Business is the fast and easy way to manage your cashflow and ATO compliance requirements. Includes time saving features that automates everyday tasks, giving you great insights and making compliance easy. Manage your business anywhere on your laptop or mobile. Keep your data safe and secure in the cloud. Get real-time cashflow, invoicing and payments.
Who Uses MYOB Business?
The MYOB Business range is designed for businesses from sole traders, to growing operations and even established companies of up to 19 employees in Australia and New Zealand.
Where can MYOB Business be deployed?
Cloud-based
On-premises
---
About the vendor
MYOB
Located in CREMORNE, Australia
Founded in 1991
Countries available
Australia, New Zealand
MYOB Business pricing
Starting Price:
$30.00/month
No free trial
No free version
MYOB Business does not have a free version and does not offer a free trial. MYOB Business paid version starts at $30.00/month.
About the vendor
MYOB
Located in CREMORNE, Australia
Founded in 1991
Countries available
Australia, New Zealand
MYOB Business videos and images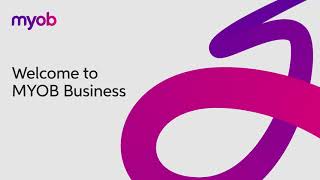 Features of MYOB Business
Accounting
Accounting Integration
Accounts Payable
Accounts Receivable
Activity Dashboard
Activity Tracking
Alerts/Notifications
Approval Process Control
Audit Trail
Bank Reconciliation
Billing & Invoicing
Budgeting/Forecasting
Cash Management
Chart of Accounts
Client Management
Collaboration Tools
Commission Management
Compliance Management
Contact Database
Contact Management
Customer Statements
Customisable Invoices
Customizable Reports
Dashboard
Data Import/Export
Document Management
Due Date Tracking
Electronic Payments
Employee Management
Expense Claims
Expense Management
Expense Tracking
Financial Analysis
Financial Management
Financial Reporting
For AEC Industry
For Accountants
For Legal Professionals
For Medical Purposes
For Real Estate
For Small Businesses
Fund Management
General Ledger
Goal Setting/Tracking
Income & Balance Sheet
Inventory Management
Invoice Creation
Invoice History
Invoice Management
Invoice Processing
Job Costing
Mobile Access
Mobile App
Mobile Payments
Multi-Currency
Multiple Projects
Online Invoicing
Online Payments
Partial Payments
Payment Processing
Payroll Management
Payroll Reporting
Profit/Loss Statement
Project Costing
Project Management
Project Time Tracking
Project Tracking
Purchase Order Management
Quotes/Estimates
Real Time Data
Real Time Reporting
Receipt Management
Receivables Ledger
Remote Access/Control
Reporting & Statistics
Reporting/Analytics
Revenue Recognition
Status Tracking
Task Management
Tax Calculation
Tax Compliance
Tax Filing
Tax Management
Third Party Integrations
Time & Expense Tracking
Time Tracking
Timesheet Management
Transaction Management
Vendor Management
Workflow Management
Alternatives to MYOB Business
Katrina
Senior Accountant in Australia
Verified LinkedIn User
Accounting, 11–50 Employees
Used the Software for: 2+ years
Reviewer Source
Solid product for small business
Comments: Has been around for a long time. Tried and tested and is a great product. Starting to price a little higher but still competitive - especially if you have employees.
Pros:
Easy to use and well laid out for the end user. Is great for small operations without complex needs.
Cons:
Whilst bank rules are very handy - the auto reconciling of transactions can cause problems if rule set up incorrectly. Would be great if there was an option to make bulk transaction changes.
Elena
Tax accountant in Australia
Accounting, 2–10 Employees
Used the Software for: 2+ years
Reviewer Source
Good software, has been better few years ago
Comments: I loved that software in 2006, it was great, so easy to use. Now it is not hat great, customer support needs a lot of improvement. Yet I think other competitors have their problems and overall MYOB is the best soft for a small business.
Pros:
I love the soft is so user-friendly. I have been using MYOB since 2006. As an accountant I use XERo, quickbooks, handisoft. I think that from the end user point of view MYOB still easiest business software. From an accountant point of view it is also very user friendly. It helps me fix the mistakes my clients made with an ease. Bank reconciliation used to be great, now, after some modifications it is much worse. Yet , overall I think that MYOB is still the sest business solution for a small business in Australia
Cons:
Customer support is not existent. Many of my client switched to Xero or quick books because of terrible customer support in MYOB
Alternatives Considered: QuickBooks Time and Xero
Reasons for Switching to MYOB Business: Easier to use, easier to fix mistakes. At the time XERo did not have general ledger details report which was an essencial
Matthew
Director in Australia
Construction, 2–10 Employees
Used the Software for: 2+ years
Reviewer Source
Don't start your business accounting with a regrettable decision, look elsewhere!
Comments: Underwhelming to say the least. I was partially sold on the fact that they have a customer service number to assist if need be, don't be fooled by this either, the call centre workers are rather unfamiliar with the MYOB product (unless I was unfortunate enough to speak with their newest member each time) and all my queries had to be looked up each time and they read answers from a screen which I could find on-line myself , they weren't able to elaborate nor answer any further questions I had outside of what was written in front of them.
Pros:
Reasonably easy to use but have found Xero to be much better in almost every way.
Cons:
Limited features and limited expandability compared to Xero. No was to have a back up of accounting file on your computer. If or once you decide Essentials ins't for you, they do not offer a way to transfer to their own Account Rite product nor do they off to export data to Xero. They will give you 1 month access as a read only before all data is deleted off their server unless you pay $25 Per month for the remaining 5 years you're required to keep the data
Alternatives Considered: Quickbooks Online
Reasons for Switching to MYOB Business: The only reason I foolishly chose MYOB was because of their time and name in the industry and I knew someone else who used MYOB and found them ok at the time but who is also now in the same situation as me and wanting to change over to Xero.
Adam
Owner / Manager in Australia
Supermarkets, 11–50 Employees
Used the Software for: 2+ years
Reviewer Source
MYOB Easy
Pros:
Application layout makes it easy to navigate
Cons:
The upgrade feature needs to run in the background.
Brendan
Actor/ Writer/ Producer in Australia
Verified LinkedIn User
Entertainment, 2–10 Employees
Used the Software for: 2+ years
Reviewer Source
Full of features.
Comments: Great option for this doing day to day business, May be a little expensive for those just starting out.
Pros:
Packed with features for invoicing and accounting needs.
Cons:
Very expensive when compared to similar products.
Alternatives Considered: Xero and Zoho Invoice
Reasons for Choosing MYOB Business: Trying a few of the features out.
Switched From: Xero and Zoho Invoice
Reasons for Switching to MYOB Business: Just wanted to try it out to see if it was easy to use.