15 years helping Australian businesses
choose better software
What Is eLabJournal?
eLabJournal is an all-in-one Electronic Lab Notebook (ELN) that can be fully configured to the unique needs of your R&D laboratory. Efficiently document, organize, search, and archive your research, sample, and protocol data. eLabJournal is a secure and compliant software suitable for any lab ranging from small and startup companies to large academic institutes and globally operating companies.
Start elevating your research with our free 30-day trial or schedule a personal demo!
Who Uses eLabJournal?
Suitable for academic, industry, and start-up life science labs that value flexibility in the setup of their workflows and lab digitization efforts.
Where can eLabJournal be deployed?
Cloud-based
On-premises
eLabJournal pricing
Starting Price:
Yes, has free trial
No free version
eLabJournal does not have a free version but does offer a free trial.
eLabJournal videos and images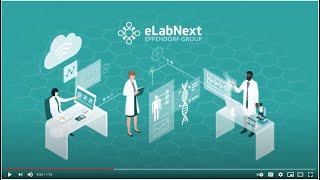 Features of eLabJournal
Access Controls/Permissions
Barcode/Ticket Scanning
Collaboration Tools
Compliance Management
Compliance Tracking
Data Import/Export
Data Security
Data Storage Management
Data Synchronization
EDI
For Labs
Inventory Auditing
Inventory Control
Inventory Management
Inventory Optimization
Order Management
Project Management
Protocol/SOP Management
Real Time Data
Reporting/Analytics
Sample Management
Search/Filter
Supplier Management
Task Management
Third Party Integrations
Workflow Management
Alternatives to eLabJournal
Maura
Business Systems Analyst III in US
Verified LinkedIn User
Higher Education, 10,000+ Employees
Used the Software for: 1+ year
Reviewer Source
Functionality and Superb Customer Support
Comments: Our overall experience with eLab Journal has been exceptional. We are glad we chose to partner with them because they were definitely the right choice! They have helped us immensely and we would not have achieved a successful project outcome without them.
Pros:
Working with the team at eLab Journal to implement our LIMS and make enhancements as our laboratory has grown has been a wonderful experience. Everyone we have worked with is responsive and collaborative. The software itself has amazing functionality and provides the features we need to act as an efficient, high throughput testing laboratory.
Cons:
When we implemented the software in 2020, some of the menu items and navigation seemed disjointed and not exceptionally intuitive. eLab Journal has evolved since then and we have seen improvements. The team is also open to our feedback as system users.
eLabNext Response
last year
Thank you for your review of eLabJournal, Maura happy to hear that you've noticed our improvements, and we always appreciate the great feedback! Since October 2021, we have implemented several new UI updates, reorganized the navigation tools, and taken a more multi-disciplinary approach to the menu items so that chemists, biologists, research techs, and lab directors can easily access their unique day-to-day workflows within the system. Stay tuned for additional major updates by 2023!
Austin
Scientist / Team Lead in US
Biotechnology, 51–200 Employees
Used the Software for: 1+ year
Reviewer Source
eLab Journal offers a great all-in-one solution to record-keeping and sample tracking in the lab
Comments: So far my experience has been very good, the eLab next crew clearly is passionate about their product and continue to add new and exciting add-ons that substantially increase the value of this platform to a wide range of companies.
Pros:
eLab Journal offers some great and convenient methods for record-keeping in the lab, including experimental notes, sample cataloging, and protocol generation/application. I would say that the ability to generate ready-to-use experimental templates has been one of the biggest advantages for this platform since it can dramatically streamline end-of-day records. This also helps a great deal from the perspective of managers since incoming study notes from direct reports will look more uniform.
Cons:
I think one of the most notable functions that is lacking in eLab is a spell-check function. For record-keeping and really for any online platform, this is such a common function that it is really missed when not available. This is a really simple way to avoid entry mistakes that can cause larger disruptions downstream.
Alternatives Considered: Benchling
Reasons for Switching to eLabJournal: N/A - this was not a descision I was directly involved with
Linda
Fermentation Scientist in Norway
Biotechnology, 2–10 Employees
Used the Software for: 6-12 months
Reviewer Source
eLabjournal: a clean and simple eLN.
Comments: If you are looking for a clean and simple eLN: eLabjournal is a great choice, especially for start-ups like us. The customer support is really good and it is clear from the beginning what eLN can and can't do. For us, our needs changed because of growth and we needed more extra features, but otherwise we would probably still use it. eLabjournal might not be the most intuitive eLN on the market and not the most fancy looking, but if you are just looking to replace those piles of paper on your desk or your labnotebook that is falling apart and has spills everywhere: eLabjournal is a good option.
Pros:
eLabJournal is a simple and clean eLN, without any complicated features. It is like having a digital version of a labnotebook. Nothing more and nothing less. There are no distractions of features that you would never use, therefore it is relatively easy to start working with it.
Cons:
It is a simple and clean eLN, but it doesn't work intuitive and typing text in either protocols and experiments was overly complicated. We had some issues with text not being saved. The barcode printing part never worked and then they discontinued a certain type of labelprinter. With a non-functioning barcode part, the inventory management part was also useless for us.
eLabNext Response
4 months ago
Thank you for taking the time to provide your review, Linda! The eLabNext platform was recently awarded Capterra's badge for best "Ease of Use," so we'd be curious to learn more about your experience with the user interface and the pain points you've encountered – could be due to lack of training from our side so that we will take this note! Our Digital Lab Specialists would be happy to schedule a free consultation to ensure that your lab group is optimized for your workflows, and we welcome you to submit any suggestions for improving your experience to our Support Desk for consideration. While we were unfortunately forced to end support for DYMO printers, eLabNext continues to be compatible with a wide range of Zebra and ZPL-compatible printers for our customers with labelling needs. Many of our customers have had positive experiences with these machines and reported significant improvements in the quality and configurability of their labels compared to DYMO. Our Support Team would be happy to provide additional information on this topic and connect you with one of our partners to receive an exclusive discount when ordering a Zebra device!
Angela
Senior Scientist in UK
Biotechnology, 51–200 Employees
Used the Software for: 2+ years
Reviewer Source
A useful everyday tool.
Comments: Would never go back to a paper based system now.
Pros:
Easy to use, traceable and auditable. Helps planning, organisation and tracking of work.
Cons:
Labelling of images, gel images for example, is tricky and much easier to do in other packages and bring in the images already labelled.
Alternatives Considered: Benchling
Reasons for Switching to eLabJournal: Several others were considered, but eLAbJournal was voted as the easiest to use by the users and met our requirements.
eLabNext Response
3 months ago
Thank you for your review, Angela! We truly appreciate your kind words and are thrilled to hear that our platform's easy user usability aligns with your needs. We understand the importance of audit trials and logs for GxP compliance in a lab. By providing this capability, we aim to help our users stay organized and maintain a clear track of their work. It is fantastic that you've found value in this aspect of our platform. We value your feedback and suggestions for improving the labeling of images. We encourage you to share your requests with our dedicated Support Desk at [email protected]. We're grateful for your support and look forward to continuing to serve you and your lab in the best possible way.
Elizabeth
Visiting Scholar in US
Research, 2–10 Employees
Used the Software for: 2+ years
Reviewer Source
eLab has helped manage a veritable flood of samples
Comments: Overall, I'm very pleased with eLab. It has greatly streamlined the tracking of sample receipt and downstream processing for thousands of samples, allowing me to set up standard procedures that even novice undergraduate students can follow without difficulty. Likewise, the pricing was very competitive and the team at eLab has been very responsive and pleasant to work with.
Pros:
This product has greatly facilitated the standardization of sample intake and inventory. Likewise, I really appreciate the ability to set up lab protocols (with version tracking) and standardized experiment templates. These features, in particular, make it easy to bring on new lab helpers in an undergraduate setting. There is no need to manage and track shared files or folders, and when a student leaves, their records and activities are preserved. The interface has generally been quite intuitive and easy to maneuver, and customer support is responsive and helpful if a user runs into problems.
Cons:
There are still a few glitchy (largely aesthetic) areas. For example, the "Lineage" button appears to multiply as one clicks on or manipulates successive sample records. This can be resolved by refreshing the page, but it is not guaranteed that you will remain on the same sample record when you refresh. This doesn't seem to impact the integrity of sample records, but can be annoying when working with a lot of sample records. There is not yet a function to create copies of plates of samples (e.g., whole-plate aliquots, series, or downstream product). One can work around this with batch importation, but I do look forward to this feature eventually being incorporated.
Alternatives Considered: Benchling and SciNote
Reasons for Switching to eLabJournal: eLab offered a combined electronic lab journal and inventory tracking/management platform that was both intuitive and economical.
eLabNext Response
last year
Thank you for reviewing eLabJournal, Elizabeth! Our team worked hard to design an easy-to-use UI and we're glad to hear that those efforts have paid off for you. The latest version of our Lineage add-on resolved the glitch you mention and is available in the Marketplace please make sure to check and update the Add-On. We're also working on a bulk cloning feature for plates and hope to release it soon. Thanks again for sharing this valuable feedback so that we can improve the eLab experience for our entire user community, and stay tuned for some exciting updates!