What Is Bookly?
Appointment scheduling software for WordPress with fully customizable booking form and online payments, reminders, CRM and more. Bookly is designed to grow your online sales and simplify appointment. This is a one-stop shop for any businesses from hair salons or photography to wealth management and transportation. You can start with the free version of Bookly and once your business scales you can upgrade to ultimate scheduling software with the paid Bookly Pro add-on.
Who Uses Bookly?
Our solution is ideal for small and medium service providers, like: - Massage therapists, - Cleaning services, - Consulting services, - Doctors and clinics, - Dentistry, - Law firms, more...
Bookly Details
Bookly
Founded in 2005
Bookly Details
Bookly
Founded in 2005
Bookly videos and images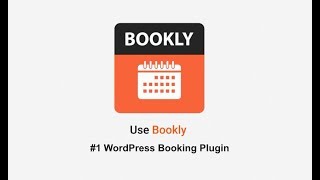 Compare Bookly pricing with similar products
Starting price
USD 89.00/one-time
USD 59.00/year
N/A
USD 29.00/month
Bookly deployment and support
Support
Email/Help Desk
FAQs/Forum
Knowledge Base
24/7 (Live rep)
Features of Bookly
API
Access Controls/Permissions
Activity Dashboard
Alerts/Notifications
Appointment Management
Automated Scheduling
Availability Indicator
Availability Management
Billing & Invoicing
Booking Management
Calendar Management
Calendar Sync
Class Scheduling
Client Database
Client Management
Client Portal
Confirmation/Reminders
Contact Database
Credit Card Processing
Customer Database
Customer History
Customisable Branding
Customisable Forms
Customizable Fields
Customizable Reports
Customizable Templates
Data Import/Export
Electronic Payments
Email Management
Email Marketing
Email Reminders
Employee Management
Event Calendar
Event Scheduling
Group Scheduling
Mobile Access
Multi-Location
Online Booking
Online Payments
Real Time Notifications
Real Time Reporting
Recurring Appointments
Reminders
Reporting & Statistics
Room Booking
SMS Messaging
Scheduling
Social Media Integration
Third Party Integrations
Website Integration
Jamie S.
Frontend Developer in US
Verified LinkedIn User
Information Technology & Services, 2-10 Employees
Used the Software for: 6-12 months
A Rare Plugin
Comments: Overall, the experience has been decent. Our team implemented the plugin in a unique way and were able to get about 80% of the way there. Some questions remain that we tried to address with the customer support but couldn't get a response many times. Sometimes they were very responsive. So it was hit or miss.
Another important thing to point out is that they do not have a way to use the plugin on a staging server unless your site uses the same domain. This isn't explicitly an issue but our sites are set up on WP Engine often times. When you spin off a staging server with WP Engine, you get a different domain so the plugin won't work anymore. We were forced to create local installation and run the stating server there when setting up or testing out new implementations of the Bookly plugin. They claim that this is something that simply can not be helped because of the rules of the Marketplace they sell on (Envato) but of the dozens of plugins I've used that I've purchased from Envato, Bookly has been the only one to have rules so strict, it was impossible to use the plugin even on a staging site.
Pros:
The best part of Bookly is that if you're using it for putting together a site that books people for services, very much like the plugin is intended for, it works really well. The way the plugin allows you to change so much of the functionality through their WYSIWYG editors, the reports provided in calendar form and list form, the relative ease of connecting the plugin with payment processing... It really does almost always just work the way you need it to which is rare. One really nice feature is the ability to pretty seamlessly change the Booking Form from the backend. I'm no stranger to needing to change these things as needed through code but when you have the option to make the changes directly through the plugin, that's a bonus.
Cons:
The way the pricing structure is set up. We purchased the plugin about 10 months ago and within a month, there were changes to the plugin. Features we'd purchased had been removed from the plugin into separate plugins. Due to a mistake on the end of the developers, our plugin's purchase code wasn't grandfathered in so we would make updates to the plugin and then lose functionality we'd implemented in the installation. This was eventually resolved but then again, couldn't it have been avoided in the first place? On one hand, it can be a benefit to purchase plugins for the functionality you want. A lot of developers do that and it makes sense. On the other hand, some of the plugins offer very limited and seemingly basic functionality that were once part of the plugin.
LADELA Response
3 years ago
A Rare Plugin Hello, Jamie! Thank you very much for such a thoughtful review. We appreciate you taking the time to write a detailed feedback, and want to ensure that we work hard to improve our customers' experience and hope that shortly there will be no reasons to write about cons. We're sorry that you've had issues with Bookly and we do really hope that you won't have any in future and will enjoy using Bookly! Have a nice day!
Brett D.
Digital Marketing Manager in Australia
Verified LinkedIn User
Health, Wellness & Fitness, 2-10 Employees
Used the Software for: 1+ year
Good product backed by poor support model
Comments: Great product when it works but as mentioned above, plugin updates which break existing functionality should not be the customers cost to fix. I would rather an annual charge for using the plugin which includes support rather than this after purchase support at twice the price annually.
Pros:
Ease of use, ease of setting up. Nice interface. Good workflow. Fit for purpose.
Cons:
The worst part of this business model is having to pay for support to fix bugs in the software. Updates are regularly released which break the product but Envato expects you to pay over $100 AUD for them to fix their bugs. I don't mind paying for support regarding customisations or lack of user knowledge but to charge a support fee to fix the bugs they introduce in plugin updates just stinks. We wont be buying this product again or recommending it to our clients.
Education Management, 11-50 Employees
Used the Software for: 1+ year
Not sure what people are thinking by recommending this software
Comments: Bottom line. Bookly is no where near 100%. It fails a lot and you never know. If you want to lose money like we have over client not booking then Bookly is great. If you want to book appointments and run a business I would stay away and look for another Wordpress scheduling plugin. There are many other better ones. And cheaper.
Pros:
It was easy to setup. That's about it. Had to write 40 characters.
Cons:
It just stops working. We have used it for 2 years now. It just stops. No warning or log to tell you. When Wordpress updates, and it updates a lot, Bookly stops. It fails in some way. So to keep secure you need to update Wordpress. Bookly fails in some way. You call or email to get it fixed. They are not helpful at all. They ask for a purchase code. We have one. Then they say it's expired. We get another. Then they can't get things fixed. A year later Bookly fails again. Need to buy support again. It's their fault that they can't keep it going after a Wordpress update. My developer is frustrated with it and so are we. STAY AWAY. Plus if it is a main way you book your clients and it goes down. There is no way to no. You can go weeks without knowing that your clients are just stuck at a screen. YOU WILL LOSE MONEY.
Cosmetics, 2-10 Employees
Used the Software for: 2+ years
Time to Book with Bookly! Easy to set-up and use
Comments: Bookly has allowed us to start our business with the online booking feature at a relatively low cost, and has allowed our clients to reserve appointments at anytime and receive confirmation emails with all the booking information. Many other booking plugins are complicated to set up and start, you will not have that problem with Bookly. Highly Recommended.
Pros:
What makes bookly stand out from other booking software is how easy it is to set up on your website and input service and staff member information into the plugin. Although the free version has limited functionality, it can still be used and be useful to a certain point before buying the full version. It was a big help when we were just starting out as a small business.
Cons:
What we did not like about the software was that once there was a problem or once it stopped working, it was a bit tough to figure out and get it running again. On the other hand, we had amazing technical support and customer service from the Bookly Team, who took it upon themselves to resolve the issue and did not give up no matter how long it took.
Alex C.
Founder & Digital Director in UK
Verified LinkedIn User
Internet, Self Employed
Used the Software for: 2+ years
3 Year User
Comments: I really like the simplicity and ease of use for any user, both frontend and back. My main niggle is the calendar for day to day use.
I would suggest looking at some of the good (Property Management Softwares) for an example of how calendars can be clear with lots of information at a glance and on hovered states etc.
Pros:
I like the ease of use, the UI is very inutive.
Cons:
I don't like the calendar, it's hard to see at a glance what on.
LADELA Response
3 years ago
Hello! We appreciate your honest review! In the Feature Requests section of our Community, you can make suggestions about what you'd like to see in our future releases. Feel free to post your idea with the details about the problem you're facing here https://support.booking-wp-plugin.com/hc/en-us/community/topics/200189331-Feature-Requests and our product managers will consider your suggestions for the plugin improvement. Thank you!