15 years helping Australian businesses
choose better software
Local product
What Is MYOB Advanced Business?
MYOB Advanced Business is ideal for bigger businesses that have outgrown accounting software. It's secure, cloud-based business management software that connects your entire organisation across finance, operations, sales and HR, enabling integrated, real-time data to make smarter decisions for faster growth. Tailored specifically for your bigger business needs, MYOB Advanced Business includes accounting, inventory management, workflows, manufacturing, payroll functionality and much more.
Who Uses MYOB Advanced Business?
Sectors across ANZ like professional services, wholesale & distribution, manufacturing construction, building & trades use MYOB Advanced Business to connect every part of their business to the other.
Where can MYOB Advanced Business be deployed?
Cloud-based
On-premises
---
About the vendor
MYOB
Located in CREMORNE, Australia
Founded in 1991
MYOB Advanced Business support
Countries available
Australia, New Zealand
MYOB Advanced Business pricing
Starting Price:
MYOB Advanced Business does not have a free version.
About the vendor
MYOB
Located in CREMORNE, Australia
Founded in 1991
MYOB Advanced Business support
Countries available
Australia, New Zealand
MYOB Advanced Business videos and images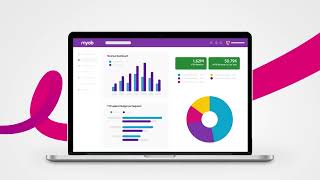 Features of MYOB Advanced Business
Access Controls/Permissions
Accounting
Accounting Integration
Accounts Payable
Accounts Receivable
Activity Dashboard
Ad hoc Reporting
Alerts/Notifications
Audit Trail
Bank Reconciliation
Billing & Invoicing
Budget Management
Budget Tracking
Budgeting/Forecasting
CRM
Cash Management
Cataloguing/Categorisation
Check-in/Check-out
Client Portal
Collaboration Tools
Compliance Management
Consolidation/Roll-Up
Core Accounting
Cost Estimating
Cost Tracking
Customisable Dashboard
Dashboard
Dashboard Creation
Data Connectors
Data Import/Export
Data Visualization
Demand Forecasting
Document Management
Drag & Drop
Employee Management
Enterprise Asset Management
Expense Tracking
Financial Analysis
Financial Management
Financial Reporting
Fixed Asset Management
Forecasting
General Ledger
Income & Balance Sheet
Integrated Business Operations
Inventory Auditing
Inventory Control
Inventory Management
Inventory Optimization
Inventory Tracking
Invoice Processing
Item Management
Mobile App
Multi-Currency
Multi-Location
Multiple Projects
Order Entry
Order Fulfillment
Order Management
Order Tracking
Payroll Management
Performance Metrics
Predictive Analytics
Profit/Loss Statement
Progress Reports
Project Billing
Project Costing
Project Management
Project Tracking
Purchase Order Management
Purchasing & Receiving
Quality Management
Quotes/Estimates
Real Time Data
Real Time Reporting
Real Time Synchronization
Receiving/Putaway Management
Reorder Management
Reporting/Analytics
Returns Management
Revenue Recognition
Sales Forecasting
Search/Filter
Self Service Data Preparation
Shipping Management
Supplier Management
Supply Chain Management
Task Management
Tax Management
Third Party Integrations
Time & Expense Tracking
Time Tracking
Transaction Management
Visual Analytics
Warehouse Management
Workflow Management
Alternatives to MYOB Advanced Business
Reviews of MYOB Advanced Business
Ali Sally
Human Resources Manager in Singapore
Verified LinkedIn User
Real Estate, 51–200 Employees
Used the Software for: 2+ years
Reviewer Source
Myob aAdvanced, a complete business solution.
Comments: My experience in using MyOB Advanced is great. I'm dealing with customer services and Human Resources works. MyOB Advanced helps me and my company to be more responsible and gives more measurable and satisfied services to our workers and clients.
Pros:
MyOB Advanced offers a lot of modular but integrated accounting functionities, easy to use and comes with real time cloud base activities. You can accomplish any accounting tasks that deal with your team and clients anywhere and anytime.
Cons:
MyOB Advanced ease complications of any accounting system, that's why the UI design should developed to be more intuitive and user friendly.
Steven
Finance Manager in Australia
Human Resources, 1,001–5,000 Employees
Used the Software for: 2+ years
Reviewer Source
Efficient and seamless accounting on MYOB Advanced
Comments: MYOB Advanced also enabled us to save on having our own server-based environment, we're now in the Cloud. So a saving on server license fees/ backup issues etc. We have also centralised our FAR in MYOB. Velixo is definitely the best feature of using Advanced, as detailed above.
Pros:
Integration with Velixo is a big plus. The write back and drill down features enable us to complete the accounting / reporting a lot quicker. -Updating budgets is much easier now. Velixo has provided a full suite of customized reports by refreshing data and changing date filters.-A key strength of the fixed asset module is that we can attach things like CAPEX approvals, quotations etc to the fixed asset record.
Cons:
The fixed assets forces the user to enter a useful life even for RB assets. There's also not validating tool prior to import, so when you set this up in MYOB you need to keep re-importing. We had some initial difficulties with inter-entity transactions which was only overcome with customisations and some protocols being put in place.
Alternatives Considered: Sage Accounting and NetSuite
Reasons for Choosing MYOB Advanced Business: ERP300 was no longer supporting the version we were using and was incompatible with MS Office 10 (I think?)
Reasons for Switching to MYOB Advanced Business: Cost and ease of use. Sales people explained the product better and we thought we would receive good after sales implementation (which we did)
Wes
Managing Director in Australia
Automotive, 11–50 Employees
Used the Software for: 6-12 months
Reviewer Source
Source: SoftwareAdvice
Disaster - 12 months of onboarding, training and workflow concepts we could not go live.
Comments: Not that great.... we spent 12 months of training, delayed going live because the inventory warehousing module didn't productively handle once of imports which needed to be allocated to Service Orders or Sales Orders. To make the system work over 400+ additional hours of customisation would be needed to allow picking slips on Service Orders, Batch customer driven backorders for weekly supply orders, sync up equipment management with service management, but the one thing that stopped going forward was the warehouse receivable process that was so underdeveloped it needed a complete revamp. None of this was picked up during the first few weeks of scoping the required workflow. On the 11th Month we decided to call it a day as the additional cost was 200% more than what we first expected. MYOB pulled the EULA and said we must keep paying up to 18 months of user subscriptions even though the product sold was not fit for purpose.
Pros:
Our business Equipment Dealership, import, sell and offer aftersale care over the life of the machine, some projects, we needed a project management module that our Dealer Management System did not provide, MYOB ERP Advance looked to have everything we needed. Added benefit was an upgrade to our AP & AR and payroll.
Cons:
In the Automotive & Equipment industry, inventory management is the backbone of the company, repairing vehicles and machinery always requires an accurate and easy functioning warehouse. Unfortunately, MYOB ERP Advanced "Acumatica" hasn't worked this industry out. The receivables and release to customers for imported one-off or low-volume replacement parts as a very awkward workflow that is counterproductive unless you spend a lot of $$$$ on customisation. If you are an importer that requires a customer-driven backorder out-of-stock resolution workflow, I suggest not looking at MYOB ERP Advanced.
Verified Reviewer
Verified LinkedIn User
Wholesale, 11–50 Employees
Used the Software for: 2+ years
Reviewer Source
Very Capable Accounting software
Pros:
I am able to extract data very easily through Odata and have been able to set up useful API integrations with other software. It is also easy to create my own reports using Generic Inquiries. These work very similar to how a pivot table works and I am able to customize to bring in the data fields I want to see.
Cons:
Sometimes being a proper accounting software i find some users find it difficult to understand and are overwhelmed by the features. However if being used by an accountant and with consultation with MYOB customer service this can be overcome to make reports and data points that all users can find useful.
Yo
Business Manager in Australia
Verified LinkedIn User
Hospitality, 2–10 Employees
Used the Software for: 1+ year
Reviewer Source
Good Accounting Software with Good Support
Comments: The software is reliable and does the job. It doesn't have fancy reporting or an amazing user interface but it's got everything you need. MYOB responded well to the changes needed for STP reporting, JobKeeper payments and Government Grants.
Pros:
Good, reliable software for accounting and payroll. Integrates well with our timesheet and rostering App (Deputy). Product support is generally very good and has extended hours.
Cons:
A few things are not very intuitive, eg I wanted to run a report showing how much we've spent with a certain supplier over the past year. The information wasn't where you'd expect it (in their card file). There are a couple of ways to get this info but I had to call support to find out. Also, we don't typcially generate invoices but when I needed to do one, I found it quite difficult to format it how I wanted it and to find out how to provide bank details instead of credit card info for payment.
Alternatives Considered: QuickBooks Desktop Enterprise and Xero
Reasons for Switching to MYOB Advanced Business: Accountant uses MYOB and it seemed simpler to use the same.