Local product
What Is Tribal Habits?
Online learning that's easy to create, engaging to learn and simple to manage.
If you can create PowerPoint slides, you can create engaging interactive online learning in Tribal Habits.
Our easy to use training creator, combined with world-class training libraries, provide a complete solution to digitise training processes, deliver compliance training, optimise employee induction and share best practices.
Who Uses Tribal Habits?
LMS + Course Authoring All-in-one platform. Manage compliance, events and external training. Powerful reporting data—Plus 100s of fully editable library modules. Suits any sized organisation or NFP.
Where can Tribal Habits be deployed?
Cloud, SaaS, Web-based, Android (Mobile), iPhone (Mobile), iPad (Mobile)
About the vendor
Tribal Habits
Located in Brisbane, Australia
Founded in 2017
Chat
Countries available
Australia, Fiji, New Zealand, Singapore, Sri Lanka
Tribal Habits pricing
Starting Price:
$5.00/month
Yes, has free trial
No free version
Tribal Habits does not have a free version but does offer a free trial. Tribal Habits paid version starts at $5.00/month.
Pricing plans
get a free trial
About the vendor
Tribal Habits
Located in Brisbane, Australia
Founded in 2017
Chat
Countries available
Australia, Fiji, New Zealand, Singapore, Sri Lanka
Tribal Habits videos and images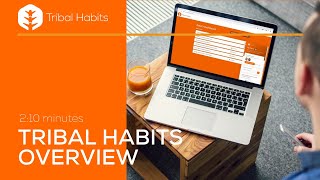 Features of Tribal Habits
Activity Dashboard
Alerts/Notifications
Asynchronous Learning
Blended Learning
Built-in Course Authoring
Certification & Licensing
Compliance Tracking
Content Library
Content Management
Course Authoring
Course Management
Course Publishing
Course Tracking
Customisable Branding
Customizable Questions
Customizable Reports
Customizable Templates
Data Import/Export
Interactive Content
Interactive Learning
Learner Portal
Learning Management
Learning Paths/Tracks
Mobile Access
Mobile Learning
Multimedia Support
PowerPoint Conversion
Progress Reports
Progress Tracking
Quizzes
Reporting/Analytics
SCORM Compliance
Self-Learning
Social Learning
Storyboarding
Synchronous Learning
Tests/Assessments
Training Administration
User Management
Video Management
Alternatives to Tribal Habits
Amy W.
Community Relations Officer in Australia
Verified LinkedIn User
Government Relations, 11-50 Employees
Used the Software for: 1+ year
Thanks for making our eLearning lives so much easier!
Comments: [SENSITIVE CONTENT HIDDEN] and the team are a delight to work with. They are extremely personable and timely in their responses and are constantly looking at ways to improve the platform to suit our ever changing needs. We have used the platform to host existing modules and to create new modules for our clients. Keep up the good work Tribal Habits!
Pros:
This platform allows us to have as much or as little input as we like. I particularly like the fact that we can go in and edit our own modules ourselves - this allows us to respond to client feedback and/or change content at a fast pace without having to rely on the TH team to do this for us. It is also very refreshing how the TH team respond to any feedback we receive about the functionality of the platform. The team are always looking at ways to improve functionality and add new features to suit our varied needs and sometimes obscure requests.
Cons:
I would like the reporting elements to be a little easier to navigate so potentially some extra filter options so that we can just pull the data we want from the platform rather than having to export to excel and then do further filters.
Tribal Habits Response
2 years ago
Thanks for the review Amy! We think our ability to easily edit the training you've created is something that sets us apart from our competition, so it's great to see that you feel the same way. Client support is a big point of pride for us as well. We're happy to hear that you've felt supported through your journey. In terms of our reporting, watch this space as we've got some big developments coming soon.
Max R.
Senior Learning and Development Advisor in Australia
Civil Engineering, 5,001-10,000 Employees
Used the Software for: 2+ years
eLearning With Ease
Comments: Tribal Habits is a fantastic company to work with. They put a high priority on customer service and client satisfaction which is clearly evidenced in all interactions I have with them. They offer an excellent product at a great value and I highly recommend them.
Pros:
Tribal Habits is an extremely intuitive product to use and administer. It makes building new course topics and deploying them to your business a breeze. No knowledge of course design software is required to build highly interactive topics, and courses can be updated and maintained into the future with ease. From a technical perspective, it integrates extremely well with other systems and has a very straightforward administrator interface. The course technology itself is also reliable, and I can't recall a time where we've had any amount of platform downtime. Finally, the customer experience provided by Tribal Habits is truly second to none. Support is lightning fast, and the team are always working to include new features. I'm very impressed with what has been achieved since I began using this product.
Cons:
As a platform designed to make it easy for anyone to build and administer a course, there are some understandable restrictions to the amount of customisation possible and occasionally I have to think outside the box to work around these limits. To the team's credit, they have worked to expand these since the product launch, and are very responsive and open-minded when considering change requests. Even if the answer is 'no', you'll be provided with a thorough explanation behind the reason.
Tribal Habits Response
2 years ago
Thank you Max, that's an amazing review! We're really happy you're enjoying the platform and it's helping you achieve your learning and development objectives.
Geoff R.
Director in Australia
Professional Training & Coaching, 2-10 Employees
Used the Software for: 1+ year
A Game Changer
Comments: I have successfully converted face-to-face training into blended online programs, including using the system to provide digital workbooks during virtual workshops (e.g. Zoom). During this time the level of support has been outstanding. Positive feedback from clients and participants confirms the move to Tribal Habits was a wise decision. I am a fan!
Pros:
As a newcomer to online training I was blown away by how easy it is to convert face-to-face training into blended online programs. There are many excellent features that enabled this transition, but the following made a huge difference: Sage (the AI assistant that guides your instructional design), a very comprehensive set of tools for creating interactive learning, access to a large image library, and the cost based on active users. Another excellent feature is the automated notification of stakeholders regarding learner progress.
Cons:
There are a few features that are not in the platform, but I have been told they are in the queue, so I won't mention them. Ironically, this highlights another positive, which is rapid innovation of the system during the time that I have been using it.
Tribal Habits Response
2 weeks ago
Thank you for such great feedback, Geoff! We're a big fan of Sage too. Keep the feature suggestions coming, we've got a lot of great new things releasing in the coming months!
Brooke H.
HR Officer in Australia
Education Management, 51-200 Employees
Used the Software for: 6-12 months
Great training platform
Comments: The overall experience with Tribal Habits has been great. It has been easy to use and implement with staff, offers a great selection of topics in the library and has the option to create/customise training.
Pros:
The ease of entering new staff into the system and the rollout of training topics.
Cons:
The reporting process is quite manual in terms of sorting functionality. I would love to be able to just run a report on staff that have training topics outstanding.
Tribal Habits Response
2 weeks ago
Thanks so much for spending the time to leave us a great review Brooke! The report you mention is quite easy to run, we've sent you an email on how to do that. If you get stuck with anything you can always reach out to the live support chat :)
Michelle H.
Knowledge, Learning & Automation Solutions Manager in Australia
Law Practice, 51-200 Employees
Used the Software for: 6-12 months
Tribal Habits e-learning platform
Comments: Tribal Habits has been great to encourage self-learning for our users, especially in this new environment of blended working, ie remote working as well as in office working.
Pros:
The software is extremely easy to use and support if you do have any queries is so fast and efficient I am never waiting for an answer. As an administrator being able to upload people via a csv file was important as well as then being able to filter those categories to assign knowledge by rules. The reporting process is also simple to use and great that users can monitor their own progress as well as managers and any other stakeholder required.
Cons:
There are no aspects difficult to use at all - overall extremely happy with the product
Tribal Habits Response
3 weeks ago
Thank you so much for your review Michelle! We're glad you find it easy to use - that was one of our main goals, making it easy for anyone to create their own training.