15 years helping Australian businesses
choose better software
Local product
What Is Tribal Habits?
Online learning that's easy to create, engaging to learn and simple to manage.
If you can create PowerPoint slides, you can create engaging interactive online learning in Tribal Habits.
Our easy to use training creator, combined with world-class training libraries, provide a complete solution to digitise training processes, deliver compliance training, optimise employee induction and share best practices.
Who Uses Tribal Habits?
LMS + Course Authoring All-in-one platform. Manage compliance, events and external training. Powerful reporting data—Plus 100s of fully editable library modules. Suits any sized organisation or NFP.
Where can Tribal Habits be deployed?
Cloud-based
On-premises
---
About the vendor
Tribal Habits
Located in Brisbane, Australia
Founded in 2017
Countries available
Australia, Fiji, New Zealand, Singapore, Sri Lanka
Tribal Habits pricing
Starting Price:
$9.40/month
Yes, has free trial
No free version
Tribal Habits does not have a free version but does offer a free trial. Tribal Habits paid version starts at $9.40/month.
About the vendor
Tribal Habits
Located in Brisbane, Australia
Founded in 2017
Countries available
Australia, Fiji, New Zealand, Singapore, Sri Lanka
Tribal Habits videos and images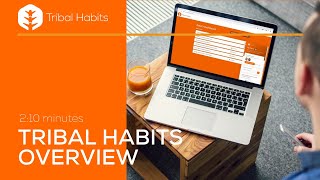 Features of Tribal Habits
Activity Dashboard
Alerts/Notifications
Assessment Management
Assignment Management
Asynchronous Learning
Blended Learning
Built-in Course Authoring
Certification & Licensing
Content Library
Content Management
Course Authoring
Course Management
Course Publishing
Course Tracking
Customisable Branding
Customizable Questions
Customizable Reports
Customizable Templates
Data Import/Export
Interactive Content
Interactive Learning
Learner Portal
Learning Management
Learning Paths/Tracks
Mobile Access
Mobile Learning
Multimedia Support
PowerPoint Conversion
Progress Reports
Progress Tracking
Quizzes
Reporting/Analytics
SCORM Compliance
Self-Learning
Skills Assessment
Social Learning
Storyboarding
Synchronous Learning
Tests/Assessments
Training Administration
Training Management
User Management
Video Management
Alternatives to Tribal Habits
Amy
Community Relations Officer in Australia
Verified LinkedIn User
Government Relations, 11–50 Employees
Used the Software for: 1+ year
Reviewer Source
Thanks for making our eLearning lives so much easier!
Comments: [SENSITIVE CONTENT HIDDEN] and the team are a delight to work with. They are extremely personable and timely in their responses and are constantly looking at ways to improve the platform to suit our ever changing needs. We have used the platform to host existing modules and to create new modules for our clients. Keep up the good work Tribal Habits!
Pros:
This platform allows us to have as much or as little input as we like. I particularly like the fact that we can go in and edit our own modules ourselves - this allows us to respond to client feedback and/or change content at a fast pace without having to rely on the TH team to do this for us. It is also very refreshing how the TH team respond to any feedback we receive about the functionality of the platform. The team are always looking at ways to improve functionality and add new features to suit our varied needs and sometimes obscure requests.
Cons:
I would like the reporting elements to be a little easier to navigate so potentially some extra filter options so that we can just pull the data we want from the platform rather than having to export to excel and then do further filters.
Tribal Habits Response
4 years ago
Thanks for the review Amy! We think our ability to easily edit the training you've created is something that sets us apart from our competition, so it's great to see that you feel the same way. Client support is a big point of pride for us as well. We're happy to hear that you've felt supported through your journey. In terms of our reporting, watch this space as we've got some big developments coming soon.
Alyssa
Training & Product Development Manager in Australia
Automotive, 51–200 Employees
Used the Software for: 1-5 months
Reviewer Source
Great Product, Even Better Customer Support!
Comments: My overall experience with Tribal Habits has been nothing short of exceptional. It has been a stress-free journey that I've found both informative and empowering. What sets Tribal Habits apart is that it makes me feel like part of a partnership rather than just a number in the system. The collaborative approach is truly enjoyable and fosters a sense of working together towards our goals. This platform has not only met but exceeded my expectations, and I look forward to continuing this fruitful partnership.
Pros:
What I appreciate most about Tribal Habits is how remarkably user-friendly it is. Initially, I felt a bit apprehensive about the prospect of configuring an LMS, but the setup process turned out to be remarkably hassle-free. The team is readily available to assist with any inquiries that arise during the journey. However, thanks to the extensive knowledge database at my disposal, I've managed to resolve most of my queries independently.Moreover, the inclusion of pre-made topics has been an invaluable addition to our experience. These ready-made topics have allowed me to kick off our platform with well-structured content that significantly eases the process of creating the initial material. It's a relief to know that I can utilize topics like Data Security and trust that they will stay up-to-date should any changes occur within the government regulations, which is a great weight off my shoulders. This feature enhances the platform's adaptability and ensures our compliance without constant manual updates.
Cons:
I believe there is room for improvement in the area of customization, particularly when it comes to celebratory moments like certificates. It would be highly beneficial to have the option to personalize these certificates to better reflect and highlight significant milestones, allowing for branding elements that make the achievements truly stand out.
Alternatives Considered: Acorn
Reasons for Switching to Tribal Habits: I opted for Tribal Habits over alternative products for several reasons. Firstly, the usability of the platform stood out as excellent, making it easy for me to navigate and utilize its features effectively.Another key factor was the ability to construct comprehensive training packages directly within the platform. This functionality was a crucial requirement for me, and Tribal Habits fulfilled it seamlessly.Furthermore, the team behind Tribal Habits played a pivotal role in my decision. Their dedication, passion, and in-depth knowledge of the product were evident throughout our interactions. Their support and expertise made me confident that I was choosing a solution backed by a committed and competent team, reinforcing my choice of Tribal Habits.
Tribal Habits Response
last month
Thank you so much for such a lovely review Alyssa! We hear you on certificates, coincidentally customisation on those are in final stages of development and will be released in just a few weeks! We love helping you continue to create great training programs for your staff!
Lamey
Senior Account Trainer in Philippines
Verified LinkedIn User
Outsourcing/Offshoring, 501–1,000 Employees
Used the Software for: 1+ year
Reviewer Source
Huge help in our digitalisation!
Comments: Overall satisfied! Personally had some hesitations in changing from the classroom type to electronic, thought it might interfere with our trainees' learning. Very happy that we are now producing more capable graduates with the combination of our content and Tribal Habits. This platform has been a huge part of our Training Team. Also made sure we had a practical subscription suitable to our needs. Plus, I cannot stress enough how great their customer and technical support is. In this day and age of high technology, human connection still wins and Tribal Habits is leading.
Pros:
It's truly effortless to use! Our transition from pure traditional training to digital was smoother than expected - one factor would be the exemplary customer service of Tribal Habits. Rep. team are awesome. I especially love how welcoming they are in receiving feedback and suggestions.
Cons:
Like any product, it does have areas to improve and functions that need to be explored. So far, the assessment zone is where I see they can invest more time in. We currently have an accreditation in place and it would be super awesome to have more types of examinations, especially on task simulations.
Tribal Habits Response
4 years ago
It's great to hear we were able to help you successfully roll out digital training across your organisation and that your graduates are getting up to speed in record time. We've got a lot planned in the area of assessments of the coming months, so watch this space!
Duncan
Online Training Manager in Australia
Civic & Social Organization, 1,001–5,000 Employees
Used the Software for: 2+ years
Reviewer Source
How easy was that!
Comments: Brilliant! So impressed by the level of professionalism and how well the platform performed and improved while meeting our needs as they evolved.
Pros:
If you want a online learning platform partner that offers second to none service and support then Tribal Habits should be on top of your list. Tribal Habits is an authentic partner that continually updates it's system and listens to the client while making system improvements were it can for the benefit of all.
Cons:
I could not fault the service delivered by Tribal Habits.
Alternatives Considered: Acorn and iSpring Suite
Reasons for Choosing Tribal Habits: At that stage, I was looking for a system that offered more advanced analytics, reporting and came with an inbuilt content creation and library.
Switched From: PowerHouse Workforce
Reasons for Switching to Tribal Habits: Quality of testimonials and references provided. Standard of implementation and ongoing service and support. Standard, range and level of system functions and capabilities vs our business needs vs costs.
Ian
Head of Training & Implementation in Australia
Construction, 2–10 Employees
Used the Software for: 1+ year
Reviewer Source
Tribal Habits take LMS platforms into the future
Comments: Top of the line service. It is nice to work with a company/team who really are customer focused and want the software to be Best in Breed. Nothing was to difficult or stupid to ask the team.
Pros:
There was a great library of courses & templates that already come with the software. They can be copied and edited as required.As a new user I was able to create a whole course but prior to publishing I could use the software to make some suggestions to the course. I also had access to request the Tribal Habit team to review the course from a Trainers POV.
Cons:
Whilst the "Word Search" was amongst the best I have seen in a long time, there were still some issues finding Help Articles. This usually didn't stay as a Con for long as I could, quickly and easily, chat with the Support who guided us.
Tribal Habits Response
8 months ago
Thanks Ian! Appreciate you taking the time to leave such a great review. Getting your course content reviewed by our learning specialists for free is definitely popular! We don't expect that everyone is a trained learning designer, so it's a way we can help bring learning content you make up to the next level.