Who Uses Halp?
Fast-growing IT, TechOps and Internal Ops teams at small, medium, or enterprise companies.
What Is Halp?
Halp is a conversational ticketing solution for modern IT and Operations teams to assign, prioritize, manage, and report on requests from Slack. Its used every day by internal operations teams at Adobe, Home Depot, GitHub, Slack, ClassPass and many more. Halp makes your team more productive by dramatically reducing ticket resolution time without adding awkward barriers between your agents and their colleagues.
Halp Details
Halp Cost Overview
Halp does not have a free version but does offer a free trial. Halp paid version starts at USD 25.00/month.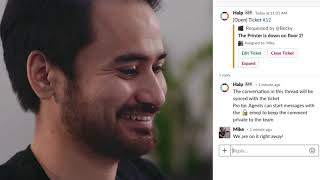 Play
Pricing Details
3 tiers self-serve, professional, & enterprise, based per agent seat.
Randy T.
IT Manager
Health, Wellness & Fitness, 501-1,000 Employees
Used the Software for: 6-12 months
Overall Rating

Ease of Use

Features & Functionality

Customer Support

Value for Money

Likelihood to Recommend
Reviewer Source

Reviewed on 09/01/2020
"Great Product, Great People."
Comments: Every single person I have interacted with at Halp is passionate about the product and how it can help me. They are super supportive and knowledgeable, so not only do they listen to my feedback, but they have great ideas of how to use Halp fully with the other tools I have.
Pros: I am in an environment with Slack and Zendesk used heavily. I love that I now have these tied together in an easy way to be able to quickly push tickets without even having to go back to the web interface. There own ticketing system backend is ever improving and I fully intend to move my IT team off of Zendesk and over to Halp fully, hopefully within this next year. Also, the BetterCloud integration to be able to kick off workflows is AWESOME.
Cons: They did originate as BubbleIQ and have grown into what they are now. Because of this, the feature set it still growing. That is not a horrible Con, as they are actively growing the feature set and constantly seek input from customers to determine the best roadmap.
Reviewer Source

Reviewed on 09/01/2020