What Is eFax Corporate?
eFax Corporate, a HIPAA-compliant secure cloud fax service, eliminates capital expenditures associated with faxing equipment and reduces expenses to a low operational cost. Send and receive faxes online or by email from any device such as a PC, laptop, smartphone or tablet. We help organizations cut costs, increase productivity and enhance security and regulatory compliance. We use TLS, AES 256-bit encryption, and a secure fax API to integrate with your existing applications. BAA also available.
Who Uses eFax Corporate?
Any business or organization that needs multiple fax numbers. We help users meet compliance requirements in highly regulated industries.
Where can eFax Corporate be deployed?
Cloud, SaaS, Web-based, Android (Mobile), iPhone (Mobile), iPad (Mobile)
About the vendor
j2 Global
Located in Lexington, US
Founded in 1999
Phone Support
24/7 (Live rep)
Chat
eFax Corporate pricing
Starting Price:
Not provided by vendor
Yes, has free trial
No free version
eFax Corporate does not have a free version but does offer a free trial.
About the vendor
j2 Global
Located in Lexington, US
Founded in 1999
Phone Support
24/7 (Live rep)
Chat
eFax Corporate videos and images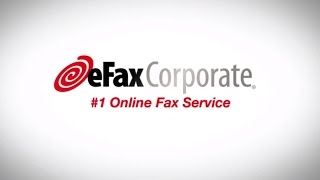 Features of eFax Corporate
Archiving & Retention
Audit Trail
Delivery Tracking
Document Storage
Electronic Faxes
Electronic Signature
Email to Fax
Encryption
Fax to Email
FoIP
Alternatives to eFax Corporate
Reviews of eFax Corporate
Kelly M.
Branch Manager in US
Verified LinkedIn User
Financial Services, 1,001-5,000 Employees
Used the Software for: 2+ years
one of my most used tools
Comments: provides me with a tremendous amount of value in customer relations and profitability with the time factor in response time. it gives me an edge over my competition
Pros:
this enables me to receive my faxes no matter where I'm at. it also lets me decide if and who can be added to distribution list. im anle to respond to my merchants regardless of my location.
Cons:
sometimes it can be a little slower than traditional fax to receive. there have been occasions thst i have had to have items faxed to office fax instead.
Candace E.
Help Desk Analyst in US
Computer Hardware, 501-1,000 Employees
Used the Software for: 2+ years
eFax securely sends your documents!
Comments: eFax by J2 offers end-users the ability to send secured faxes online. End-users can use eFax by J2 to send faxes via a computer desktop, laptop, or mobile device. The benefits of eFax is sending outgoing or receiving incoming faxes via a personally selected fax number. eFax allows users to manage account online. eFax is a great online faxing tool.
Pros:
eFax allows end-users to send documents online. eFax offers a free trial to send 150 pages per transfer. eFax allows end-users to send 150 incoming as well as outgoing faxes per the free trial. eFax does not require an initial activation fee. eFax allows end-users to select personal faxing number. eFax offers two types of subscriptions such as Plus and Pro with two different types of feature prices.
Cons:
eFax at one point in time was a free service and now requires payment. eFax interfaces with a third party cloud storage. eFax collects cookies and session cookies ID per user and their computer. eFax company server stores personal information that may identify the user. eFax is required to maintain information per user for a limited time, within the terms of agreement of privacy, that time frame is unidentifiable.
Verified Reviewer
Senior account executive in Israel
Verified LinkedIn User
Computer Software, 51-200 Employees
Used the Software for: Free Trial
Any easy way to send faxes from emails
Pros:
eFax does exactly what it says on the tin. don't expect too many bells and whistles. but when working with highly regulated organisations sometimes faxes are needed and getting the fax straight to a digital place or sending it from an email is super handy!
Cons:
The support is one of their biggest issues. dont expect people to get back to you quickly. other than that, they are ok.
Cecelia G.
Senior Housing Counselor/Loan Servicing in US
Used the Software for: 2+ years
I use eFax directly or with our 800#. Easy to use.Perfect if you have your directly line to pick up
Pros:
A like my personal eFax number. I don't have to wait for someone to look up the faxes for me. I go in my fax and access directly. The system saves your faxes for a long time. You can create folders to save the fax into. Sending faxes is easy and it saves the contacts especially when you have multiple requests from a certain agency. Faxes are clear. I love my eFax.
Cons:
It is hard when you only have one number to send and receive faxes to especially when someone other than you handles the faxes. I don't like when you get faxes repeatly from other businesses that do not belong to you.
Verified Reviewer
Social Worker in US
Verified LinkedIn User
Hospital & Health Care, 201-500 Employees
Used the Software for: 2+ years
Digital Faxing with HIPAA Compliance
Comments: eFax Corporate allows me to achieve more by digitally faxing documents with HIPPA compliance.
Pros:
At the surface, eFax Corporate provides what you expect, a digital fax that allows you to fax directly to an individuals email, and it does it well. It also allows you to sign documents within the application, offers mobile applications and what got me the most excited, it works with GoogleDrive.
Cons:
My biggest draw back is their limits on page/file size. Sometimes the charts I have to send are robust and I have to break them down into multiple faxes.