What Is Katana Manufacturing ERP?
Katana is a manufacturing ERP that gives you a live look at your business. Features include live inventory and manufacturing management, batch tracking for end-to-end traceability, a Shop Floor App for total floor-level control, open API, and a growing channel partner network. Real-time master planning features automate resource allocation based on prioritised sales orders and integrations with e-commerce, accounting, CRM, and reporting services to centralise all key business operations.
Who Uses Katana Manufacturing ERP?
Manufacturers using QuickBooks Online or Xero and selling on e-commerce platforms like Shopify, WooCommerce, BigCommerce, Amazon, eBay, Etsy, and more.
Where can Katana Manufacturing ERP be deployed?
Cloud, SaaS, Web-based, Mac (Desktop), Windows (Desktop), Chromebook (Desktop), Android (Mobile), iPhone (Mobile), iPad (Mobile)
About the vendor
Katana Technologies
Located in Tallinn, Estonia
Founded in 2016
Phone Support
24/7 (Live rep)
Chat
Katana Manufacturing ERP pricing
Starting Price:
USD 99.00/month
Yes, has free trial
No free version
Katana Manufacturing ERP does not have a free version but does offer a free trial. Katana Manufacturing ERP paid version starts at USD 99.00/month.
Pricing plans
get a free trial
About the vendor
Katana Technologies
Located in Tallinn, Estonia
Founded in 2016
Phone Support
24/7 (Live rep)
Chat
Katana Manufacturing ERP videos and images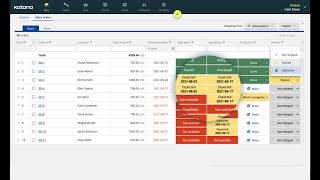 Features of Katana Manufacturing ERP
API
Accounting Integration
Activity Dashboard
Alerts/Notifications
Automated Scheduling
Barcode / Ticket Scanning
Barcoding/RFID
Bills of Material
CRM
Capacity Planning
Cataloguing/Categorisation
Change Management
Channel Management
Check-in/Check-out
Contact Database
Cost Tracking
Customer Accounts
Data Import/Export
Document Management
ERP
Financial Management
Forecasting
Integrated Business Operations
Inventory Auditing
Inventory Control
Inventory Management
Inventory Optimization
Inventory Tracking
Item Management
Manufacturing Planning
Marketplace Integration
Material Requirements Planning
Mobile Access
Order Entry
Order Management
Order Tracking
Product Identification
Production Scheduling
Purchase Order Management
Quality Control
Quality Management
Quotes/Estimates
Real Time Data
Real Time Monitoring
Reorder Management
Reporting/Analytics
Returns Management
Scheduling
Search/Filter
Serial Number Tracking
Shipping Management
Status Tracking
Supplier Management
Supply Chain Management
Third Party Integrations
Traceability
Warehouse Management
What-if Analysis
Workflow Management
eCommerce Management
Alternatives to Katana Manufacturing ERP
Reviews of Katana Manufacturing ERP
Joshua P.
Owner in US
Verified LinkedIn User
Warehousing, 2-10 Employees
Used the Software for: 1+ year
The best for small manufacturing
Pros:
KatanaMRP has really helped me know what to order, and when to order it, as well as plan what comes next in manufacturing. It even lets me add time to tasks in production so I can monetarily make sure employees are being efficient enough for my company to remain profitable. Definitely recommend. I wish I would have found them sooner.
Cons:
Sometimes the app logs me out and I have to put the information in twice.
Alternatives Considered: DEAR Systems and Odoo
Reasons for Choosing Katana Manufacturing ERP: ease of use and training of users
Switched From: DEAR Systems
Katana MRP Response
2 years ago
Thank you for the feedback and support!
Food & Beverages, 2-10 Employees
Used the Software for: 1-5 months
Intuitive, Fast To Implement, and Beautifully Designed
Pros:
The user interface is clean and very intuitive, requiring essentially no time to learn. Some of the other MRP solutions we tried were difficult to navigate and use, and training on them would have been labor intensive and costly. Katana is beautifully designed, and the batch-tracking and inventory management is easy to adapt to our business (MRPeasy/ERPAG were very clearly not designed with food manufacturing in mind, so making them even remotely functional for that purpose felt like a bit of a fools errand, whereas Katana just works).
Cons:
While it is very user-friendly and it has the ability to track batches/lots (which is critical for us), we've had to develop workarounds to make it function the way we need it to -- it doesn't quite handle this the way I would envision it should. There are also some minor time wasters. If there's one simple feature I wish they would change, it's being able to type in the expiration dates rather than having to scroll through the calendar manually to select the correct date. This becomes so onerous when receiving multiple items on a PO and having to manually click through/scroll through the calendar to select the correct date as opposed to simply having a field that allows you to type in the date and move on.
Alternatives Considered: Fishbowl, MRPeasy and ERPAG
Reasons for Switching to Katana Manufacturing ERP: Katana is a great small business solution that I can easily see growing with us. Fishbowl is cost-prohibitive (and honestly at this point, I'd rather just use Katana). MRPeasy and ERPAG are not as well designed and don't work well as a food industry solution -- they made simple tasks feel like running through a maze. The developers at Katana did a beautiful job of creating something intuitively designed that works well across multiple industries while also making it as clean and aesthetic as it is functional. It's a pleasure to use. I've noticed that they also seem to be regularly implementing improvements and updates, which is awesome. Customer support is friendly and responsive. Highly recommend.
Chemicals, 51-200 Employees
Used the Software for: 1-5 months
Overpriced and insecure
Comments: Too expensive, cheaper to purchase some of the Tier One options out there. Insecure as your users have wide open access to all features - including the dreaded "delete all" function.
Pros:
The software has the **potential** to be good.
Cons:
There are only 2 user levels "Superusers" with access to all levels of creative and destructive features, and warehouse operators, with access to make to BOM instructions. The lack of "sales team" and other intemediate levels of access is a killer.
Katana Technologies Response
3 weeks ago
Hi Bill, We're aware our user permissions could be improved, and just around the corner in Q3 '22 we're launching a new and improved version with much more flexibility. We're currently building this out as we've received similar feedback in the past, thanks for your feedback on the topic too! I'd also like to clear up how user permissions are working currently too, we have 3 levels of users; Owner - access to all functions, including billing and delete all button. User - access to all functions, excl billing and delete all button. Operator - only shop-floor app access. Additionally, it takes 4 separate steps to clear all account data in settings, including typing out your email address in full and is restricted to only the owner of the account. If you need any help with users or have additional feedback to give, please chat with us in app as currently it's a great time to incorporate feedback specifically for this feature!
Medical Devices, 2-10 Employees
Used the Software for: 6-12 months
A lot of bang for the buck!
Comments: We were able to implement Katana as our central point for our entire software stack. Each piece of software gets its orders and data from Katana. Normally, I would be hesitant to put any of the software that small business sees on a daily basis into this important position. I had no issue putting Katana into this position.
Pros:
This software has a fantastic feel to make working in it incredibly efficient. As a person that works with software/web design/development, I can appreciate the attention paid to this incredibly complex platform.
Cons:
There isn't much we don't like. Most of the small things are already in the development cycle and they include small things like being able to customize Katana a bit more for our specific needs. Column order, custom fields, field mapping of API connections, etc.
Jared H.
VP Operations in US
Verified LinkedIn User
Food Production, 2-10 Employees
Used the Software for: 6-12 months
The MRP system I wish I'd always had
Comments: Katana's awesome, full stop. I've been working with manufacturing businesses for years, and for years I've lamented Xero's relatively weak inventory management system. Two years ago I tried literally every MRP app I could find to plugin to Xero; they were all pretty bad. Along comes Katana, which maybe was around earlier but was "new to me" just this year, and ... wow. Mostly, it Just Works. The Xero integration works seamlessly for bills and sales orders, which speeds AP/AR quite a bit. 90% of the tool's value is outside of Xero though, and I now have a permanently-pinned Katana tab in my browser for tracking everything in the production flow from raw materials purchasing, to production, to sale, to reconciliation of remaining materials and product stock. It's great. Is it perfect? Not quite. They need to do some performance work, as load times are often a little sluggish. Also, it would be nice to see finer-grained automation, and better contact syncing. But overall, I'm delighted.
Pros:
- It's really easy to use - Makes it easy to track materials on hand, reorder, etc - Calculates margin including labor cost - Xero integration works perfectly - Zapier integration makes it really flexible from an automation standpoint - Really lots of other stuff ... it's truly an excellent product and an outlier in a pretty clunky space.
Cons:
It can be a little slow, and the contact syncing could be more robust.
Alternatives Considered: MRPeasy, NetSuite and Zoho Inventory
Reasons for Switching to Katana Manufacturing ERP: It's easier to use, it's priced right, and it gives you what you need without a bunch of stuff you don't. Perfectly tailored for SMB/SME manufacturers.