What Is Google Sheets?
Online spreadsheet making tool that helps in creating, editing & sharing spreadsheets in real-time through any PC, mobile or tablet.
Who Uses Google Sheets?
Designed for businesses of all sizes, it is a spreadsheet making & editing tool with built-in templates, pivot tables, conditional formatting & more.
Google Sheets Details
Google
Founded in 2012
Google Sheets Details
Google
Founded in 2012
Google Sheets videos and images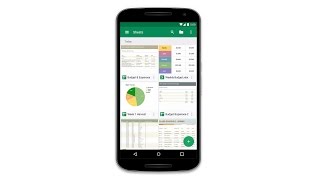 Compare Google Sheets pricing with similar products
Starting price
N/A
USD 1.99/month
USD 6.00/month
USD 0.01
Google Sheets deployment and support
Support
Email/Help Desk
FAQs/Forum
Knowledge Base
Phone Support
Chat
Deployment
Cloud, SaaS, Web-based
Mac (Desktop)
Windows (Desktop)
Android (Mobile)
iPhone (Mobile)
iPad (Mobile)
Training
Live Online
Documentation
Videos
Features of Google Sheets
API
Access Controls/Permissions
Activity Dashboard
Activity Management
Activity Tracking
Audit Trail
Calculators
Calendar Management
Charting
Collaboration Tools
Commenting/Notes
Communication Management
Customizable Reports
Customizable Templates
Customization
Data Capture and Transfer
Data Extraction
Data Import/Export
Data Synchronization
Data Visualization
Database Support
Document Automation
Document Management
Document Review
Document Storage
Document Templates
Drag & Drop
Employee Management
File Management
File Transfer
Forms Management
Full Text Search
Multi-Language
Multi-User Collaboration
Multiple Format Support
Multiple Projects
Offline Access
Project Management
Project Templates
Real Time Data
Real-time Updates
Reporting/Analytics
Scheduled / Automated Reports
Search/Filter
Single Sign On
Template Management
Templates
Third Party Integrations
User Management
Workflow Management
Ricardo O.
External platforms Specialist in Panama
Verified LinkedIn User
E-Learning, 501-1,000 Employees
Used the Software for: 2+ years
Alternatives Considered:
A complete worksheet solution with polished sharing features
Comments: Google Sheets offers rock-solid collaboration tools. Since my organization lives inside Google Workspace this is critical. We do not miss Excel, nor the additional cost.
Pros:
Google Sheets is a robust worksheet software that can do 95% of what the average user will expect from Excel and other competitors. The formulas work about the same, therefore the learning curve is not steep. The sharing features are polished and very granular, allowing you to share at different levels depending on your needs. This is understandably robust, as Google practically invented the collaboration features in productivity software. Other pros are automatic saving of files, constant improvement of the app, an increasing set of "add-ons" from external providers.
Cons:
The apps for Android phones and IOS are lacking a lot. Over Ipad, for example, I almost always find myself going back to my laptop.
Mary P.
Director of Religious Education in US
Religious Institutions, 11-50 Employees
Used the Software for: 2+ years
Anyone Can Use It!
Comments: I was able to teach one of our longest standing employees how to use this easily. She was keeping track of data in word documents. With 2 lessons she is now inputting information in google sheets and adding info and columns to google sheets generated from google forms. It has completely changed the way she does her job and she loves it because it is so user friendly!
Pros:
I love how user friendly and easy features are to find in this software. I also love that multiple people can edit at the same time. We use this product in conjunction with google forms for almost all of our data collection.
Cons:
I wish there was a way to insert a title for printing select cells. I have to go into google docs to create a table and put a title in that way. It seems natural that you would be able to title and print a selection or data sheet from google sheets.
Rebecca R.
Head of Core Curriculum in US
E-Learning, 51-200 Employees
Used the Software for: 2+ years
A good free alternative to Excel—if you need free
Comments: Since I don't use super-advanced features, I would say my experience is mostly fine, but I probably wouldn't go out of my way to suggest the use of Google Sheets over Excel—I would offer it as a suggestion to someone who either didn't have the money to spend on a spreadsheets software or if their intentions were limited to relatively simple or common tasks like making a monthly budget or creating a to-do list.
Pros:
The basic features of Google Sheets are very easy to use, especially if like me, you spent the first 30 years of your life on Microsoft products. Google didn't reinvent the wheel and most of the functions used in Google have identical syntax to Excel, so you won't spend time re-learning how to sum your rows or columns. If you don't need to do anything overly complex in a spreadsheet, Sheets is an absolutely acceptable alternative to its competitor
Cons:
While the basic features are simple and easier. Some of the "intermediate" features require a bit of research. For example, basic conditional formatting is fairly straight forward—however, if you want to do even a little bit beyond basic, for example, look for duplicates (which is very straightforward in Excel), you need to apply custom functions within conditional formatting rules. And if you're not relatively informed or willing to sit through a YouTube tutorial, it's not going to be super clear what the correct answer is. Also, Google's customer service doesn't usually supply any help here; I've seen numerous threads between customers and Google where customers ask how to do very common tasks or ask about common features and the reply is a resounding "We don't do that.". I'm in a privileged position because I work at a company that actually teaches people how to use Google Sheets, so I have a free resource to teach myself tricks if necessary, but despite this, the syntax for "complicated" tasks is easy to forget and I do often find myself looking up the same things over and over again.
Mahmudul islam S.
Civil engineer in Bangladesh
Verified LinkedIn User
Civil Engineering, 501-1,000 Employees
Used the Software for: 2+ years
Google sheets is good for remote work with teammates
Comments: For teamwork, google sheets is the perfect addition for documentation work, I can easily complete my work ,in such pandemic time. Remote work is the speciality of Google sheets, it doesn't have so many features like MS Excel, but as a tool for documentation in cloud platform, it's very fast.
Pros:
Google sheets have kind of same features like MS Excel, do documentation work,editing,prepare data and graph ,more logical ways. So that audience understand it perfectly. Besides it is cloud based tools, with my team mates ,I can easily able to do work at same time . Real time syncing is top notch here. Able to access from any device , so place doesn't matter.
Cons:
I wish to have some extra features like MS Excel, shortcuts function is only working in keyboard. Mouse should be included also.
Banking, 10,000+ Employees
Used the Software for: 6-12 months
Like Excel but Anywhere!
Comments: Google Sheets is a great way to create and share spreadsheets harnessing the ubiquity of the Cloud. I've used it to share a cost schedule with those I've travelled with to track expenses on trips for example.
Pros:
Given that Sheets is a cloud based Google product, it is accessible across all of my devices including computers and smart phone. Plus, as a user of Microsoft Excel for several years, it was very easy to jump right in and start using Sheets immediately with little to know learning curve. Additionally, you can share a spreadsheet with other users via the cloud for seamless collaboration.
Cons:
While it feels a great deal like Excel, using it on a phone vs a computer can be a little tricky at first as you have to learn to navigate via touch vs a mouse. This is certainly no barrier to using the software, however as one can get accustomed to the process with minimal practice.