Local product
What Is Vervoe?
Vervoe's mission is to make hiring about merit, not background.
We help employers make hiring decisions based on how well candidates can actually do the job instead of how good they look on paper. Vervoe replaces the traditional hiring process with skills assessments and gives every candidate an opportunity to showcase their talent by doing job-related tasks. Then, Vervoe uses machine learning models to automatically rank candidates based on how well they perform.
Who Uses Vervoe?
Organizations that want to create efficiency in their hiring process, removing bias by focussing on skills and attitude.
Where can Vervoe be deployed?
Cloud, SaaS, Web-based
About the vendor
Vervoe
Located in Blackburn, Australia
Founded in 2016
24/7 (Live rep)
Chat
Languages
English, Spanish
Vervoe pricing
Starting Price:
USD 109.00/month
Yes, has free trial
No free version
Vervoe does not have a free version but does offer a free trial. Vervoe paid version starts at USD 109.00/month.
About the vendor
Vervoe
Located in Blackburn, Australia
Founded in 2016
24/7 (Live rep)
Chat
Languages
English, Spanish
Vervoe videos and images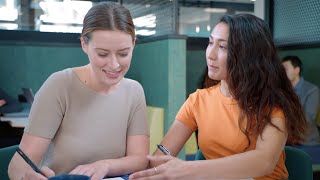 Compare Vervoe pricing with similar products
Features of Vervoe
Applicant Tracking
Aptitude Testing
Automatic Grading
Candidate Management
Interview Management
Online Tests
Personality Testing
Pre-made Test Library
Question Library
Reporting/Analytics
Scoring
Self Service Portal
Skill Assessment & Scoring
Skills Assessment
Test/Quiz Creation
Tests/Assessments
Third Party Integrations
Constantine F.
Founder / CEO in Australia
Verified LinkedIn User
11-50 Employees
Used the Software for: 6-12 months
Vervoe has revolutionised our business. Superb!
Pros:
The way is has simply scaled our ability to recognise, review and select top talent. Previously we used a number of "semi-ritualised" ways to hire. Processes that we generally ran through Process Street or other software: Evernote lists of questions, Excel spreadsheets to question and grade applicants. Obviously good old fashioned face to face interviews that absorbed weeks of time of the most senior people in the business. Vervoe has completely streamlined the entire process. Every step in the otherwise gruesome interview process is streamlined and semi-automated. From interview questions / scripts from top sources aorund the world, to grading of talent, to saving time, to automated reviews and communications with talent, all the way to structuring completely unique "interview journeys" for different jobs and staff. Furthermore, the interface is really well designed. Web interface and Kanban/Trello-style movement of talent through the interview and recruitment journey. MOSTLY - the quality of candidates we've hired (three thorugh the system) is fantastic - and we recognise that there were certain biases and errors we've overcome through using Vervoe - we are getting exacltly the type of talent we want. Removing "people problems" - that's the biggest advantage.
Cons:
There's only very small things I don't like - minor features that I personally would change, but nothing that would stop me from highly recommending Vervoe. Little things like: It would be good to have your colleagues gradings hidden (to remove potential bias) When re-ordering interview questions, it can be a little cumbersome. If you are already part way into a job and you wish to change the order or edit elements, it can't be done (it's locked in once the first applicant beigns the interview process). Nothing much else. Really excited about the development roadmap - I've contact the team at Vervoe and they've shared some really cool features.
Iulian P.
Head of HR in Romania
Financial Services, 51-200 Employees
Used the Software for: 1+ year
Alternatives Considered:
Recommended for SMEs
Comments: We use it specifically for early-talent & entry-level positions, mostly for corporate support function. Serves our basic interviewing needs, but the main pipeline is administered via the ATS (we use Vervoe as an extension).
Pros:
The software is very easy to deploy, user experience is smooth, easy to create assessments from scratch/from the library, candidate communication is automatised
Cons:
Inflexible in some regards (particularisation of the assessments, no mobile app), AI learns as you go (don't expect first grading to be perfect), might not perform in volume hiring as well as competition
Kerushan G.
Managing Director in South Africa
Verified LinkedIn User
Computer Software, 2-10 Employees
Used the Software for: 6-12 months
Next-gen recruitment
Comments: We use Vervoe as a means to automatically filter out candidates who do not align to our value system. It's a clever way to ensure we spend time with those candidates who are most likely to thrive in our environment.
Pros:
It's a very easy and almost obvious way of improving the recruitment process. We can very effectively and efficiently get to know candidates before we make significant time investments in the recruitment process. This is particularly helpful in a start-up environment where resources are spread thin.
Cons:
The actual interface is sometimes a bit slow to respond and the software can be a bit buggy. A number of applicants complained that the software didn't work as it should have.
David H.
Founder in US
Verified LinkedIn User
Computer Software
Used the Software for: 6-12 months
Vervoe has really helped us streamline our hiring process.
Pros:
Vervoe has really helped us cut back on wasted interview time. One of the biggest challenges our business faces is on boarding new people. We have set up our virtual interviews so that we can weed out people who are not serious about their position here. It has enabled us to find out if the applicant can follow simple instructions on a technical platform and see if they are actually going to follow through to complete the interview. I personally have wasted countless hours on calls with people who are talkers and not doers. I can honestly say Vervoe has a ready made solution to vet those people out of our process. They also have a very large database of assessments and interview questions that are being pooled by the community. On top of this they have been extremely accessible during our implementation of the tool. Great company!
Cons:
The audio on the video has cut out on a couple of interviews and I don't know if that is hard ware issue on the user side or if that was a Vervoe issue. I have been happy with Vervoe all around!
Caroline G.
Personal Historian & Certified Photo Organizer in US
Verified LinkedIn User
Used the Software for: 1-5 months
Everything at a glance!
Comments: Quick and easy application and screening process, everything-in-one-place dashboard, customizable questionnaires and automatic emails!
Pros:
I'm currently in the process of hiring for multiple projects, so I took a chance on this software. I haven't use it long, but I'm already in love with how easy it is to set up and use! I can have multiple job postings live and prep the process well in advance to make sure I get exactly the type of applicants I need. Keeping all the information in one place is wonderful, and it's so easy to customize messages to go out to the applicants automatically. Vervoe is a wonderful time saver!
Cons:
I wish there were more templates, although the ones they have can be customized rather easily. I think this is something that will come with time as more and more users onboard.
Vervoe Response
4 years ago
Thanks Caroline! We are happy that Vervoe has helped you automate your hiring process. Our expert community is adding new assessments every day. If there is something specific you are you looking for, let us know. We are happy to help you find an assessment or request it from our community.