What Is Zoho CRM?
Zoho CRM empowers organizations with a complete customer relationship lifecycle management solution for managing organization-wide Sales, Marketing, Customer Support & Service and Inventory Management in a single business system.
Who Uses Zoho CRM?
Zoho CRM can be used by businesses of all sizes. You can even build your own version of Zoho CRM. Sell smarter and faster with Zoho CRM.
Where can Zoho CRM be deployed?
Cloud, SaaS, Web-based, Android (Mobile), iPhone (Mobile), iPad (Mobile)
About the vendor
Zoho
Founded in 1996
Phone Support
24/7 (Live rep)
Chat
Zoho CRM pricing
Starting Price:
USD 20.00/month
Yes, has free trial
Yes, has free version
Zoho CRM has a free version and offers a free trial. Zoho CRM paid version starts at USD 20.00/month.
Pricing plans
get a free trial
About the vendor
Zoho
Founded in 1996
Phone Support
24/7 (Live rep)
Chat
Zoho CRM videos and images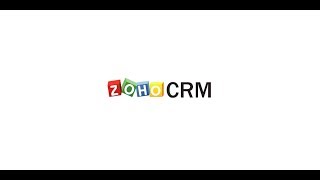 Features of Zoho CRM
Access Controls/Permissions
Activity Dashboard
Activity Tracking
Alerts/Notifications
Appointment Management
Appointment Scheduling
Automated Routing
CRM
Calendar Management
Calendar/Reminder System
Campaign Management
Cataloguing/Categorisation
Channel Management
Client Management
Client Tracking
Client/Property Matching
Collaboration Tools
Commenting/Notes
Communication Management
Contact Database
Contact Management
Content Delivery
Content Library
Content Management
Contract/License Management
Customer Database
Customer Engagement
Customer History
Customer Social Profiles
Customisable Branding
Customizable Fields
Customizable Reports
Customizable Templates
Dashboard
Data Import/Export
Data Visualization
Document Management
Document Storage
Drip Campaigns
Email Management
Email Marketing
For AEC Industry
For Financial Institutions
For Insurance Industry
For Mac Devices
For Real Estate
For Sales Teams/Organizations
For Startups
For iPad Devices
Forecasting
Incentive Management
Interaction Tracking
Landing Pages/Web Forms
Lead Capture
Lead Distribution
Lead Management
Lead Nurturing
Lead Qualification
Lead Segmentation
Loyalty Program
Marketing Automation
Mobile Access
Multi-Channel Communication
Multi-Channel Data Collection
Multi-Channel Marketing
Multi-Language
Negative Feedback Management
Opportunity Management
Performance Metrics
Pipeline Management
Predictive Analytics
Prioritization
Project Management
Prospecting Tools
Quota Planning
Quotes/Estimates
ROI Tracking
Referral Tracking
Reminders
Reporting & Statistics
Reporting/Analytics
Rewards Management
Sales Activity Management
Sales Approval
Sales Pipeline Management
Sales Planning
Sales Reports
Sales Trend Analysis
Scheduling
Search/Filter
Segmentation
Service Level Agreement (SLA) Management
Social Marketing
Social Media Integration
Social Media Monitoring
Survey/Poll Management
Surveys & Feedback
Task Management
Template Management
Territory Management
Text Analysis
Third Party Integrations
Third-Party Integration
User Management
Visual Analytics
Web-based Deployment
Website Visitor Tracking
Widgets
Workflow Management
Siokas
Researcher in Greece
Verified LinkedIn User
Research, 2-10 Employees
Used the Software for: 1+ year
Resourcful CRM tool for entrepreneurship
Comments: Great expirience and It is a good tool to consider for resource management.
Pros:
The ability of the tool to integrate multiple resourcesful tools that enchange productivity and collaboration.
Cons:
The tool works best with tools and programs from Zoho, which creates some times compatability problems.
Alternatives Considered: MindMeister, MeisterTask, Harvest, monday.com, Clockify and DeskTime
Reasons for Switching to Zoho CRM: It is a complete suite of services and at the start of the team it is a greate tool.
Balaji
Associate Manager - Program Management in US
Biotechnology, 5,001-10,000 Employees
Used the Software for: 1+ year
A smart tool to mange your CRM data
Comments: Its a great tool, initially we are much favor of using this platform, but over a period of time, we are not able to work with out Zoho tool. We were dependent on multiple tools to manage our data and the Zoho platform has come as a great support.
Pros:
The new analytics feature is one of the great option which helps us to visualize the details in a pictorial format like graphs, chart etc. The huge number of customized filed allowed by the platform make us agile in presenting and managing the data. Predefined reports is a plus and it reduce the TAT of creating everything from the scratch.
Cons:
For some reason, I am not a great fan of new reports creation flow. The old ways of creating the reports has 2 columns and we can chose what we need and what we don't. Now also we have the same concept but in a parent and child flow. May be we are used to the old workflow and it might take for us to get used to the new reports.
Alternatives Considered: Bitrix24
Reasons for Choosing Zoho CRM: When we were using sugar CEM we don't have much features which we get from Zoho.
Switched From: SugarCRM
Reasons for Switching to Zoho CRM: Initially it was free to use, so we chose to go with Zoho CRM
Information Technology & Services, 11-50 Employees
Used the Software for: 2+ years
Buy something else
Comments: We are tired of stuff breaking and having to troubleshoot on our own. We are actively looking for a replacement.
Pros:
price is the only pro with zoho CRM at this point, but you get what you pay for, not much!
Cons:
Support is terrible, product has too many bugs and it seems like it was developed by technical people with no real Business knowledge. They are constantly adding more modules and this make other stuff break. instead of working on new modules they should make the CRM better and bug free. A lot of stuff does not make sense, We use CRM, Desk and campaigns daily and they are NOT as seamless integrated as they should be. zoho mail is useless so we continue to use outlook to manually send emails rather then sending emails from CRM. If a contact opts out of marketing emails (newsletters etc) then you can't email them directly from the CRM. BIG flaw, just one among many many flaws in the software.
Ephraim
Real Estate Agent in South Africa
Real Estate, 11-50 Employees
Used the Software for: 2+ years
Zoho CRM Review for Real Estate
Comments: I have been using Zoho CRM for four years now, and it has been a rewarding journey. We seen our sales increase, customer satisfaction is at a high and we are able to measure employee performance which is used for informed interventions.
Pros:
In my view, Zoho CRM is the most effective and flexible CRM I have used yet, considering that I use it at work and in my own business. As an Agent working in a mid-sized agency, it was easy for us to set it up for our agency because Zoho also provides a how-to guide. The features we have set up include but are not limited to: Automating email campaigns for new and existing leads and maintaining relationships with our long-time clients for repeat business. We are able to integrate WordPress Forms (Elementor API through Zoho Flow), Facebook, Twitter, LinkedIn and Google My Business using Zoho Social. Managing Leads and Clients and setting automated reminders when a contact has not been touched for a certain period. Allow being able to view and track a contact's activities on the timeline. Not forgetting the overall collaborative ability to centrally manage all contacts as a team. Making sure that all potential business can be attended to if a colleague is not available for one reason or another.
Cons:
As much as I love Zoho CRM, these are its limitations and areas of improvement: Zoho CRM needs to provide options on Graphic User Interfaces. As a visual person, that is really important, and I might not be alone. You are not even able to change the fonts. A user is not able to convert a client back to leads, unless they recapture the contact as a lead, export multiple clients and import them leads or write and run a Deluge script. This feature must come standard. Zoho CRM is a powerful app if you lack intent you will find yourself overwhelmed and unable to set it up for your business.
Alternatives Considered: Odoo and HubSpot CRM
Reasons for Choosing Zoho CRM: AppTivo lacked flexibility and features I considered critical.
Switched From: Apptivo
Reasons for Switching to Zoho CRM: Flexibility and cost.
Mohammed
IT Manager in Bangladesh
Automotive, 11-50 Employees
Used the Software for: 2+ years
What I love about Zoho? It's really easy to use and very helpful software for business holder
Comments: Zoho help us alots to keep all our account data and customer information. It's quite easy to use. I love there feature and there reporting system mostly.
Pros:
I love Zoho CRM . I am using there apps since last 2 years. Simple to use and keep all data. Most important thing we can create filtered report from Zoho CRM. Another important thing is we can create products coasting system which is really useful to know that how much we expensed on this product and how much we get
Cons:
I would say everything is fine but yes they can follow other software to improve more and add other facilities. Such as adding payroll in there Accounting system so people who is looking for payroll system then can use accounting system together.