15 years helping Australian businesses
choose better software
What Is ProShop?
A comprehensive web-based and 100% paperless shop management system for small to medium manufacturing companies. Built to manage the complex manufacturing environment better than anything else on the market - by an order of magnitude. Never before has there been a system that gives you such insight into every detail of your manufacturing company. ProShop is 100% paperless ERP/MES and QMS software. We typically replace 3-6 other software systems with ProShop for managing your whole company.
Who Uses ProShop?
Small to medium sized machine shops, fab shops, composites, assembly, in regulated industries requiring ISO-9000, AS9100, API, 13485, or other certifications.
Where can ProShop be deployed?
Cloud-based
On-premises
---
About the vendor
Adion Systems
Located in Vancouver, Canada
Founded in 2008
Countries available
Australia, Canada, Germany, United Kingdom, United States
ProShop pricing
Starting Price:
USD 650.00/month
No free trial
No free version
ProShop does not have a free version and does not offer a free trial. ProShop paid version starts at USD 650.00/month.
About the vendor
Adion Systems
Located in Vancouver, Canada
Founded in 2008
Countries available
Australia, Canada, Germany, United Kingdom, United States
ProShop videos and images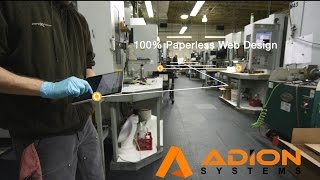 Features of ProShop
Accounting Integration
Audit Management
Automated Scheduling
BOM Creation
Billing & Invoicing
Bills of Material
CRM
Capacity Management
Capacity Planning
Change Management
Communications Management
Complaint Management
Compliance Management
Corrective and Preventive Actions (CAPA)
Document Coding & Control
Document Management
Downtime Tracking
ERP
Enterprise Asset Management
Equipment Management
Financial Management
For Aerospace Industry
For Metal Fabrication
For Small Businesses
Forecasting
HR Management
Integrated Business Operations
Inventory Management
Item Management
Job Costing
Job Tracking
MES
Maintenance Management
Material Requirements Planning
Order Management
Performance Metrics
Predictive Analytics
Production Management
Production Scheduling
Project Management
Purchase Order Management
Purchasing & Receiving
Quality Control
Quality Management
Quotes/Estimates
Real Time Data
Real Time Monitoring
Reporting & Statistics
Reporting/Analytics
Resource Management
Risk Management
Scheduling
Supplier Management
Supplier Quality Control
Supply Chain Management
Task Management
Traceability
Training Management
Warehouse Management
What-if Analysis
Jared
President in US
Verified LinkedIn User
Defense & Space, 11–50 Employees
Used the Software for: 1+ year
Reviewer Source
ProShop: integral to our growth
Comments: It sounds like a line from a trade journal article, but ProShop is the 3rd ERP system our company has implemented. After 18 months of use, we can honestly say this is the best ERP solution our team has ever used.
Pros:
As many ERP systems should do, ProShop puts organizational, operational, project and part information in a central repository. One of ProShop's strengths is 'process workflows' that really work.
Cons:
ProShop is continuing to improve the online help files. However, the guided implementation process and support (email, video conference, phone, etc.) are the best we've found in the complex software world.
Alternatives Considered: Global Shop Solutions, Infor VISUAL and JobBOSS²
Reasons for Choosing ProShop: Due to accelerating growth and the need for a robust ERP solution to manage data, we needed a piece of software the was pre-engineered to both meet our requirements and support our expansion.
Switched From: Global Shop Solutions, Infor VISUAL and JobBOSS²
Reasons for Switching to ProShop: We chose ProShop after being introduced to the software by a young manufacturing professional. He shared that ProShop was the best solution for custom manufacturing he had used. After viewing customer testimonials, watching all available videos and demoing the software- we decided we agreed. ProShop is the best ERP solution for custom and repeat manufacturing.
Adion Systems Response
3 years ago
Jared, It's been an honor and a pleasure to work with you and your team. Thank you so much for your review. It's feedback like this that makes our work meaningful and excited to go to work every day. We'll share this with our whole team and toast you at our next virtual happy hour! Cheers and thank you again! The ProShop Team
Machinery, 11–50 Employees
Used the Software for: 1-5 months
Reviewer Source
Proshop give Hibshman a new foundation for continued growth
Comments: Our overall experience with Proshop has been amazing. It has been a true partnership! We value the time the team has taken to ensure our business succeeds. The implementation specialists are amazing and will walk through every detail of the software until you are comfortable.
Pros:
There are SO many things we love about Proshop, but if I had to narrow it down to just a few I would simply say we love the data. The overall implementation process was really seamless and our employees were able to get on board rather quickly. In addition, having Proshop dashboards throughout our shop gets all of our employees rowing the boat in the same direction. In fact, our on time delivery has improved 17% in the first three months of having Proshop in our facility.
Cons:
Integrating this with our existing business was probably the hardest aspect we faced. However, once we figured out it was better for us to adapt to Proshop instead of Proshop adapting to us, it's been a pretty smooth implementing the software.
Alternatives Considered: QuickBooks Desktop Enterprise, JobBOSS² and Visual EstiTrack
Reasons for Choosing ProShop: As I looked around the manufacturing landscape, it was clear to me that manufacturing is going to look alot different in 10 years than it is today. It's going to be much more technology driven, data driven, and process driven. We felt that if we wanted to continue the trajectory we were on and continue to grow the business, the foundation that Hibshman had built over the last 25 years needed to be torn down and rebuilt, and we felt we could rebuild that foundation around Proshop.
Switched From: QuickBooks Desktop Enterprise
Reasons for Switching to ProShop: When Proshop says it was made by machinists, for machinists, they are not lying! Working inside Proshop out on the shop floor is truly a machinists dream come true.
Adion Systems Response
5 months ago
Thank you for this review, Chad! Seeing your growth has been amazing. Keep up the good work!
Automotive, 2–10 Employees
Used the Software for: 1+ year
Reviewer Source
Source: SoftwareAdvice
Regret
Comments: Not satisfied and frustrated.
Pros:
The software includes many features that are difficult to navigate.
Cons:
Proshop is complicated to implement. It is not intuitive. Support has gone drastically downhill since we purchased 18 months ago. Easy tasks take way too long to accomplish. Training new employees is very time consuming and frustrating for everyone involved. The help menu is almost worthless. The software has many glitches you have to learn to deal with.
Adion Systems Response
last year
Hi Luke, We're sorry that your experience hasn't been excellent. As you know, our team has been reaching out to you often to try to solve the issues you've been having. We've met, talked or responded to you on evenings and weekends, provided many hours of free training, phone calls, links to help topics, video training, and more. When we audited your system, it's actually impressive how much of the system you're using very well. Kudos to you! We will keep doing our best to help you be happy with ProShop. If you read through the other 5 and 4 star reviews we have, ProShop being very intuitive is mentioned time and time again. But until 100% of clients agree with that, we'll keep working hard to improve. We hope you'll consider revising your review as you make more progress and see the attention we're putting into helping your shop succeed. We do care deeply about your success. Humbly, The ProShop Team
Machinery, 2–10 Employees
Used the Software for: 2+ years
Reviewer Source
Don't look at anything but proshop
Comments: I don't have 1 bad thing to say. As a shop owner, I would recommend it to any size machine shop
Pros:
Does everything a machine shop would ever need
Cons:
It is new but they are extremely open to make changes and customer service is unmatched
Alternatives Considered: Odoo
Reasons for Switching to ProShop: It is designed for a manufacturing environment and makes ISO and AS9100 easy
Joe
Quality System s Coordinator in US
Automotive, 11–50 Employees
Used the Software for: 2+ years
Reviewer Source
Let ProShop make your shop pro.
Comments: We started our ProShop journey in early 2020.With our original in-house system, we had improved ourselves to where creating jobs from a PO to the floor took around an hour. Once ProShop was integrated, contract review and creating the necessary POs and WOs now took only 15-20 minutes. As we improved our knowledge and skill, this can now be easily done in 5 minutes or less. This is a massive time savings just for the office personnel.Imagine time-saving of that magnitude across every function of the shop with the added bonus of detailed traceability which is all accessible from your computer, tablet or phone. That was and is amazing! ProShop listens to their customers and rolls out fairly regular upgrades, many of which are based on user feedback. To work with a company that is so responsive to its customers is a blessing as this type of work ethic is difficult to find. I have provided feedback, both good and bad, and they have always responded in an appropriate manner. There is no better feeling than the feeling that someone cares about your business and its success as much as you do and my appreciation of ProShop, the company, is sincere and warranted.
Pros:
Traceability, access and support.Everything is traceable! Purchase orders to work orders to personnel, machines, consumables and gages. Everything can be tracked from the lowest levels (gages and consumables) to the highest levels (PO, WO). This is great when you are investigating something, whether it's something that went right or wrong, the data is there and will reveal the information you need within a few clicks.Once it is setup, it is very easy to maintain.Having all the data in the cloud makes accessing that data easy from almost anywhere, computers, tablets, phones, etc.Support is great! If there is a question, support will get you an answer and usually very quickly. They are all very knowledgeable and receptive. I have found this to be true in dealing with everyone at ProShop. They believe in their product and they have top notch support for any issues that arise. Even if something is minor, they can and will explain it to you and help you resolve any issues.
Cons:
Training. I think the training to get started was just enough to get started. This involved mostly training the higher level users since we were going to be the ones setting up purchase order, work orders, scheduling, etc.The training we (high level) received was spread over many online sessions and I think it prepared us for the basic operation but after the rollout, I know I was bugging my rep. all the time for the first few months. (Thanks [sensitive content hidden]!)The rollout to the shop floor personnel was 1 day of training which left them with more questions that we had answers. As I got more comfortable with the system, which was not more than a few months, I was able to develop training specifically for our floor personnel to understand the intricacies of ProShop and how their inputs drove the system. Being in our 3rd year, we have shop floor leads that train the new people and can explain how/why everything does what it does.
Alternatives Considered: JobBOSS²
Reasons for Choosing ProShop: Our current system had been used since 2006 and was specifically for tracking purchase orders and the resultant work. It was an Access database, built in-house and was limited in its ability since it was designed with one goal in mind. ProShop offered a much more encompassing solution to aid in our growth.
Reasons for Switching to ProShop: I know there were a few others that I cannot recollect, but they were more difficult to implement, had higher costs, less training, and less support. ProShop checked all the boxes and some we didn't even know we needed. So, as much as we wanted, ProShop delivered.
Adion Systems Response
5 months ago
Wow, thank you for this awesome review, Joe! Awesome job on saving time when creating jobs from a PO. We are so glad you are happy with ProShop!