15 years helping Australian businesses
choose better software
Local product
What Is Reckon One?
Easy and affordable online accounting software for small businesses. From tracking invoices to paying employees, staying in control of cash flow is easy - from just $12/month.
A clever pricing system our competitors can't match! You choose and only pay for the features you need - saving you money. It's also simple to use with an intuitive interface, making it easy to manage your everyday finances. ATO-approved and STP-compliant.
Who Uses Reckon One?
All small and medium-sized businesses.
Where can Reckon One be deployed?
Cloud-based
On-premises
---
About the vendor
Reckon
Located in North Sydney, Australia
Founded in 1987
Countries available
Australia, New Zealand
Reckon One pricing
Starting Price:
$12.00/month
Yes, has free trial
No free version
Reckon One does not have a free version but does offer a free trial. Reckon One paid version starts at $12.00/month.
About the vendor
Reckon
Located in North Sydney, Australia
Founded in 1987
Countries available
Australia, New Zealand
Reckon One videos and images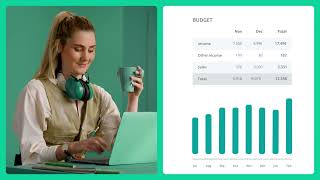 Features of Reckon One
Accounting
Accounts Payable
Accounts Receivable
Activity Dashboard
Bank Reconciliation
Batch Processing
Billing & Invoicing
Budgeting/Forecasting
Compliance Management
Employee Management
Expense Tracking
Financial Reporting
General Ledger
Inventory Management
Invoice Management
Payroll Management
Project Accounting
Purchase Order Management
Tax Management
Third Party Integrations
Timesheet Management
Transaction Management
Alternatives to Reckon One
Erica
Ceo,Busygates in Ghana
Verified LinkedIn User
Marketing & Advertising, 11–50 Employees
Used the Software for: 6-12 months
Reviewer Source
Great Accounting Solution for small businesses
Pros:
I would say affordability then ease of use. Since my business is still growing I had to switch to this product from another one and I haven't regretted. Invoicing has never been easier.
Cons:
I am yet to see anything I don't like about this product
Helen
Office Manager in Australia
Building Materials, 2–10 Employees
Used the Software for: 2+ years
Reviewer Source
Reckon Hosted
Comments: I have finally got on to Reckon Help line and got one of our businesses back to being able to open after leaving it to my accountant to do. After going being forced to go from Desktop to Hosted there was one company I could not open. I was so angry on multiple fronts and still don't like paying subscriptions - I like to buy an item and not have to pay every year. That was just one thing I put in the too hard basket.
Pros:
The ability to see open invoices to track unpaid accounts. Invoicing is very easy and has multiple items that you can set up a template to suit your needs.
Cons:
The payroll management is difficult to work with, especially with the STP Phase 2 rollout.
Alternatives Considered: Zero
Reasons for Switching to Reckon One: Only because I have everything working in Reckon that I stayed with it. If I was starting anew I would have gone with Zero.
Linda
BAS Agent in Australia
Accounting, 2–10 Employees
Used the Software for: 2+ years
Reviewer Source
How Reckon One meets all our Business requirements and is great value
Comments: Cost effective business tool. Only pay for what you need. Sensational reporting options.
Pros:
Simple to use on a daily basis meeting all our business needs and ATO compliance.
Cons:
Need a Superannuation integration with clearinghouse to upload Super from Reckon payroll.
Verified Reviewer
Verified LinkedIn User
Accounting, 2–10 Employees
Used the Software for: 1+ year
Reviewer Source
They did try
Comments: I really wanted Reckon one to shake up the market but all they did was shake up the user. I have been really disappointed with the performance (or lack of) with Reckon One. Their servers were slow making it painfully slow to try to use this software. I couldn't find repeating invoicing, or several other basics. They were full of hope and promises but just failed to deliver.
Pros:
It did look cheap until you add up the cost of each module, then you realise, it's not cheap at all.
Cons:
It's very late to market and decades behind the competition. It takes a lot of time and money to compete with the big boys and sadly this isn't something thatReckon One has. It has very little basic functionality and sadly, very little prospect of developing even the basics, any time soon. It's not nice to use, it's clunky and awkward and just frustrates me.
Shirley
MANAGER in Australia
Education Management, 11–50 Employees
Used the Software for: 2+ years
Reviewer Source
A well designed, well supported and reasonably priced platform
Pros:
I have been using Reckon One for payroll only and submission to Single Touch Payroll. The monthly fee is down to $12 per month which reflects the functionality that I use and reasonably paid for. Reckon One recently upgraded its application to meet the needs of the 2nd phase of the STP requirements. This upgrade further enhanced the interface and improved user experience. The telephone support team has nothing to fault. Every staff is so nice, patient, and knowledgeable. They can answer every technical question I asked so far.
Cons:
Nothing for now, as I only chose to use the Payroll and STP submission function.
Alternatives Considered: MYOB Business
Reasons for Choosing Reckon One: My Head office recommended and provided face-to-face training on MYOB. Also discounted corporate deals are offered, but I only need the Payroll and STP functionality, so the "Special Deal" is not so special compared to Reckon One where I can choose to pay the part of the service that I need.
Switched From: MYOB Business