What Is Deputy?
Deputy is a multi-award winning workforce management tool. With Deputy you can complete staff schedules in minutes and then publish them to your team with a click, easily manage Staff Leave, track Time & Attendance, and sync your timesheets to payroll seamlessly. Deputy integrates with over 300 leading POS and Payroll providers for end-to-end confidence. Free iOS and Android apps mean you can manage your business from anywhere. Start your free Trial today.
Who Uses Deputy?
Deputy serves the following industries; hospitality, retail, event, healthcare, construction, teaching, childcare, security, service and any other industries that have a need to manage their staff.
Deputy Details
Deputy
Founded in 2009
Deputy Details
Deputy
Founded in 2009
Deputy videos and images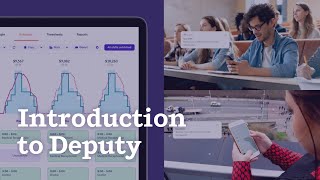 Compare Deputy pricing with similar products
Starting price
USD 2.50/month
USD 19.95/month
N/A
USD 2.00/month
Deputy deployment and support
Support
Email/Help Desk
FAQs/Forum
Knowledge Base
Phone Support
24/7 (Live rep)
Chat
Deployment
Cloud, SaaS, Web-based
Mac (Desktop)
Windows (Desktop)
Android (Mobile)
iPhone (Mobile)
iPad (Mobile)
Training
In Person
Live Online
Webinars
Documentation
Videos
Glenda M.
Australia
Verified LinkedIn User
Used the Software for: 6-12 months
Source: GetApp
Excellent & Easy to Use Time Management System
Comments: Our experience with Deputy right from the very beginning has been nothing but fantastic. If you have any questions, they are answered, if you need help you can get it & it is also very cost effective.
We employ about 30 people & work in the Construction Industry. Due to the fact that there are many varied competencies involved in the type of works we do and there is also a number of different locations on any given day, rostering our staff used to be an absolute headache. Since implementing Deputy we have found this task to be completely trouble free. When we add our Employees to Deputy we input all of their relevant "Training" which includes competencies & site inductions which assists us tremendously when choosing who we can roster to the many different daily tasks we undertake. Our industry also requires that hours of work is reported of which is another feature Deputy is of tremendous value for. Not to mention the ease of actually paying our Employees each week via the connection with Xero.
Pros:
The most helpful feature for us is the "Training" which allows us to know which of our Employees are qualified to undertake different tasks. It is also extremely handy when it comes to paying our wages - no more time sheets !! Once the Employees times have been approved which we try to do on a daily basis, it is just a matter of pushing the button & our payroll in Xero is ready to go. Also the "Scheduling" is wonderful & extremely easy to use.
Cons:
The Android app doesn't provide as many features as the IPhone app.
Troy M.
Area Manager in US
Retail, 11-50 Employees
Used the Software for: 2+ years
Alternatives Considered:
Deputy is seriously like the sheriff that came in and cleaned up our employee scheduling nightmare!
Comments: We had employees staying clocked on after shifts milking the clock. We didn't notice it until it was time to run payroll. Now this tells me whenever someone stays on more than 5 minutes past their shift. Or clocks in more than 5 minutes early. 6 stores, 3 shifts a day, it really adds up quickly!
Pros:
Easy to learn. As the person in charge I not only had to learn this product, but I had to train everyone else on this product. And not just train them, but sell them on why it was better than what we were using. Luckily, Deputy is so complete, it was easy. They haven't forgotten a single step.
Cons:
I wish it synced with my Google calendar. Only thing missing.
Shari G.
Independent Contractor in Jamaica
Verified LinkedIn User
Consumer Services, 1,001-5,000 Employees
Used the Software for: 1+ year
Best Scheduling App Ever
Pros:
I've used the software for over a year now and it makes my day to day life as an independent contractor a breeze. I can grab shifts posted by the managers shortly after they're published and can offer them up or swap them easily if I can no longer work a taken shift. I can request for leave, take a break during the scheduled shift and also view how many hours in total I have for the day, week, month in the schedule section. Their app for phones also allows you to grab, offer and view shifts and you can clock in or out on it. I especially love the seconds feature and the app being able to show me the time in my work's time zone VS mine so I'm never confused.
Cons:
It's a little slow when grabbing shifts, like you are unable to just click/accept shifts back-to-back and have to wait like 30 seconds per accepted shift for the page to load and show that you've accepted your shift. There sometimes is also a lag when starting/ending a shift and you have to ensure it was clicked properly or shows you've started/ended after the page finishes loading or you could end up being late or stay clocked in.
Consumer Services, 2-10 Employees
Used the Software for: 1+ year
Alternatives Considered:
Stay Away From Deputy!
Comments: Deputy worked fine for us for at least a year. Nothing special, but it integrated with our Gusto payroll and ServiceM8 CRM and that's what we needed. But about 5 weeks ago it lost the ability to calculate over time. If a man works 49 hours in a week, it exports it to Gusto now as 49 straight hours, instead of 40 straight and 9 OT. We have exchanged dozens of emails with Deputy and we only get a canned response back. They say they are looking at it, but we don't believe it. How difficult could it be to compute OT correctly for a time tracking app?!! We don't think there is anyone working there any longer, -just a shell sucking up the monthly fees for as long as possible before folding.
Pros:
The integration with ServiceM8, which is why we chose Deputy
Cons:
Customer service is horrendous, and the product is unreliable.
George C.
technical support in US
Information Technology & Services, 11-50 Employees
Used the Software for: 6-12 months
Easy Time clock solution
Comments: Easy to use.
Pros:
The mobile app and web client make it easy for employees too clock in and out. You can also establish boundaries so that mobile app users are not clocking in away from the work location. Management can easily be notifies who is on time, late, or did not clock in at all.
Cons:
It's not free but it definitely is worth it's value if you are paying for other time clock software.