Local product
What Is SkyCiv Structural 3D?
SkyCiv Structural 3D is a cloud-based Structural Analysis software that allows users to model, analyze and design complex 3D structures. It is completely online; requiring no installation to use. SkyCiv Structural 3D offers the very best in online structural analysis. It includes the following:
- Powerful Analysis: Linear, P-Delta, Cables, Buckling, Plates, Frequency, RS
- Integrated Design checks for steel, wood, connections, foundations, wind (AISC, NSD, AISI, EN, AS, CSA, BS plus more...)
Who Uses SkyCiv Structural 3D?
Mechanical, Structural and Other Engineers around the world
Where can SkyCiv Structural 3D be deployed?
Cloud, SaaS, Web-based, Android (Mobile), iPhone (Mobile), iPad (Mobile)
About the vendor
SkyCiv Engineering
Founded in 2013
Phone Support
24/7 (Live rep)
Chat
SkyCiv Structural 3D pricing
Starting Price:
Not provided by vendor
Yes, has free trial
Yes, has free version
SkyCiv Structural 3D has a free version and offers a free trial. SkyCiv Structural 3D paid version starts at N/A.
Pricing plans
get a free trial
About the vendor
SkyCiv Engineering
Founded in 2013
Phone Support
24/7 (Live rep)
Chat
SkyCiv Structural 3D videos and images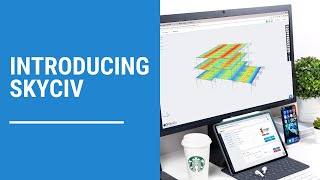 Features of SkyCiv Structural 3D
3D Imaging
CAD Tools
Data Import/Export
Design Analysis
Reporting/Analytics
Secure Data Storage
Alternatives to SkyCiv Structural 3D
Reviews of SkyCiv Structural 3D
Juan Alejandro
Project Engineer in Mexico
Verified LinkedIn User
Design, 11-50 Employees
Used the Software for: 2+ years
Excellent software for innovation
Comments: Our business is on special designs for innovated processes that involved equipments and systems with structures that works in specific environments, so SkyCiv Structural 3D help us on the design with iteration process. We started of using SkyCiv Structural 3D when we developed a 6 m of diameter door for vacuum application with a huge hinge using just SkyCiv Structural 3D, it was the only option for designing on real time when we are welding and fabricating on shop, supporting the improvement process that changes the design every day.
Pros:
The easy way of modelling, ideal for experienced and non experienced designers.
Cons:
The mesh size when uses plates, I mean the most of the cases is just fine, but sometimes we design with our own plate design, so mesh and number of nodes are critical.
Bruce
Operations and Engineering in US
Renewables & Environment, 2-10 Employees
Used the Software for: 2+ years
Long time user loves the new features
Comments: SkyCiv was there when I needed them a few years ago and getting this business going. They are there every time I need help. Very nice to have this software for our business.
Pros:
I like that you are continually improving and upgrading the software and developing new features all the time. I am an old school engineer doing a lot of analysis via spreadsheets and long hand formulas. When we started designing various solar carports and other structures I needed to quickly evaluate spans, member sizes etc and this program really helped a lot! The cost is also very reasonable while about every other engineering product is expensive and some very complicated.
Cons:
I am probably ignorant but I would love to easily change the display fonts for the output and be able to shift the info to eliminate blank page spaces. Analysis output typically takes a lot of pages and I hate having too many with info most will never use.
Verified Reviewer
Project Enginer in US
Verified LinkedIn User
Civil Engineering, 1,001-5,000 Employees
Used the Software for: 1+ year
It's nothing special
Comments: I have used both enercalcs and SkyCiv, which have similar capabilities. I prefer Enercalc because it is much more intuitive and easier to set up the simple calcs you want to do.
Pros:
It was useful for analyzing a built-up steel section and had good visualization capabilities. Everything is saved in their cloud, which is a nice feature to have.
Cons:
The types of structural analysis that are offered are limited. There may be more functions in the future, but for now it is useful only for a small number of projects.
Nikunj
Executive in India
Civil Engineering, 2-10 Employees
Used the Software for: 1+ year
skyCiv Structural 3D
Comments: Linear and Non linear analysis easily carried out through this software. it gives speed result of them and easily access their files and program from web browser anytime.
Pros:
Structural analysis software on the cloud. yes, easy to use . it is considering the less time for Structure analysis.
Cons:
No, powerful analysis and design the structure through this software. It subjected to easily modelling functionality. it provides good and easy process for understanding and then analyzing.
Management Consulting, 2-10 Employees
Used the Software for: Free Trial
An excellent full-featured, easy to learn tool
Comments: It took about 15 minutes to get the hang of it, and only a little longer to feel like I had mastered the functionality I needed. Even though I was only on a trial plan and made it clear that this was a one-off project, and I was not likely to buy a subscription the support was still attentive to my early-user needs.
Pros:
It seems to cover almost any design challenge you may need to deal with.
Cons:
As a casual user, the monthly price is a bit steep. However, if I had any regular recurring need for this kind of software in a business environment the price would be reasonable. For any non-business / home-owner or occasional user, the price can be daunting.