What Is SendPulse?
SendPulse is an email marketing platform with additional channels: SMS, web push notifications, WhatsApp and Facebook chatbots. Create mobile-friendly emails with an easy to use drag-and-drop editor. You can send marketing campaigns, trigger-based emails or set up autoresponders. SendPulse offers unlimited email sends with every plan, 24/7 live support, great deliverability and detailed reports. Free plan includes 15,000 emails every month and premium plan pricing starts at just $9.85/month.
Who Uses SendPulse?
Bloggers Retail E-commerce Tourism Banking Small and medium business
SendPulse Details
SendPulse
Founded in 2011
SendPulse pricing
Starting Price:
USD 9.85/month
Yes, has free trial
Yes, has free version
SendPulse has a free version and offers a free trial. SendPulse paid version starts at USD 9.85/month.
Pricing plans
get a free trial
SendPulse Details
SendPulse
Founded in 2011
SendPulse videos and images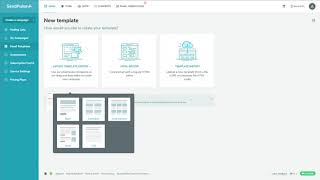 SendPulse deployment and support
Support
Email/Help Desk
FAQs/Forum
Knowledge Base
Phone Support
24/7 (Live rep)
Chat
Deployment
Cloud, SaaS, Web-based
Android (Mobile)
iPhone (Mobile)
iPad (Mobile)
Training
Live Online
Webinars
Documentation
Videos
Santiago R.
Inbound Leader in Colombia
Verified LinkedIn User
Marketing & Advertising, 2-10 Employees
Used the Software for: 1-5 months
We started using and became partners as soon as we could!
Comments: We started using the free version and since we are a digital marketing agency started to use it on our own clients first, guess what, we loved it so much that we became partners to offer it to our clients too!
Pros:
We love the software, we were using another alternative which was way cheaper - in functionality, but not in price. Custom fields were a must and we got them, plus the automation features are incredible!
Cons:
We had some small issues while connecting the domain but they just don't amount to much, plus the support team solved them in less than 3 minutes, so no concerns!
Alternatives Considered: Sendinblue
Reasons for Choosing SendPulse: Functionality and prices, the things you can do here at the price level are not comparable with either.
Switched From: MailerLite
Reasons for Switching to SendPulse: The email verification just makes it so much easier to check if the emails are valid and not get blocked, we once had an account with Sendinblue but it got blocked for just that reason so this was an added benefit.
Mynor V.
CEO in Dominican Republic
Sports, 11-50 Employees
Used the Software for: 1+ year
La mejor decisión
Comments: Creo que lo explique en los pros!
Manejamos la relación con nuestros fans por esta vía y ha sido algo muy satisfactorio en todos los sentidos.
Pros:
Tenemos más de un año usando el servicio en la fidelización de nuestros fanáticos y su versatilidad nos afirma que fue un paso correcto contratar sus servicios . Destacar el buen soporte que brindan, siempre están atentos. Algo importante es que nos permite crear diseños interesantes, no estamos amarrados a un X formato, igualmente sus entregas son altamente eficientes .
Cons:
La verdad no le veo un contra. Puede mejor en términos de la rapidez de su pagina, que hay situaciones en que la noto lenta .
Alternatives Considered: Direct Mail and MailerLite
Reasons for Choosing SendPulse: Necesitaba algo mas profesional y con buen soporte.
Switched From: Mailchimp
Reasons for Switching to SendPulse: Me pareció mas amigable y fácil de entender sin que por eso fuera poco profesional.
Verified Reviewer
Consultant in
Verified LinkedIn User
Management Consulting, 51-200 Employees
Used the Software for: 1-5 months
Source: GetApp
Good but API is hard work
Comments: So – I am going to caveat this whole thing with – if you're not interested in using the API or you are not coming from another service with an existing API integration, this probably won't apply to you. Summary: 2 different API's, both awfully designed, both poorly documented, both with completely different authentication methods, credentials etc. however, the application itself is great, so if you're not using the API, it's probably fine. Full Review: SendPulse has a functional API, but it feels like it was created by someone that read a REST API book of best practices without really thinking about how people would / should use it. My biggest problem is the way authentication works (on the main API which is for sending your campaigns, managing subscriptions etc.), sure it follows all OAUTH standards, but this means you need to manage identify on your application so you send all the correct tokens etc., it feels very Salesforce, not Slack (if you have used either of these API's you will know, Slack is easy, Salesforce is really really hard) – another comparison would be that it feels like IBM made this software when you are using the API, not a start-up. If you are coming from something like MailChimp – the MailChimp API is easy, send a request with your API key and whatever you are requesting happens or you get a meaningful response, I have seen many garbage responses from the SendPulse API – you cannot guarantee JSON will come back, sometimes you get HTML, sometimes you get a weird HTML 404 page with some Yahoo copyright notices all over it, it all depends on how mangled your request is – so on top of having to worry about handling identity, you need to handle all sorts of strange responses not just JSON – and therein lies the next problem – DOCUMENTATION: The API documentation is god-damn-awful, and because the API is quite complex and / or obscure in terms of how you request stuff, you often end up with garbage responses and have to trial-and-error how stuff works. SendPulse has created a bunch of libraries to make this easier, and if you want to hang your PHP application by using their library, then go ahead – but if you have some kind of background task manager you will probably have to write your own stuff, which in most cases would not be too hard, but because the documentation is sparse, I really struggled to do even the basic stuff with CURL on the command line – if I was to suggest anything, provide CURL examples like Slack does, at least that way I could reverse engineer the CURL to sort out the lack of actual documentation (again, it's a problem because the API responds with junk HTML if you get your request wrong so you don't know what is actually wrong and have to trial-and-error a lot). On top of all of this, if you are planning on using the SMTP send-alone API, you have a completely different authentication process – one that I still have no idea how to make work – this is what the documentation says about how to authenticate: http://i.imgur.com/sVAc3II.png (the original documentation is here, but I think you need to be logged in to view it: https://login.sendpulse.com/manual/smtp-api/) I personally have no idea how to authenticate against this SMTP API. I have not yet asked support about it because they are looking at something else for me that is more important, but I just don't…….. what….. from the documentation (a required parameter to authenticate, IV): "iv – an initialization vector, encrypted by a public key with an OpenSSL Library usage" – what is this? Why is it never mentioned again? how do I get it? And most importantly, why on earth is it different to the (already convoluted) other OAUTH authentication on the main mail API? Anyway, to wrap this up, I picked up SendPulse because I needed both templated / campaign based email and SMTP / transactional email and I previously had MailChimp, but did not want to pay for Mandrill because my SMTP volumes were super low. SendPulse is fine, but I have wasted more time than the money I would have saved just using Mandril, however if you can get over all of this, the product is actually pretty good which is why I have not left a steamer of a review score, and as I said at the start, if you are not using the API it is great. I just hope they release a new version of the API that focuses on functionality rather than horrible REST standards (although I'm not convinced all of this is standards compliant), which I think have generally been thrown away by the new-wave tech start-ups so people can quickly deliver value.
Pros:
Price Web Interface Email Builder
Cons:
API Can't use Email Builder emails in the SMTP email interface
E-Learning, 11-50 Employees
Used the Software for: 1-5 months
The BEST newsletter service I have ever seen !!
Comments: Honestly I had explored several other email marketing tools before, and did not know Sendpulse. But WOW ! What a POWERFUL tool !!!
Pros:
-The first service of this kind I see with a 24/7 customer service. Very responding, very professional -Features for automation are the BEST I have used so far -A very simle interface, easy to use -They also implement SMS marketing and web push notification, all gathered at the SAME place and INTEGRATED together
Cons:
Nothing to say, seriously. The software is EXCELLENT !
Alternatives Considered: UniSender, Sendinblue, SendGrid, Mailchimp and Mailigen
Reasons for Choosing SendPulse: Not satisfied
Switched From: Mailchimp and AWeber
Reasons for Switching to SendPulse: -Sendpulse offers also SMS marketing and Web push notification -Sendpulse offers 24/7 technical support, EVEN WHEN the plan is the FREE plan -Sendpulse is very affordable
Kristen C.
Society Curator in US
Verified LinkedIn User
Writing & Editing, 2-10 Employees
Used the Software for: 6-12 months
Great for businesses just starting out
Comments: I really haven't had any negative experiences with SendPulse, other than some minor complaints detailed in the "Cons" section of my review. They've been very helpful and friendly in fixing any issues I've had, and overall I've enjoyed working with this software.
Pros:
I like the fact that it's inexpensive/free to use for most business owners with a small contact list. Most email marketing sites offer a pretty pitiful number of contacts/email campaigns for their free trials, and then hike the price up significantly for those who are in between just starting out and having a huge following. They don't have a lot in the way of ready-made templates, but it's easy enough to customize your own, and their interface is pretty user-friendly.
Cons:
It can take a considerable amount of time between sending an email campaign, and the delivery of said email campaign. I also don't like that, after going through the proper steps to make my newsletters comply with standards, I may still be regarded as spam and not be delivered to the inbox of the person receiving the newsletter.
Alternatives Considered: Mailchimp
Reasons for Switching to SendPulse: While other sites had better features and template options, their overall costs were far too expensive for a business just starting to build a customer base, and their free trials were incredibly limited.