15 years helping Australian businesses
choose better software
What Is WebTitan?
WebTitan is a DNS Based Web content filter and Web security layer that blocks cyber attacks, malware, ransomware and malicious phishing as well as providing granular web content control.
WebTitan DNS filtering filters over 2 billion DNS requests every day and identifies 300,000 malware iterations a day.
Our intelligent AI driven real time content categorization engine combines industry leading anti-virus and cloud based architecture.
Try a free Trial of WebTitan today, full support included.
Who Uses WebTitan?
This is a business solution for any business that wants a vital security layer at the HTTP and HTTPS layer and wants to control web content.
Where can WebTitan be deployed?
Cloud-based
On-premises
---
About the vendor
TitanHQ
Located in Galway, Ireland
Founded in 1995
WebTitan support
Phone Support
24/7 (Live rep)
Chat
WebTitan pricing
Starting Price:
USD 1.58/month
Yes, has free trial
No free version
WebTitan does not have a free version but does offer a free trial. WebTitan paid version starts at USD 1.58/month.
About the vendor
TitanHQ
Located in Galway, Ireland
Founded in 1995
WebTitan support
Phone Support
24/7 (Live rep)
Chat
WebTitan videos and images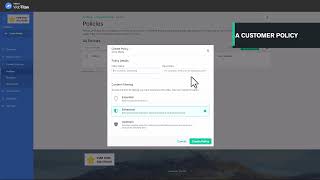 Features of WebTitan
AI/Machine Learning
Access Controls/Permissions
Activity Dashboard
Activity Monitoring
Activity Tracking
Alerts/Notifications
Anomaly/Malware Detection
Anti Virus
Application Security
Audit Trail
Behavioral Analytics
Bot Detection
Bot Mitigation
Compliance Management
Dashboard
Data Security
Device Management
Endpoint Management
Endpoint Protection Software
Event Logs
For Websites
Fraud Detection
IT Asset Management
Incident Management
Issue Management
Maintenance Scheduling
Monitoring
Network Provisioning
Network Security Software
Patch Management
Performance Metrics
Policy Management
Real Time Monitoring
Real Time Notifications
Real Time Reporting
Real-time Alerts
Remote Access/Control
Remote Monitoring & Management
Reporting & Statistics
Reporting/Analytics
Risk Management
Scheduling
Secure Data Storage
Security Auditing
Security Management
Third Party Integrations
Threat Intelligence
Threat Response
Uptime Reporting
User Management
VPN Software
Vulnerability Protection
Vulnerability Scanning
Nabila
Human Resources Manager in Malaysia
Verified LinkedIn User
Investment Management, 10,000+ Employees
Used the Software for: 2+ years
Reviewer Source
Safeguarded my web browser
Comments: For several years, WebTitan has supported us with a reliable web filtering tool that has served us well. We're confident that it's blocking and slowing traffic as we've set it up.
Pros:
Quite easy to set up, clients were quickly migrated from the old operation, and new clients were quickly onboard ed. The monitoring functions are simpler to set up, and the data is displayed in a far more appealing manner. The ability to stop advertisement domains is part of content filtering; sure, this doesn't capture every ad site, but it's enough to make a difference. The greatest thing is that there is no charge for assistance. Any proposal I've made has received swift feedback and resolutions.
Cons:
It's not as easy to install as I thought, but once it's up and running, it's a job well done. The impressive infrastructure, technologies, and support services, as well as the fact that it is cloud-based and has a strong product roadmap. We would not hesitate to suggest them to other businesses. Misclassified pages are also being blocked although they shouldn't be. The website could use some updating and improved organization.
Mark
General manager in US
Hospitality, 51–200 Employees
Used the Software for: 6-12 months
Reviewer Source
No IT staff - need to still monitor end clients this is for you
Comments: All positive - I love that we spoke to real people, no phone tag. They have been nothing but responsive when we installed and created our account. Very positive and I highly recommend them!
Pros:
We have used similar products but they kept changing the product and increasing the cost, they would have no customer support and you could not even email them. WebTitan has excellent support and service, they helped us set it up, configure it, and install it. They are super responsive on email their products works for exactly what we want it to do. It was the best solution for us to monitor some end clients without limiting the rest of the network or having something we could not easily access. For us it is the prefect product, something non-IT staff can set up monitor and use daily to limit risks by a completely open internet policy. This was exactly what we needed!
Cons:
My only gripe would be that the install for the OTA product is a little tricky to install. Not super hard but an app or something that is easy would have been preferred, so it kind of makes a one man band kind of set up. Of course, we could have installed it on the whole network but that was what we were trying to avoid a complex install that only our network people could really set up and deploy.
Jesus
IT Manager in Spain
Used the Software for: 2+ years
Reviewer Source
Not works as announced
Comments: WCCP integration
Pros:
The top feature for us was the integration with Cisco ISR. It is really easy to switch on/off webtitan without affecting the user: Just an access list membership in wccp configuration does the trick.
Cons:
Integration with AD does not work. Unless you push some agent to the client, the product does not consistently work, neither by static IP nor by any other means.
TitanHQ Response
5 years ago
Hi Jesus, Thanks for your review of WebTitan. I'm disappointed to hear that the solution didn't deliver as it usually does with our other 7,500 customers. Our AD integration works very well when you use our agent - this has been developed further over the last two years. We should try again. I've asked your account manager to reach out. The product will work consistently for you once we get the set up sorted, Kind regards, Dryden Dryden Geary, Marketing Director, TitanHQ [email protected]
Jason
IT Specialist in US
Computer & Network Security, 11–50 Employees
Used the Software for: 6-12 months
Reviewer Source
Top Notch DNS Filtering
Comments: There was no pressure to purchase the software. The trial started out for a week and one email to rep to see if we could have more time and before we were off the phone it was extended to a month. While headquarters is not located in the USA, have had no issues getting a hold of a live person to talk to. Great company to deal with.
Pros:
Documentation is step by step. If it isn't in the documentation calling support quick and easy. Before purchasing the software I used the trial. To test support, called in and told them I was just evaluating the software and had questions. They didn't hesitate to answer any and all questions. Being able to talk to the ones that deal with the software daily and pick their brains was excellent.
Cons:
Honestly, nothing to complain about. Switched from another software DNS filtering that didn't work and spent more time troubleshooting, switching to WebTitan was a dream.
TitanHQ Response
4 years ago
Jason thanks a million for your kind WebTitan review and I'm delighted that our DNS filtering has been "Top Notch" for you. Cheers for the shout out for the support team - I'll pass on the good news, they'll be chuffed. Welcome on board! Dryden Geary, TitanHQ
Michael
Systems Admin in US
Utilities, 51–200 Employees
Used the Software for: 1+ year
Reviewer Source
Delcora Review
Comments: My overall experience has been positive. There aren't to many false positive pages being blocked, which I expect there to be some. Allowing websites through the filter is quick enough that I don't get complaints.
Pros:
The biggest pro I have is the app for laptops being off-network. I have tried many other products and this is a feature they had, said it works but it never did. I finally found an app that works and it works well. The other pro is many other products I used tried to stuff as many features in as they could, however for-getting the big picture is to filter internet traffic. WebTitan focusses on filtering the internet traffic and thigs seem to be designed around it.
Cons:
The one aspect of the software is changing the dns setting in order to recognize user names.