What Is Easy LMS?
Built in the Netherlands by a multicultural team, Easy LMS is the coolest and most user-friendly LMS on the market. Easy LMS has the simple and to-the-point Dutch design that makes it much easier to use than any other platforms out there. Also, it's fairly-priced and available in many languages. Request a demo today and see for yourself!
Who Uses Easy LMS?
Easy LMS is for any organization, regardless of size, who wants to train and educate effectively with an intuitive and qualitative tool for the best price!
Where can Easy LMS be deployed?
Cloud, SaaS, Web-based, Mac (Desktop), Windows (Desktop), Linux (Desktop), Windows (On-Premise), Linux (On-Premise), Chromebook (Desktop), Android (Mobile), iPhone (Mobile), iPad (Mobile)
About the vendor
Easy LMS
Located in Delft, Netherlands
Founded in 2013
Phone Support
Chat
About the vendor
Easy LMS
Located in Delft, Netherlands
Founded in 2013
Phone Support
Chat
Easy LMS videos and images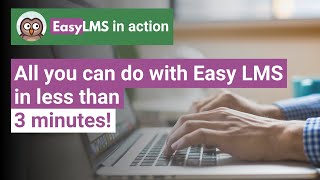 Compare Easy LMS pricing with similar products
Features of Easy LMS
Activity Dashboard
Alerts/Notifications
Assessment Management
Asynchronous Learning
Automatic Grading
Blended Learning
Built-in Course Authoring
Candidate Management
Certification & Licensing
Certification Management
Competency Management
Compliance Tracking
Content Library
Content Management
Content Sharing
Course Authoring
Course Management
Course Publishing
Course Tracking
Customisable Branding
Customizable Questions
Customizable Templates
Data Import/Export
Employee Engagement Software
Employee Portal
Gamification
Interactive Content
Interactive Learning
Learner Portal
Learning Paths/Tracks
Media Import
Mobile Access
Mobile Learning
Multi-User Collaboration
Online Tests
Progress Reports
Progress Tracking
Question Library
Quizzes
Randomization
Reporting & Statistics
Reporting/Analytics
Scoring
Social Learning
Storyboarding
Surveys & Feedback
Synchronous Learning
Template Management
Test Scheduling
Test/Quiz Creation
Tests/Assessments
Time Limits
Training Administration
Video Management
Virtual Classroom
Weighted Questions
eCommerce Management
Pedro
Investigador/Docente in Portugal
Verified LinkedIn User
Professional Training & Coaching, Self Employed
Used the Software for: 6-12 months
Quizzes, courses and much more easy!
Comments: With this tool, I can keep my students motivated, with short quizzes, usable in any platform (many of them use smartphones). They keep the knowledge updated with fun with easy LMS
Pros:
It's a well-constructed page/app, well conceived for teaching purposes. Have many intuitive tools (quizzes, lectures, evaluations, etc). The Teacher Owl price is very good for a small business like mine, to help my students get interested without hassle.
Cons:
I only dislike the courses construction page. It should be more intuitive (like powerpoint). We add slides, but to see how a course looks like, after configuring everything, we need to enter with a registered email. Should be easier than that, because we're the administrator, should be possible to jump that part. And should be possible to import powerpoint to easy lms courses.
Joshua
CEO in US
Verified LinkedIn User
Marketing & Advertising, 2-10 Employees
Used the Software for: 1-5 months
You should use Easy LMS
Comments: My experience so far has been great, I love using the system, it's helped a lot in my business already and I'm excited to continue to see the benefits of producing training programs that can help my team duplicate their work in a error free manner.
Pros:
The software is easy to use and also very detailed. You can do a lot with it including courses, tests, exams, and personality assessments. I love that it's easy to use but you can get a lot more complicated with it to as you did into the settings and analytics.
Cons:
I think the one that that I don't like is that there doesn't seem to be as much documentation on some of the sections. I would love to see more information about analyzing results, and better information on each setting and what it does. I think that would help a lot.
Kelsie
Program Coordinator in US
Higher Education, 11-50 Employees
Used the Software for: 2+ years
The product is good overall, but a lot of money for only hosting one quiz.
Pros:
I like that I was able to develop a quiz even though I am not too tech savvy. The quiz is used often by youth and doesn't have too many instruction barriers.
Cons:
I pay per year to host one quiz and many of the functions are not accessible because I am a Teacher Owl, considered midline not premium. There should be a way to scale price to factor in how many quizzes someone uses. It is difficult to navigate the back-end and I have needed to call for support many times. The new way results are displayed is not as useful as it was before. There is always a delay in getting support since you can only send emails. I have had many misunderstandings on my question or options since email is more limited than a conversation on the phone.
Daniel
Shared Services & IT Director in Brazil
Verified LinkedIn User
, 1,001-5,000 Employees
Used the Software for: 6-12 months
Having a great experience using the service!
Comments: We were able to train more than 2.000 employees using an interactive course. They loved learning a new skill in an innovative training session!
Pros:
- Powerfully easy interface - Low cost - Great customer support - All features you may need in one product
Cons:
- Unable to customize sender email address - I had some challenge to change the credit card used for billing
Kim
Training and Recruitment in Canada
Verified LinkedIn User
Plastics, 51-200 Employees
Used the Software for: 1+ year
Exactly what we were looking for to meet our immediate needs at time of purchase!
Pros:
- easy to learn and use - was able to post content immediately - able to insert links to courses, quizzes and exams from our internal training content - email notifications of completed exams - ability to track reports
Cons:
- reports are not user friendly or sortable in meaningful ways - not much available in the way of customization with colors and fonts