Local product
What Is NewBook?
NewBook's all-in-one property management suite is helping accommodation businesses streamline their operations, reduce costs, boost revenue and bookings. Our solutions offer all the tools you need to efficiently run your property in one central platform including a PMS, Booking Engine, Channel Manager, Automation, Self-Service, automated communications, reporting and so much more. It's easy to use and learn - It's property management made simple!
Who Uses NewBook?
NewBook is a powerful property management suite servicing accommodation providers including Resorts, Campgrounds, RV Parks, Marinas, Hotels, Motels, Hostels, Vacation Rentals and more!
Where can NewBook be deployed?
Cloud, SaaS, Web-based, Android (Mobile), iPhone (Mobile), iPad (Mobile)
About the vendor
NewBook
Founded in 2010
Phone Support
24/7 (Live rep)
Countries available
Australia, New Zealand, United Kingdom, United States
Languages
Chinese, English, Korean, Russian
NewBook pricing
Starting Price:
Not provided by vendor
NewBook has a free version.
Pricing plans
About the vendor
NewBook
Founded in 2010
Phone Support
24/7 (Live rep)
Countries available
Australia, New Zealand, United Kingdom, United States
Languages
Chinese, English, Korean, Russian
NewBook videos and images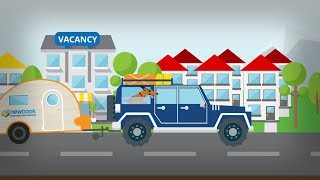 Features of NewBook
Attendance Management
Billing & Invoicing
Booking Notes
CRM
Calendar Management
Calendar/Reminder System
Channel Analytics
Channel Management
Contact Management
Customer Management
Customer Support
Dynamic Pricing
Employee Management
Faculty/Staff Management
For Vacation Rentals
Front Desk Management
GDS/OTA Integration
Group Reservations
Guest Check-in/Check-out
Guest Communications
Guest Experience Management
Housekeeping Management
Lead Management
Maintenance Management
Marketing Automation
Multi-Channel Sync
Online Booking
Online Forms
Online Payments
Online Registration
Online Reservations
Owner Statements
Payment Processing
Point of Sale (POS)
Promotions Management
Rate Management
Reporting & Statistics
Reporting/Analytics
Reservations Management
Room Inventory
Site Maps
Site Reservation Management
Third Party Integrations
Utility Billing
Vendor Management
Work Order Management
Jermaine
Consultant in UK
Verified LinkedIn User
Hospitality
Used the Software for: 2+ years
Amazing!
Pros:
A very easy to use system that was very easy to implement and is great value for money. I love the fact that there are always updates, which means that Newbook are always ahead of the game when it comes to features. The support team are very friendly and know their stuff and the Wiki and support request features are all great. My favourite features that other systems do not offer is the read receipt of emails sent through the system and the feature suggestions. Once up and running, the direct connection with Airbnb will be
Cons:
Direct connections are that are offered are very Australian based and do not fit into the London Hotel & Apartment sector.
NewBook Response
5 years ago
Hi Jermaine, Thank you for your recent review of NewBook. We are happy to see everything is going well! We have added some global integrations this year and are always looking to add more. If there are any in particular that you¿re looking for, feel free to add a feature suggestion so others can vote and the team can review your requests. Best Regards, The NewBook Team
James
Office Manager in Australia
Real Estate, 11-50 Employees
Used the Software for: 2+ years
Ultimate Support, Listening Development Team, Endless Features and Flexibility
Comments: Nothing short of amazing. Everything from onboarding to now has been brilliant. Free training and workshops, a wealth of knowledge and a team that makes you feel like you are one of them.
Pros:
Everything. From the moment you see the log in screen in the morning you smile. The support are amazing and will always assist you. The features and customisation will allow you to find a way to make it work how you want it to work.
Cons:
There are no downsides to NewBook. If you find anything that you think is missing they generally have a way around it or 100 other features that make up for it. No system can be 100% perfect for everyone, but this one is so close you can't measure the gap.
Alternatives Considered: GENKAN and Guesty
Reasons for Choosing NewBook: The support provided from the previous product was shocking and they charged for it too. Always made it feel like it was our fault when their product was unreliable.
Switched From: HiRUM Software Solutions and HiSITE Channel Manager
Reasons for Switching to NewBook: Newbook seemed more established, more features, more professional, priced well and we were able to do testing so we knew it was right for us. Their support knew what they were talking about which was a massive bonus. I still speak to the sales manager all these years down the track and they still are as helpful as ever.
NewBook Response
2 weeks ago
Hi James, Thank you for leaving such an incredible review and sharing your experience with NewBook. It's been so wonderful to see your operational improvements since implementing NewBook. Thanks for being a valued member of the NewBook family! Kind Regards, The NewBook Team.
Prasad
Business owner in Australia
Hospitality, Self Employed
Used the Software for: 1-5 months
Very unprofessional team ,
Comments: Initially they were good, but later sales people sold me expensive version but it was totally not value for money.
Support system is very bad specially when you have issues.It is not supported by lot of websites.
Pros:
Payment system integration, and taking payment is very easy
Cons:
Support very poor , very complex to use , do not provide connection to lot of websites
NewBook Response
3 years ago
Hi Prasad, It is disappointing to see that you are posting this incorrect review of NewBook on Capterra. Our team provided solutions to all of your needs and complex requirements. Our system can be either easy or complex depending on how complex your individual property/rate setup is. As a property management system NewBook has a large number of OTA's directly connected such as Expedia Group, Hotels.com, Booking.com, AirBnB, HomeAway, TripAdvisor, Trip.com Agoda, Lido and many others but we never promoted to have hundreds like a separate channel manager would, i.e Siteminder (which we also support). If posting a bad review is an attempt to avoid paying your outstanding bills I can assure you we do not operate that way and are confident potential clients will see the large number of positive reviews and know we really do take care of our clients and offer top notch service and support. Regards, Shaye Illich Business Development Manager
Matilda
Executive Manager in Australia
Hospitality, 11-50 Employees
Used the Software for: 2+ years
We happily became totally captive !
Comments: Newbook has become a part of our daily life. The customer support is quick and efficient; they consider our feedback and release new features accordingly. We could not see ourselves managing a camp ground without this software. Everything is done through newbook from making reservations to communication between the different teams for housekeeping and maintenance tasks. This has allowed us to improve our own customers experience dramatically !
Pros:
We started using newbook for the reservations management, which is awesome. We now see ourselves using and appreciating a lot more features like the reports and contact management with customers. We have saved thousands of dollars thanks to the follow up reports and tools !
Cons:
Sometimes it takes a bit of time (a few months) before features are perfected. However this is normal when you do "trial and error" instead of waiting for features to be perfect and then never release them ! The pricing might seem a bit high at first, but they can afford to do this as they are the most user friendly software in their category !
Alternatives Considered: RMS Cloud
Reasons for Switching to NewBook: When comparing (and asking friends who were using either one of the 2 or that had used both) we realised Newbook was drastically more user friendly and that the customer support was much better.
NewBook Response
2 months ago
Hi Matilda, Thanks for sharing your experience with NewBook. It's great to hear that you're continuing to use more features that have helped you streamline your reporting and reduce expenses! We appreciate your support, and thank you for being part of the NewBook family! Kind Regards, The NewBook Team
Sandi Kate
Park Owner in Australia
Hospitality, 2-10 Employees
Used the Software for: 2+ years
Newbook is our doorway to the world.
Comments: Newbook educates us to adapt or die, a critical aspect of any successful business. We are a very small, family owned property and our Guests feedback proves that we show professionalism that is above their expectations. Most of this is due to Newbook features that we use to connect and assist our Guests from the booking confirmation to the thank you sms text upon departure, and the remainder is our high standards and friendly customer service.
Pros:
Newbook offers peace of mind reliability, as this cloud based PMS has only gone offline once during the 8 or 9 years that we have been using it. We love the flexibility of chosing the features you wish to use, and also that the company is constantly researching & trialing new technologies to stay ahead of emerging trends. This offers small business owners the capacity to compete alongside the big corporate identities that have the dollars to invest heavily in this field.
Cons:
The training videos that are now provided have addressed the only downside to such an extensive system. In the past, searching for help to complete a task that has not been required for some length of time, has proven challenging. Newbook can do so many things that it is sometimes hard to remember how to do it! Please keep the training videos coming as they are a great resource to use rather than calling the customer help line.
NewBook Response
6 months ago
Hi Sandi Kate, Thanks for leaving NewBook a 10/10 review. It's great to hear that the reliability and flexibility of the system allow you to create memorable experiences for your guests. You can expect even more innovative features & technology in the future. Thank you for your ongoing support! Kind Regards, The NewBook Team