15 years helping Australian businesses
choose better software
What Is Atera?
Atera's all-in-one platform provides IT professionals with various integrated solutions that help them get access, visibility, and control over daily IT work. This includes Remote Monitoring & Management, Helpdesk, IT Automation, Ticketing, and Reporting – all under one roof. Our pay-per-tech model allows IT teams & MSPs to optimize and scale operations across unlimited devices, while reducing menial tasks so they can focus on the work that matters most.
*New: Atera integrates with Azure OpenAI
Who Uses Atera?
Atera is the ultimate all-in-one IT management platform. With unlimited devices for a fixed cost, Atera has everything you need in one solution. Try Atera for free: https://www.atera.com/signup
Where can Atera be deployed?
Cloud-based
On-premises
---
About the vendor
Atera
Located in Tel Aviv, Israel
Founded in 2011
Languages
English, French, German
Atera pricing
Starting Price:
USD 99.00/month
Yes, has free trial
No free version
Atera does not have a free version but does offer a free trial. Atera paid version starts at USD 99.00/month.
About the vendor
Atera
Located in Tel Aviv, Israel
Founded in 2011
Languages
English, French, German
Atera videos and images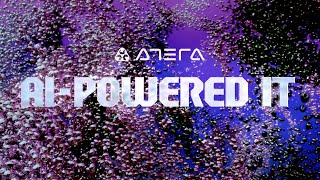 Features of Atera
Access Controls/Permissions
Activity Dashboard
Activity Tracking
Alerts/Escalation
Alerts/Notifications
Asset Tracking
Audit Management
Automatic Patch Deployment
Automatic Scans
Backup and Recovery
Bandwidth Monitoring
Baseline Manager
Billing & Invoicing
CMDB
CPU Monitoring
CRM
Capacity Management
Change Management
Chat/Messaging
Compliance Management
Compliance Tracking
Configuration Management
Contract/License Management
Cost Tracking
Customer Support
Customizable Reports
Dashboard
Deployment Management
Diagnostic Tools
Document Management
Event Logs
File Sharing
For MSPs
Help Desk Management
IP Address Monitoring
IT Asset Management
IT Asset Tracking
IT Reporting
Incident Management
Internet Usage Monitoring
Inventory Management
Issue Auditing
Issue Management
Knowledge Base Management
Knowledge Management
Live Chat
Maintenance Scheduling
Network Analysis
Network Monitoring
Network Wide Management
Patch Management
Performance Metrics
Performance Monitoring
Policy Management
Problem Management
Real Time Monitoring
Real Time Notifications
Real Time Reporting
Real Time Updates
Real-Time Chat
Real-time Alerts
Release Management
Remediation Management
Remote Access/Control
Remote Monitoring & Management
Remote Update/Installation
Reporting & Statistics
Reporting/Analytics
Scheduling
Screen Sharing
Self Service Portal
Server Monitoring
Service Catalog
Service Level Agreement (SLA) Management
Session Recording
Simple Network Management Protocol (SNMP)
Status Tracking
Supplier Management
Support Ticket Management
Surveys & Feedback
Task Management
Third Party Integrations
Threshold Alerts
Ticket Management
Time & Expense Tracking
Troubleshooting
Unattended Access
Uptime Reporting
Vulnerability Scanning
Workflow Configuration
Divaldo
CEO in Portugal
Verified LinkedIn User
Consumer Services, Self Employed
Used the Software for: 1-5 months
Reviewer Source
The only tool I need to manage IT assets and system administration
Pros:
Atera completes all IT and systems management points, from flawless remote access for both Windows and Mac. In particular, it is excellent for connecting to external servers (VPS) and having control over the status and executing tasks manually or even automating . I was very surprised by what Atera covers in terms of features that adapt to any business.
Cons:
It is an excellent tool, however, only for medium and large companies given the level of computer knowledge that you need to have to use it, It would be great to see a total reports generated as well as per user and more, the cost is also high, but it worh it.
Verified Reviewer
Verified LinkedIn User
Computer & Network Security, Self Employed
Used the Software for: 1+ year
Reviewer Source
Great startup PSA and RMM for MSPs
Comments: Great, very high uptime and excellent performance
Pros:
It has all the features and most the integrations most the competitors have at a slightly lower price. The software evolves faster than competitors so if the feature you need isn't there it probably will be soon.
Cons:
Had to purchase the Splashtop unattended access option for $200 per year
Alternatives Considered: Kaseya VSA
Reasons for Choosing Atera: Slow performance across the board and the interface is not intuitive in Automate.
Switched From: ConnectWise ScreenConnect, ConnectWise PSA and ConnectWise Automate
Reasons for Switching to Atera: Lower initial cost and total cost of ownership
Mike
Director of IT in US
Law Practice, 51–200 Employees
Used the Software for: 6-12 months
Reviewer Source
Amazing product that is growing and evolving
Comments: The product is an amazing value and allows a single or multiple users to act as a larger team. Support is there if you need them.
Pros:
The support team and access is amazing, they always have what you need. The shared libraries for scripts and SNMP templates are a huge time saver. (make sure to vet the scripts yourself) The AI features are more than a gimmick and can be a huge time saver if used properly. The developers are listening and adding requested features.
Cons:
The inability to add a user to multiple devices is a real headache for me. The time tracking interface is a bit lacking compared to other larger vendors.
Alternatives Considered: NinjaOne and ConnectWise Automate
Reasons for Switching to Atera: Great value for the money. Great support staff.
Information Technology & Services, 2–10 Employees
Used the Software for: 2+ years
Reviewer Source
Quality has gone downhill
Comments: We have been with Atera since 2015. We have seen a lot of changes, most for the better. But at the start of 2019 everything has gone down hill. The site is slow, remote support (Splashtop) frequently goes down, and the lack of true support. What I mean by lack of true support is that they know they have a problem on their end, yet you get a canned response from them to flush your cookies and history. We are a IT company! We know a problem when we see one, and flushing our browsers is not going to fix the issues they are having. It is quite embarrassing when a customer calls you and you are unable to help them remotely because your systems don't work. Time to move to another RMM!
Pros:
The price point for this product is excellent, if it worked properly.
Cons:
Constant issues in the past few months. Cannot use remote frequently, it fails consistently since January 2019. Customer support is responsive in a canned response kind of way.
Atera Response
3 years ago
Hey James, thank you for the honest feedback. As we continued on growing, and expanding our customers list, our old infrastructure was seriously tested, which could have caused performance issues, especially during peak hours. However, since 2019, we have added a new method of pinging agents, a back-up method as well, we have revamped the splashtop reliability and integrations, and we added many more features. In regards to the support experience, since Atera is a browser-based app, browser resets/cleaning the cache can help in several situations. This will obviously not fix performance issues, but it is a common troubleshooting procedure. We invite you to test Atera out again, and see the improvements made since 2019 for yourself, both in reliability, as well as in features.
David
Computer Helpdesk Technician in US
Individual & Family Services, 201–500 Employees
Used the Software for: 2+ years
Reviewer Source
Great Product
Comments: Very positive. Customers find making tickets with Atera a lot easier than with previous software. We in IT find it very convenient to have everything in one location.
Pros:
Had every feature we needed and even some we didn't know we needed until we started looking around at what Atera offered. Also like that new features keep being added.
Cons:
The website can sometimes be slow to respond and require multiple refreshes. Doesn't matter which browser is used or if it's on or off work locations. Also do not like the recent addition of AI. AI is not well understood and has a tendency to go off the rails, so shoehorning it into software that is supposed to be reliable doesn't seem like a good idea.