15 years helping Australian businesses
choose better software
What Is Tidio?
Tidio is a powerful, all-in-one customer service platform that levels up your customer support and helps to generate more sales. An easily accessible live chat widget makes your business available 24/7, while AI-powered chatbots engage your customers in real-time, so you can sell more.
Additionally, you can connect Messenger, Instagram, live chat, and email to Tidio multichannel and answer all messages from one place, also on mobile.
Who Uses Tidio?
Tidio was designed and built for small businesses that want to keep all their communication in one place and automate some of their conversations. Currently used on over 300k websites globally.
Where can Tidio be deployed?
Cloud-based
On-premises
---
About the vendor
Tidio
Located in London, UK
Founded in 2013
Tidio pricing
Starting Price:
USD 15.83/month
Yes, has free trial
Yes, has free version
Tidio has a free version and offers a free trial. Tidio paid version starts at USD 15.83/month.
About the vendor
Tidio
Located in London, UK
Founded in 2013
Tidio videos and images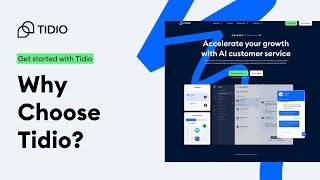 Features of Tidio
AI/Machine Learning
Activity Dashboard
Activity Tracking
Alerts/Escalation
Alerts/Notifications
Augmented Analytics
Auto-Responders
Automated Responses
Automated Routing
CRM
Chat/Messaging
Chatbot
Code-free Development
Complaint Monitoring
Contact Management
Customer Communication
Customer Complaint Tracking
Customer Database
Customer Experience Management
Customer History
Customer Support
Customisable Branding
Customisable Forms
Customizable Templates
Email Management
Engagement Tracking
Feedback Management
Geotargeting
Interaction Tracking
Knowledge Base Management
Lead Qualification
Live Chat
Macros/Templated Responses
Mobile Access
Multi-Channel Communication
Multi-Channel Data Collection
Multi-Language
Natural Language Processing
Offline Form
One-to-One Messaging
Performance Metrics
Personalization
Pre-Configured Bot
Proactive Chat
Process/Workflow Automation
Query Suggestions
Real Time Notifications
Real-time Consumer-facing Chat
Real-time Conversations
Reporting & Statistics
Reporting/Analytics
Routing
Self Service Portal
Sentiment Analysis
Support Ticket Management
Survey/Poll Management
Surveys & Feedback
Third Party Integrations
Ticket Management
Transcripts/Chat History
Transfers/Routing
Virtual Assistant
Workflow Configuration
Workflow Management
Jessica
Inbound Marketing Consultant in Argentina
Verified LinkedIn User
Marketing & Advertising, Self Employed
Used the Software for: Free Trial
Reviewer Source
Easy, fast and amazing!
Comments: I started working as a consultant for a company, and their first project was to add a chatbot to their homepage. At the moment, they had a bot that redirected to WhatsApp, and it wasn't very user friendly. They also have HubSpot's' free account, but the functions that the chatbot offers are very basic. So, I started searching for good chatbot software and came upon Tidio. From the beginning, it was really easy to use and create what I had in mind. When I showed the team the final version of the bot, they LOVED it! It was easy to understand, easy to use, and easy to implement. Overall, I had a really good experience, and I will continue considering Tidio for future clients.
Pros:
I was impressed by how easy it was to set up our multilanguage home page chatbot! In just one day, it was set up and running, and leads were coming in. Oh, and can't forget to mention that we also got to integrate it with our HubSpot account. Amazing, right?
Cons:
One of the things I had difficulty with was with keeping the lines that connect each action of the bot straight. It took me a considerable amount of time moving them around and making sure it had the correct spacing. Just as an idea, I've used other software where it automatically straightens the lines for you and adds the correct spacings between actions and branches.
Alternatives Considered: MessageBird
Reasons for Choosing Tidio: Messagebird wasn't as easy to use as Tidio was. One of the things that really bothered me from messagebird was that they didn't have the option for quick replies. So it was pretty difficult to receive the correct input from the user and for the flow to continue working correctly. Another thing that I loved about Tidio was their support team. Compared to other software where they take forever to answer back, Tidio does it so quickly and the whole team is so friendly.
Switched From: MessageBird
Reasons for Switching to Tidio: Tidio is very intuative, easy to use and their support team is amazing!
Tidio Response
3 years ago
Hi there, Thank you so much for a thorough review! We are very proud that you like our product so much! Thank you for the feedback about our Chatbots too. I will be happy to forward it to our developers for further evaluation. If anything, we're here for you! :)
Retail, Self Employed
Used the Software for: 1+ year
Reviewer Source
Excellent Live Chat Option for SME's
Comments: I love using Tidio, I have used other chat apps and this one is the cheapest and easiest for ensuring my customers can always reach out for support via the website. The mobile app is a huge plus.
Pros:
So easy to set up on Shopify. Intuitive admin lets you set up the chat bot with ease.
Cons:
Quite difficult to set up conversation flows
Fon
CPO in US
Verified LinkedIn User
Health, Wellness & Fitness, 2–10 Employees
Used the Software for: 1-5 months
Reviewer Source
Source: GetApp
Support team is like waiting for Christmas
Comments: I got sucked into the Tidio marketing, got excited, decided to add it to our website, and then it would not connect to my domain. I followed the available tutorials, but still couldn't connect it to our domain. I asked for support days ago, and it's been crickets.
Pros:
Not sure. I can't even get the app working, and the support team has been unavailable for days - another bad sign.
Cons:
I least like never getting a response from the support team. I can't even tell if this is a good app on not.
Verified Reviewer
Verified LinkedIn User
Marketing & Advertising, 2–10 Employees
Used the Software for: 6-12 months
Reviewer Source
Tidio
Comments: Tidio is a good software to use especially for this who want a simple software to communicate with clients from their website
Pros:
It had live chat and with that you can access text or messages sent by visitors or clients who need help in our business
Cons:
What I don't really like is the quality of the payment plan and what's involved in the package
bamuwalaza
engineering technican in Uganda
Consumer Goods, 51–200 Employees
Used the Software for: 6-12 months
Reviewer Source
Execellent services
Pros:
Support team is so quick, good and friendly dashboard and quick on loading
Cons:
the software only has postive impacts a for the min time i have used it