15 years helping Australian businesses
choose better software
What Is ERPAG?
ERPAG is an ERP cloud service that covers all business processes for small or mid-sized companies.
Inventory and order management in real time.
FEATURES:
Reordering.Order fulfillment.Cloud label printing.Inventory tracking (Barcode, Serial, Lot).Multiple UOMs.
Multiple warehouses.Multiple currencies.Multi-language interface.Composite products(BOMs, Kitting, Variable items).
User level management.Integrated invoicing and purchasing module.Supports manufacturing.
Who Uses ERPAG?
Small businesss, Mid-sized business
Where can ERPAG be deployed?
Cloud-based
On-premises
---
About the vendor
ERPAG
Located in New Castle, US
Founded in 1995
ERPAG pricing
Starting Price:
USD 25.00/month
Yes, has free trial
No free version
ERPAG does not have a free version but does offer a free trial. ERPAG paid version starts at USD 25.00/month.
About the vendor
ERPAG
Located in New Castle, US
Founded in 1995
ERPAG videos and images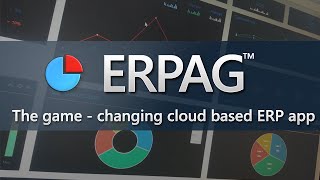 Features of ERPAG
API
Access Controls/Permissions
Accounting
Accounting Integration
Alerts/Notifications
BOM Creation
Backorder Management
Barcode Recognition
Barcode/Ticket Scanning
Barcoding/RFID
Billing & Invoicing
Bills of Material
CRM
Cataloguing/Categorisation
Channel Management
Check-in/Check-out
Contact Database
Cost Management
Cost Tracking
Customer Database
Customer History
Customizable Reports
Customization
Data Import/Export
Demand Forecasting
Document Management
ERP
Electronic Payments
Enterprise Asset Management
Expense Tracking
Financial Analysis
Financial Management
For Metal Fabrication
For Small Businesses
Forecasting
HR Management
Integrated Business Operations
Inventory Auditing
Inventory Control
Inventory Management
Inventory Optimization
Inventory Replenishment
Inventory Tracking
Invoice Management
Invoice Processing
Item Management
Kitting
Label Templates
Lot Tracking
Manufacturing Inventory Management
Marketplace Integration
Material Requirements Planning
Mobile Access
Multi-Currency
Multi-Location
Online Ordering
Order Entry
Order Fulfillment
Order Management
Order Tracking
Parts Management
Point of Sale (POS)
Predictive Analytics
Procurement Management
Product Identification
Production Management
Production Scheduling
Production Tracking
Project Management
Purchase Order Management
Purchasing & Receiving
Purchasing Reports
Quality Control
Quality Management
Quotes/Estimates
Real Time Data
Real Time Synchronization
Receiving/Putaway Management
Recipe Management
Recurring Orders
Reorder Management
Reporting & Statistics
Reporting/Analytics
Resource Management
Returns Management
Sales Orders
Sales Reports
Search/Filter
Serial Number Tracking
Shipping Management
Status Tracking
Supplier Management
Supply Chain Management
Task Management
Third Party Integrations
Traceability
Vendor Management
Warehouse Management
Work Order Management
Workflow Management
Marcelo
R&D in US
Verified LinkedIn User
Consumer Goods, 11–50 Employees
Used the Software for: Free Trial
Reviewer Source
Good ERP to take in consideretion
Comments: We are a growing company, we manufacture, we order from other suppliers, we produce, and we sale trough Shopify and B2B and wholesale via Quickbooks, We have a sales department, technical department and, production department and shipping department, this way I can integrate all under one platform.
Pros:
We were about to implement Inventory management, and Shopify recommend Erpag, I just been using the Demo, but they got me at the first minute, very intuitive and easy to navigate. I will try also the service and repair platform.
Cons:
No integration with other apps, at least couldn't find how to do it.
Alternatives Considered: Cin7 Omni and Zoho Inventory
Reasons for Switching to ERPAG: I learn about you through Shopify, and I am using them as my business grow.
Mechanical or Industrial Engineering, 2–10 Employees
Used the Software for: 2+ years
Reviewer Source
Very good software for manufacturing companies that sell hardware products
Comments: In general we are really happy with our license with ERPAG. Their customer support is very helpful, they are always friendly and can help your with everything no matter what. The software itself is also very powerful, we are not using all the features yet but are currently using more and more.
Pros:
- ERPAG has live agents (through the website) that can help very fast with all the questions we have - The link between Quotations, sales orders, invoices, etc is really well done. Very well linked to all the manufacturing project and the current stock - It is a very powerful software when you start using the blocky scripts to personalize everything you need - Clear overview of all the product and services
Cons:
- They don't have an open API yet (ongoing) so that we can link it to other software
Alternatives Considered: Odoo
Reasons for Switching to ERPAG: We did quite a lot of research between different software on the market for a manufacturing companies that manufactures and sells product and compared the available features and the pricing, and ERPAG is way far the best (price/quality wise) currently on the market. Odoo for exemple is much more expensive and cannot provide everything ERPAG does.
Louise
Director in Australia
Furniture, 11–50 Employees
Used the Software for: 6-12 months
Reviewer Source
Customisable ERP at an affordable price
Comments: We needed a system that was both robust for a manufacturing company that produced both regular products and lots of custom products, but was also affordable and easy to use as we are relatively small. I trialled over a dozen similar softwares in-depth as I knew how important it was to make a good choice in a system that met our needs. Some systems looked great from the outset but lacked the ability for customisation which was very important to us. Others worked just as well but we're over 5 times the price.We have managed to implement the system ourselves using help from the Erpag manual and online support.We have been very happy with how it is working in all areas of our businesses from quoting, job management, logistics and reporting.I would definitely recommend.
Pros:
Easy to implement yourself without high upfront fees. This software is robust and has some great features that allows customisation. I trialled over a dozen similar systems, and this was by far the best in features it offered and low pricepoint.
Cons:
Many other more expensive ERP and MRP systems look more polished visually, but lack more important features like the ability to customise and ease of use. The mobile app could do with some more features, but I have been told this is in development.
Alternatives Considered: Odoo and Katana Cloud Inventory
Reasons for Choosing ERPAG: We were looking for a software more suitable for our industry with a similar pricepoint.
Reasons for Switching to ERPAG: More affordable with more features
Luxury Goods & Jewelry, 2–10 Employees
Used the Software for: 1-5 months
Reviewer Source
ERPAG Lacking Support
Comments: Horrible. Their technical support documentation is not updated and I hired a website developer to try to get it to work. The developer did everything he could to get it to integrate only to be finally told "sorry I cannot help you" from ERPAG support. At first I was very excited by what you had to offer. Unfortunately you do not have the tech support necessary to help me resolve the issues of connecting my website to ERPG. My web developer did the following for me:
-Followed their instructions of uninstalling all plugins and testing connectivity.
-Tested their connectivity on a fresh install on a simple shared server.
-Booked a service support call and talk to you via live support. I have also tested my Woo-commerce integration with their competitors, MRPeasy and Katana, and it was easy for me to do on my own without tech support.
Pros:
Everything they say they can do. I was super excited about the is software when I found it.
Cons:
The software would not connect to my WooCommerce website.
Mohammad
Engineering Manager in Saudi Arabia
Electrical/Electronic Manufacturing, 11–50 Employees
Used the Software for: 2+ years
Reviewer Source
ERP for Manufacturers
Pros:
- the level of control that can be made on each process.- ease of importing/exporting almost everything.- support is super quick.
Cons:
- quality control is missing. It can be done in alternative ways but it's better to have a QC module.