What Is ChronoTrack?
Race management tool that helps manage races, athletes & more through social media integration, real-time athlete updates & results.
Who Uses ChronoTrack?
Registration management tool that enables race directors to manage events like triathlon, cycling, skiing, obstacle events & trail runs through online registration, social media integration & more.
ChronoTrack Details
ChronoTrack
Founded in 2008
ChronoTrack Details
ChronoTrack
Founded in 2008
ChronoTrack videos and images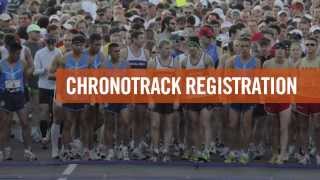 Compare ChronoTrack pricing with similar products
Starting price
N/A
N/A
N/A
USD 125.00/month
ChronoTrack deployment and support
Support
Email/Help Desk
FAQs/Forum
Knowledge Base
Phone Support
24/7 (Live rep)
Training
In Person
Live Online
Webinars
Documentation
Videos
Features of ChronoTrack
API
Activity Dashboard
Activity Tracking
Alerts/Notifications
Attendance Management
Attendee Tracking
Badge Management
Barcode / Ticket Scanning
CRM
Calendar Management
Class Registration
Contact Database
Contact Management
Credit Card Processing
Customisable Branding
Customisable Forms
Customizable Fields
Customizable Reports
Customizable Templates
Discount Management
Drag & Drop
Electronic Payments
Email Marketing
Email Reminders
Event Calendar
Event Management
Event Registration
Event Scheduling
Event Ticketing
Forms Management
Group Registration
Marketing Automation
Mobile Access
Online Registration
Onsite Registration
Payment Processing
Real Time Analytics
Real Time Data
Real Time Reporting
Refund Management
Registration Management
Reminders
Reporting & Statistics
Self Check-in/Check-out
Social Media Integration
Surveys & Feedback
Third Party Integrations
Visitor Registration
Website Integration
Website Management
Brad H.
Partner, Lead Timer in US
Used the Software for: Not provided
Best in the Business
Comments: After we transitioned all of our events and our clients to the Chronotrack platform, we noticed an increase in participation. Additionally, we noticed a sigh of relief among the Race Directors. Here was a platform that allowed Race Directors access to the tools they needed. Equally important was that this platform housed the data in the same place for our timing and scoring needs. Not having to move data around and keeping it housed in the same place is an important ingredient. Additionally, the tech support response time is probably the fastest I have experienced. Regardless of the size of the race or scope of the project, Chronotrack wants to help and wants to make the end user experience a smooth and positive ride.
ChronoTrack Response
6 years ago
Appreciate the positive review Brad. We love being able to service your and your clients' needs!
Used the Software for: Not provided
ChronoTrack Race Registration is a key product in our business
Comments: I have found ChronoTrack Race Registration to be a great product that has really helped our business. I have used it to help with registration for our client's in race that we have timed for them. My experience has been that our race directors are amazed by how easy it is to use for them and their participants. It has made our lives easier in that client's have constant and complete access to all of their race information. I have used it for registration for participants and athletes in my own events as well. I have found it to be a vast leap ahead of the other services in the market. Most importantly, the customer support is second to none.
ChronoTrack Response
6 years ago
Thank you for the great review Robin. We all thoroughly enjoy working with you!
Mary A.
Owner, President in US
Used the Software for: Not provided
We really like the registration features and being able to do the dynamic number assignment.
Comments: We do need CT to work on team registrations/reporting as well as somehow incorporate a better fundraising platform to enable us to work better with our National non-profit groups and their registration/fundraising platforms.
ChronoTrack Response
6 years ago
Thanks for the review Mary! The things you noted that you'd like to see improved are on our list to tackle. Definitely priorities for us.
Adam S.
Director of Timing Services in US
Used the Software for: Not provided
Ease of use
Comments: From 30000 people across multiple events to a 150 person 5k the ease of use, support and scalability can't be beat. Integration with social media and the ability to reach the people you need to is key and this platform delivers! Highly recommend for seasoned race directors and new comers to the industry
ChronoTrack Response
6 years ago
Thanks for the great feedback Adam! We all enjoy working with you and look forward to many races to come.
Geoff W.
Director of Events in US
Used the Software for: Not provided
Ease of use sets this registration apart!
Comments: I use this online running related registration system for all my events.
The system is very easy to use, ad free, and only gathers the information that is needed to get your registration completed quickly. It doesn't ask you for your income, or other data that isn't relevant , like many other online registration systems.
ChronoTrack Response
6 years ago
Glad it continues to meet your needs for your different events Geoff!