What Is Confluence?
Confluence is a team workspace where knowledge and collaboration meet. It's a central source of truth for fast-moving companies. Confluence keeps everyone organized and aligned with everything from meeting notes to strategy docs and IT documentation so they can make better decisions faster and be more responsive to change. Confluence integrates seamlessly with the Atlassian suite of products like Jira Software and Trello, and allows for endless customization with apps from our Marketplace.
Who Uses Confluence?
Today all kinds of functional departments of any size use Confluence, from technical teams and project management groups, to marketing, HR, legal, and finance. All teams get work done with Confluence.
Where can Confluence be deployed?
Cloud, SaaS, Web-based, Mac (Desktop), Windows (Desktop), Linux (Desktop), Windows (On-Premise), Linux (On-Premise), Android (Mobile), iPhone (Mobile), iPad (Mobile)
About the vendor
Atlassian
Located in San Francisco, US
Founded in 2013
Phone Support
24/7 (Live rep)
Chat
Confluence pricing
Starting Price:
USD 5.50/month
No free trial
Yes, has free version
Confluence has a free version and does not offer a free trial. Confluence paid version starts at USD 5.50/month.
About the vendor
Atlassian
Located in San Francisco, US
Founded in 2013
Phone Support
24/7 (Live rep)
Chat
Confluence videos and images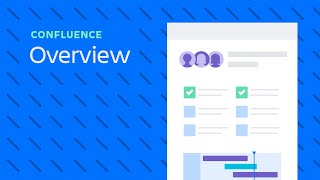 Compare Confluence pricing with similar products
Features of Confluence
Access Controls/Permissions
Activity Dashboard
Alerts/Notifications
Archiving & Retention
Assignment Management
Brainstorming
Calendar Management
Cataloguing/Categorisation
Collaboration Tools
Commenting/Notes
Communication Management
Content Management
Content Publishing Options
Customisable Branding
Customizable Templates
Discussions / Forums
Document Capture
Document Classification
Document Management
Document Storage
Drag & Drop
Feedback Management
File Sharing
Full Text Search
Gantt/Timeline View
Goal Management
Idea Management
Ideation
Innovation Management
Knowledge Base Management
Knowledge Management
Milestone Tracking
Mobile Access
Prioritization
Progress Tracking
Project Management
Project Planning
Project Planning/Scheduling
Real Time Editing
Reporting/Analytics
Reporting/Project Tracking
Requirements Management
Resource Management
Rich Text Editor
Search/Filter
Self Service Portal
Stakeholder Defined Attributes
Status Tracking
Strategic Planning
Surveys & Feedback
Task Management
Template Management
Text Editing
Third Party Integrations
Traceability
Unified Directory
Version Control
Visualization
Workflow Management
Alternatives to Confluence
Nachiket P.
Decision Analytics Associate in India
Verified LinkedIn User
Management Consulting, 10,000+ Employees
Used the Software for: 6-12 months
Confluence - The Best Team Workspace for a Product Manager
Comments: My experience with Confluence has been really great. As a fellow Atlassian tool to JIRA, it has provided our team with templates for a variety of tasks like Goal Planning, Requirement Gathering, and Meeting Notes. For the Product team at ZS, we have integrated JIRA and Confluence, to create requirements in the JIRA board from Confluence, and present these requirements in a structured format in Confluence using the Requirement Gathering template available in Confluence.
Pros:
Confluence hosts a whole lot of great features, such as Spaces, Access management, document upload, and on-platform editing among others. But. the feature I like the most is the Templates. Our Product team at ZS uses readily available templates of Creative Brief, Product Requirements, and Product Roadmap for goal planning, requirement gathering & requirement documentation, and roadmap planning respectively. The best thing is we replicate these templates as-is for all the products in our product portfolio and this helps maintain standardisation of the documents.
Cons:
There is nothing that I dislike about Confluence. The only thing which I would suggest is that Confluence pages are really cluttered with information, providing too many things for the user to explore on the first try, which becomes really intimidating. Maybe the Overview page of a Space could be simplified further and a help guide link could be provided to understand the host of features provided in detail.
Justin C.
Sr Embedded Software Engineer in US
Verified LinkedIn User
Computer Software, 501-1,000 Employees
Used the Software for: 2+ years
Alternatives Considered:
Confluence For the (Easy) Win
Pros:
Confluence has become the defacto wiki tool for most of the companies that I've worked with. The barrier to entry is super simple and VERY easy to setup (either Enterprise deployment or in the Cloud). Either way, most engineers I know these days are very familiar with Confluence. There are also a ton of plugins and enhanced features that you can bolt onto Confluence which make it robust and scalable.
Cons:
There are a few things I don't like about Confluence: 1. The search functionality is a bit... wonky (?) to use... they try to load predictive results, which don't open in a new page automatically, it takes too long to load sometimes and if you press 'enter' and don't wait for the predictive results to load it takes you to entirely new page where the results have to load again. Also if you try to search before the JS has fully loaded the search doesn't work, takes your focus away. This means I have to be very slow when using the search feature and it easily frustrates me. 2. They advertise all these awesome plugins and support widgets, which cost a ton of money, but they only apply at the space level, not an individual account level. I'd be more inclined to buy stuff if I could also apply it to my personal Confluence account and take it with me. There are features like enhanced project management, and task management, and charting, and RTF features that I want, but the last two organizations LOCK THIS DOWN and getting a plugin installed is like moving heaven and earth. 3. Im a web dev and an embedded systems engineer. I like to touch things. Confluence can be a bit locked down sometimes and regid in the HTML5 layouts and JS run on page. I wish I could be an 'advanced user' and just make the changes within page. But I cannot. Im stuck with the one size fits all. All of that said, they are gripes of a dev, but otherwise the wiki space is pretty fantastic. I use it daily!
Ashish V.
Sr Architect in Canada
Financial Services, 10,000+ Employees
Used the Software for: 2+ years
Alternatives Considered:
Best tool for Project Management in Industry
Comments: Confluence helped to decommission code check in tools like SVN and fileshare in organization.
Verison control feature always helps to mitigate any risk during release and build deployment activities.
It saved enough time and human efforts for data n file managments for multiple projects.
Confluence turned to be life savior for many projects in cost effctive model.
Pros:
Confluence is very user friendly so no need to spend time and money on employee training and learning. It is time saving tool in agile project lifecycle reducing heavy documentation and support. Better customer support compared to other vendors and softwares. Cost effective and resilient for Risk management and project planning activities.
Cons:
Build deployment sometimes take time and version controlling mechanism require better practice for stability
Ck P.
Software Architect in US
Computer Software, 10,000+ Employees
Used the Software for: 2+ years
Feature rich, but not very user friendly
Pros:
It's a great content management/Wiki tool for collaboration and knowledge base creation. It has many integrations available out of the box, especially Atlassian products. Once you understand how it works for authors, many powerful features are available. I really like the tree structure that lets you nest topics. This makes organization easy to create and locate relevant information quickly by skipping directly to the info.
Cons:
It can be daunting to get the hang of how things work as a new user. The user interface is simple, but some of the more powerful features require a bit of research and playing around to understand. We also frequently run into permission issues and user syncing with our IDP. We have tickets open with the vendor that took a long time to be acknowledged as bugs and after months, they are still not fixed.
Verified Reviewer
Quality Assurance Engineer in India
Verified LinkedIn User
Information Services, 11-50 Employees
Used the Software for: 2+ years
Life saver for software projects
Comments: I have been using confluence every day for the last five years and I love how efficient and easy confluence is to use. It allows you to organize your pages into different spaces according to your needs and has an amazing set of tools for content editing. I remember before we used to store our data in JIRA cards or in MS word everything was just all over the place without any management. Now confluence is our one-stop solution for all our documentation needs. Using confluence we have all our content in one place and well organized
Pros:
Confluence is the most useful documentation tool of all time. It allows you to have all your documents in one place and not only that but it organizes them so very well. The number of tools it provides for editing a document is just amazing, something that is missing in all other documentation tools. The customizable templates are very useful too. I love adding images and videos to my documents, arranging the texts in blocks or tables, highlighting the important notes, etc. Confluence lets me do all of this. I also like how it allows collaboration of multiple people and highlights the contributors.
Cons:
I did not find any cons in the product itself but I would like to see better support service for confluence