15 years helping Australian businesses
choose better software
What Is Ricochet?
Created from our first-hand experience in consignment and built to keep store owners prepared for their future, Ricochet offers a comprehensive and future-proofed software solution.
Ricochet is the only consignment software that can be fully run on an iPad.
Keep your consignors or vendors connected with the Ricochet Go App. (Apple and Android)
Process payments, issue gift cards, and text receipts and invoices with Ricochet Pay.
Integrations with Quickbooks, Avalara, and MailChimp.
Who Uses Ricochet?
Consignment and retail store owners who are looking for a software solution that will support their growth, not hinder it. Start your business or switch to Ricochet today!
Where can Ricochet be deployed?
Cloud-based
On-premises
---
Countries available
Australia, Canada, Ireland, Mexico, United States
Ricochet pricing
Starting Price:
USD 129.00/month
Yes, has free trial
No free version
Ricochet does not have a free version but does offer a free trial. Ricochet paid version starts at USD 129.00/month.
Countries available
Australia, Canada, Ireland, Mexico, United States
Ricochet videos and images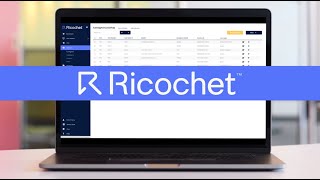 Features of Ricochet
Accounting Integration
Automatic Backup
Barcode/Ticket Scanning
Consignment Management
Credit Card Processing
Customer Accounts
Customer Database
Customizable Fields
Data Import/Export
Discount Management
Electronic Payments
Electronic Signature
Email Marketing
Employee Management
For Retail
Gift Card Management
Inventory Management
Inventory Tracking
Label Printing
Loyalty Program
Multi-Location
Payment Processing
Point of Sale (POS)
Reporting & Statistics
Retail Inventory Management
Retail Management
Returns Management
Returns Tracking
Sales Reports
Self Service Portal
Third Party Integrations
Touch Screen
Transaction History
User Management
eCommerce Management
Gary
Owner in US
Verified LinkedIn User
Retail, 2–10 Employees
Used the Software for: 2+ years
Reviewer Source
Not Just Consignment Software - A solution.
Comments: Barcoding, website/storefront sync integration, layaway, reporting, a loyalty program for my customers, auto-discounts, easy access to online vendor sign-in so my consigners can see what is selling, what is owed to them and when contracts are ending, it stops the unnecessary phone calls throughout the day asking if a vendor has money to pick up.
Pros:
It is flexible. I can make this software adapt to my business needs. I can be a consigner, a store shop owner, a flea marketer, ebay consigner, craft store, space rentals, a retail store and so much more. If there is an internet connection I am in business.
Cons:
Ease of posting products on to the website. I am hoping the new app with help out with this. I would like to use one simple method to post a product directly to my website with pictures and all. I can kinda of do it with the mobile browser but would be so much easier with a dedicated app. I think this would help our vendors to add products. Allow for other credit card company choices. I prefer Square as my credit card provider so to process credit cards I need to switch apps to process the transactions. It's a pain but not a deal-breaker. Cost is a bit high at $109 a month and an extra $39 for the website. So the total annual cost to run the software is almost $1,800 a year. You save a some money by paying annually rather than monthly.
Alternatives Considered: Claris FileMaker, BigCommerce and Shopify
Reasons for Switching to Ricochet: The consignment and vendor feature is top class. It helps the owners use the software so they understand the needs of the business.
Ricochet Response
4 years ago
Thanks for the 5 stars, Gary! We'll keep cranking away at new features that might fit your needs. The good news is that we have a significant update in the works to make the vendor listing process much better!
Athena
Director of Operations in US
Consumer Services, 2–10 Employees
Used the Software for: 2+ years
Reviewer Source
Very helpful software for consignment tracking
Comments: Up until the format was updated we had a great handle on how to use the system to fit our needs. It has proven to be a great help in that multiple users can have access to the same information. There is however an extreme lack of communication. We were not informed that the entire format was being changed and logged in one day to a new set-up with no option to revert back. Features are also disabled or removed without letting the clients know causing navigation issues.
Pros:
This software is extremely helpful in tracking our consignors, their sales, percentages, and important data such as addresses and phone numbers. The newer format also allows us to add images if inventory items which will be very helpful when we have more staff available to log the inventory. It is also very helpful to be able for all users to see what inventory items are in stock vs paid out to the client as well as notes left by other users.
Cons:
I don't like that the software assigns its own descriptors to each client rather than offering the user an option of using its descriptors or your own. I understand these markers are important for the automation algorithm but not helpful for many. Also, since we do not use bar-code scanning and enter all sales manually, the newer layout DOES NOT ALLOW us to find the inventory by our own parameters in the POS tab (ie. client name or consignor number). This has proven to be a time consuming annoyance.
Alternatives Considered: ConsignPro, SimpleConsign and SixBit Software
Reasons for Choosing Ricochet: Access was using an in-house created database that was more difficult to share among other users with no direct cloud access for changes
Reasons for Switching to Ricochet: It fit the bill at the time and was budget friendly.
Ricochet Response
4 years ago
Thanks for the review, Athena. Sorry you had trouble migrating to the newer version. We try our best to make sure we modify and keep the most essential functions as the software improves.
Retail, Self Employed
Used the Software for: 6-12 months
Reviewer Source
Source: SoftwareAdvice
Could be a lot better
Comments: If I had my way I would look for an alternative.
Pros:
the inventory management, having the app on the phone and on the computer
Cons:
1. I am a consigner. There are two stores - every time I use the app, I have to select the 'other' store. You should be able to default to a store. This is very anoying as the session times out and switching tabs from Inventory to Payout does not refresh in real time when this happens. 2. The iPhone app needs to allow a constant login and not keep timing out. it refuses to save the username and password and I waste a lot of time typing it in again. 3. The Category/Brand needs to allow for Consignor admin - adding new categories/Brands as needed.4. Should allow for some other fields such as 'Color', 'Size' etc5. Label support is pretty bad, being forced to use expensive DYMO labels. Also the small labels truncate at very few letters without warning. On my MacBook, the large labels took a lot of effort to print properly.
Apparel & Fashion, 2–10 Employees
Used the Software for: 1+ year
Reviewer Source
From entering items manually to full integration!
Comments: I love being able to serve my consignors and customers using one software.
Pros:
What I like most about this software is the user-friendly interface. As a new business, we needed a software that wasn't going to take months of trial to figure out and that could integrate a lot of the steps to save time. I love that it has been able to accommodate our business needs as we grow and we are excited for new features to release. We also love the team behind the software who is always available to answer any questions or concerns.
Cons:
What I like the least about this software is the limitation on the selection of an integrated payment processor. There is basically no other option. I would love if it could integrate with square so I can take payments on my phone and on the go. Another thing I dislike is the limited information on reports. It would be great to have more bookkeeping/accounting details integrated into them. I also dislike that it doesn't have some basic features I find would be helpful as a business owner.
Alternatives Considered: ConsignPro, Liberty Consignment and Rose for Square
Reasons for Switching to Ricochet: I chose Ricochet because it had the most user-friendly interface and the most features for the price.
Ricochet Response
4 years ago
Thanks for the 5-stars, Carina! We are working to expand reporting this year. And our payments partner is building a mobile device as well! Hopefully, these will help sort out some of your needs this year.
Retail, 2–10 Employees
Used the Software for: 2+ years
Reviewer Source
A User Friendly Software with Exceptional Customer Support
Comments: We always feel heard by the Ricochet team and appreciate their willingness to discuss possible improvements or even explain why a desired feature may not be effective in meeting all their customer's needs. We understand that not every feature we may want is an asset for every store/shop they service. The pros outweigh the cons and we actually value their commitment to delivering a software that works but isn't overwhelmed with "bits and pieces" of features that only meet the needs of some.
Pros:
We began our consignment business with Ricochet and truly believe it played a huge part in our success and is a key to our continued growth. Our team frequently comments on how easy it is to use the software. Many of us have had past experience with systems that were cumbersome and clunky; in comparison Ricochet has an interface that makes it easy to train new staff. Our new staff members quickly get comfortable and confident in using the POS which allows our team to focus our attention on better serving our customers and consignors. As we have grown, Ricochet has evolved along with us. The Ricochet team is constantly working on making the software better and adding features that give us the ability to do business more efficiently. It is important to us to be partnered with service providers who are always looking to enhance their services because it enables us to also always be improving. Their customer support is exceptional. A team member is always readily available to assist and answer questions. We appreciate this level of service because it allows us to offer the same value to our customers and consignors.
Cons:
There are some features and capabilities we hope to see in the future.
Alternatives Considered: ConsignPro, ConsignCloud and Liberty Consignment
Reasons for Switching to Ricochet: We felt that most of the interfaces seemed dated and awkward. The few systems that had aesthetics and features that were more comparable to modern retail options seemed to be loaded with irrelevant features that made use cumbersome and a little confusing .* When inquiring on the software and attempting to experience demos and trials, we frequently we're never contacted or had a chance to have a conversation with an actual person. The couple times we did speak with someone they felt very disconnected from the software as if they were just "sales reps." This was one of the biggest reasons we chose Ricochet. We were quickly contacted via phone and the conversation made us feel confident in their knowledge, quality of the software, their commitment to offering value, and the type of customer service we would receive. As a brick and mortar store with some online presence, we're in the business of building relationships with people and creating a value to benefit them -- we want to do business with services providers that have similar mindsets. *Please note we haven't researched any other software recently. We opened our store in 2015 and this was our experience at that time.
Ricochet Response
4 years ago
Fantastic review, Kristi! Reclamation has been a part of our success too! Thanks for your commitment and thoughtful feedback.