15 years helping Australian businesses
choose better software
What Is SwipedOn?
Manage visitors, employees, workplace resources, and more with the world's easiest-to-use workplace management system, available on both Apple and Android.
Meet your compliance and safety requirements with features like emergency evacuation mode, ID badge printing, document upload, digital agreements, instant notifications, auto sign in, remote working, a dedicated employee app, and more.
Who Uses SwipedOn?
SwipedOn is the ideal fit for any business looking to enhance safety, security and compliance for everyone in the workplace and streamline manual processes.
Where can SwipedOn be deployed?
Cloud-based
On-premises
---
SwipedOn support
Phone Support
24/7 (Live rep)
Chat
SwipedOn pricing
Starting Price:
Yes, has free trial
No free version
SwipedOn does not have a free version but does offer a free trial.
Pricing plans
get a free trial
SwipedOn support
Phone Support
24/7 (Live rep)
Chat
SwipedOn videos and images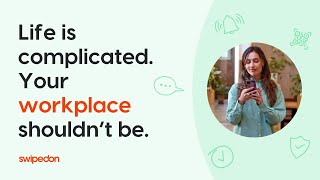 Features of SwipedOn
Activity Dashboard
Alerts/Notifications
Badge Management
Booking Management
Compliance Management
Contact Management
Desk Availability Schedule
Desk Reservation
Digital Signature
Employee Time Tracking
Floor Plans & Maps
Mobile Access
Occupancy Management
Online Booking
Online Time Clock
Package Tracking
Pre-Registration
Real Time Data
Real Time Updates
Registration Management
Reporting & Statistics
SMS Messaging
Self Check-in/Check-out
Self Service Portal
Signature Capture
Space Reservation
Timesheet Management
Utilization Reporting
Visitor Tracking
Watch List
Erik
Business Development Manager in US
Verified LinkedIn User
Oil & Energy, 11–50 Employees
Used the Software for: 1-5 months
Reviewer Source
I love working with SwipedOn in our daily work flow as a digital sign in sheet.
Pros:
The best part about this software is the simple user interface in the web-based dashboard. I have used many different applications for this specific purpose and SwipedOn was by far the easiest to get up and running. I would spend hours trying to get the other software offerings set up and looking just how I like it. I was up and running with SwipedOn in 15 minutes. I also feel like the overall look of the application on our iPad looks more professional than any other software offering I have tried. The layout, look, and feel, of the visitor interface is simple, clean, and stylish. I don't ever have to help or explain how to use the application to visitors, it just that easy to use.
Cons:
I have not come up on anything that I don't like yet. I haven't had SwipedOn in use very long but I have been using applications like this offered by other companies and it is by far the best one that meets our current needs and price point.
SwipedOn Response
5 years ago
Hi Erik, Thanks for the excellent review of SwipedOn. It's great to have Pro Safety & Rescue, Inc on board. We are passionate about delivering an amazing experience and are delighted that we've delivered great service to you. Our number one goal is to make your lives easier! We look forward to delighting you further with upcoming releases and features :) Best wishes, Amy
Construction, 51–200 Employees
Used the Software for: 2+ years
Reviewer Source
Excellent software that regularly impresses our new staff and office visitors
Comments: We used to use a paper signing in sheet, SwipedOn has massively improved our record keeping and has received numerous compliments from our clients and visitors for how professional this signing in process now is.
Pros:
The software looks smart and has plenty of customisation options to make sure the app continues the company brand. The employee in/out feature is key to our business and receiving visitors information and email notifications to our staff when they have a visitor is excellent.
Cons:
As an early user of this app there were a number of features that used to require a few too many clicks to access or felt slow to use, but the app has been updated a lot throughout our time using swiped-on and it is always improving.
Alternatives Considered: Vizito Visitor Management System and Envoy
Reasons for Switching to SwipedOn: SwipedOn offered the simplest and easiest to use employee In/Out feature and we did not want to have two separate Apps or iPads for visitors and employees. With SwipedOn offering both visitor and staff signing in features it was an easy choice.
SwipedOn Response
4 years ago
Thanks for your review Matt, it's always great getting feedback from our customers. So glad that we can help you impress your new staff and visitors!
Sara
Operations Manager in Canada
Computer Software, 51–200 Employees
Used the Software for: 6-12 months
Reviewer Source
Almost Excellent
Comments: We love this app, for it's potential. As they grow, their features are getting better and more reliable and we look forward to having it perfected soon! Overall, a great system that does everything we need for security, while also looking great as well! Highly recommend.
Pros:
it's attractive, and easy to use and has the functionality we require.
Cons:
There are a lot of bugs to work out, but I can see the effort and we are happy overall.
SwipedOn Response
7 years ago
Hi Sara, Thank you for your support! We're working hard to build out all the features we have planned, and it's great to have you with us. Cheers, Megan
Packaging & Containers, 51–200 Employees
Used the Software for: 1+ year
Reviewer Source
Good visitor sign-in solution
Comments: Very positive, the support team are great and are so friendly. Pricing is good. look and feel of the app is very good.
Pros:
It works on a very basic tablet, it prints over wifi to a label/badge printer. looks a feels really great to use
Cons:
I had one experience where the SMS connector failed but there was no alert. It doesn't integrate with legacy HR resource systems. The app doesn't update with other app store updates, i seems that it needs to be done manually
Alternatives Considered: Proxyclick, GymMaster, TDS Visitor and Robin
Reasons for Switching to SwipedOn: Sales rep was very friendly, and pricing was not too high
SwipedOn Response
2 months ago
Thanks for the kind words Ashley! I have passed your feedback on the SMS issue along to our product team. Thanks!
Maxim
Director of Technology in US
Education Management, 51–200 Employees
Used the Software for: 1-5 months
Reviewer Source
SwipedOn for High School
Comments: We wanted a professional check-in experience for both students and visitors. It needed to be easy to use and pretty self explanatory. We did not have a huge budget for this. This solution really fit the bill!
Pros:
Super simple to use The features that are customizable, are easy to customize My users love it Support is always available to chat. I love this.
Cons:
I want more customization of the fields that visitors can fill in
Alternatives Considered: Raptor Visitor Management
Reasons for Switching to SwipedOn: helpcounterweb has an interface that is incredibly outdated and only uses a PC with a label printer that does not auto-cut the printed badges. Swiped on uses a sleek ipad app with a great label printer.
SwipedOn Response
5 years ago
Hi Maxim, Great to hear you're enjoying the customization features and you've contacted our awesome support team! Thanks so much for your feedback regarding the visitor fields. If you navigate to 'settings > visitor fields' on your dashboard, there's the option to add more custom fields for your visitors. Should you need any assistance with this feel free to reach out. :) Thanks! Team SwipedOn