What Is Striven?
Your cloud-based, all-in-one business management solution. Striven is ready for your business right out of the box. With fully integrated accounting, CRM, inventory, project management, human resources features, it's the only software you'll ever need. We've turned our 20+ years of experience helping companies succeed into a powerful single platform that connects and improves your core business processes. Striven is the most affordable complete business management tool available.
Who Uses Striven?
Small and Midsize Businesses
Where can Striven be deployed?
Cloud, SaaS, Web-based, Android (Mobile), iPhone (Mobile), iPad (Mobile)
About the vendor
by Miles Technologies
Located in Lumberton, US
Founded in 2014
Phone Support
Chat
Countries available
United States
About the vendor
by Miles Technologies
Located in Lumberton, US
Founded in 2014
Phone Support
Chat
Countries available
United States
Striven videos and images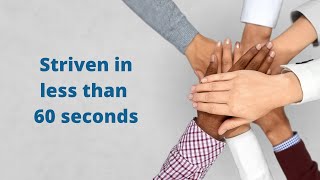 Compare Striven pricing with similar products
Starting price
USD 10.00/month
USD 50.00/month
USD 499.00/month
USD 50.00/month
David C.
CFO in US
Verified LinkedIn User
Automotive, 2-10 Employees
Used the Software for: 1+ year
Alternatives Considered:
One Shop Stop for Running our Distribution Business
Comments: The efficiency and time saved (increase productivity and professionalism) being able to leverage the e-doc storage capabilities, improved and increase sale force productivity through the sales pipeline management and the integration of an accounting package with all the other needs of a small business like our makes us a huge fan of this software and company. The value blows anything else we have ever tried in the 30 years of being in the automotive industry and distribution.
Pros:
Integration of an Accounting System, CRM, Customer Portal and electronic data filing system.
Cons:
While they are consistently making marked improves ever couple of months to the user interface, there's still quirky things in various modules that aren't as intuitive as they could be.
Verified Reviewer
Vice President Information Technology in US
Verified LinkedIn User
Logistics & Supply Chain, 501-1,000 Employees
Used the Software for: 2+ years
Alternatives Considered:
Enterprise Single Solution - Convergence into ONE cloud application!
Comments: Excellent, great customer service, end to end and complete 360 degree view of our company is support from HARDWARE and infrastructure (legacy servers) to new sites inter office connections over SDWAN , and back into our virtualized services - running VMware, we use Striven to support core business, and improve productivity with a tool bag of useful web based features.
Pros:
Speed, security, friction-less user interfaces, presentation, compatibility across browsers and Operating Systems. Support for all divisions, branches, and multi site complexity.
Cons:
Not much, anything that was missing can be handled with Agile speed to market with new releases or custom changes.
Information Technology & Services, 51-200 Employees
Used the Software for: 2+ years
Striven User
Pros:
does an ok job at storing files and handling security
Cons:
Less friendly SharePoint which could easily be replaced by SP which is offered in all Microsoft licenses
Blake E.
Managing Director in US
Defense & Space, 2-10 Employees
Used the Software for: 6-12 months
Excellent, Comprehensive ERP
Comments: We on-boarded with striven in the summer of 2019. Getting the data out of our previous system was the largest hurdle. This is a well ran tech company, it is unlike most software in which you have no or limited support. Striven will help get it set-up and operational.
Pros:
Striven is an agile accounting and ERP system. It has the accounting features you need, but also adds project management via tasks and project management tools. Further, customer relationships can be managed via the CRM tool as well as automated and triggered email blasts. The inventory system allows for a detailed BOM, but gives flexibility to adjust values as needed. Its a great system.
Cons:
This software does everything, really. With that comes at a price of getting familiar with the system. It took our staff some time to learn where everything is. The menu is well thought out, but when you have a high amount of features, you have to learn where everything is at before you can zoom around the system with speed.
Consumer Services, 11-50 Employees
Used the Software for: 1-5 months
Far beyond our expectations
Comments: The staff have been wonderful to work with. They are very direct with there vision, feature capability, and direction of software. There support team have been very crucial in helping us get started with our migration. The overall software has been very well developed and functionality has already saved hours of time in our day to day operations.
Pros:
I love the customization of this software. I can treat any report that narrows down exactly the info I need for invoicing, quoting, part management and more. In the few short months we have used it and very little training I have been able to navigate this system and save myself hours of unnecessary data entry. The ease of use and import has been a huge highlight to this software. They are constantly putting forth effort to make this software improved in function and reliability.
Cons:
Consistency within features that do not go parallel through out the software. Some of the reports could have cross data to give a more comprehensive report however they said this maybe in a future feature release. Reports are still extremely powerful.