15 years helping Australian businesses
choose better software
What Is Creatio CRM?
Creatio CRM is a full-fledged suite of products for marketing, sales, and service automation integrated on one no-code platform.
- Marketing Creatio - a ready-to-use platform to automate marketing campaigns and lead management workflows with no-code and maximum degree of freedom.
- Sales Creatio - an end-to-end platform to automate sales processes of any type with no-code and maximum degree of freedom.
- Service Creatio - an omnichannel platform to automate customer service workflows of any
Who Uses Creatio CRM?
Highly customizable and user-friendly, Creatio applications help businesses of any size and from any industry manage customer-facing processes and deliver an amazing customer experience.
Where can Creatio CRM be deployed?
Cloud-based
On-premises
---
About the vendor
Creatio
Located in Boston, US
Founded in 2014
Creatio CRM support
Phone Support
24/7 (Live rep)
Chat
Creatio CRM pricing
Starting Price:
USD 25.00/month
Yes, has free trial
No free version
Creatio CRM does not have a free version but does offer a free trial. Creatio CRM paid version starts at USD 25.00/month.
About the vendor
Creatio
Located in Boston, US
Founded in 2014
Creatio CRM support
Phone Support
24/7 (Live rep)
Chat
Creatio CRM videos and images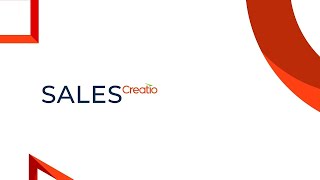 Features of Creatio CRM
Activity Dashboard
Activity Tracking
Alerts/Notifications
CRM
Calendar Management
Calendar/Reminder System
Call Recording
Campaign Analytics
Campaign Management
Cataloguing/Categorisation
Collaboration Tools
Commission Management
Contact Database
Contact Management
Conversion Tracking
Customer Database
Customer History
Customisable Branding
Customizable Fields
Customizable Reports
Customizable Templates
Data Import/Export
Data Visualization
Document Management
Document Storage
Drip Campaigns
Email Management
Email Marketing
Email Templates
Engagement Tracking
For Insurance Industry
Forecasting
Inbox Management
Interaction Tracking
Knowledge Base Management
Knowledge Management
Landing Pages/Web Forms
Lead Capture
Lead Distribution
Lead Generation
Lead Management
Lead Nurturing
Lead Qualification
Lead Segmentation
Marketing Automation
Mobile Access
Multi-Channel Communication
Multi-Channel Marketing
Multi-Language
Opportunity Management
Performance Metrics
Pipeline Management
Quotes/Estimates
ROI Tracking
Real Time Data
Real Time Notifications
Reminders
Reporting & Statistics
Reporting/Analytics
Sales Activity Management
Sales Pipeline Management
Sales Reports
Search/Filter
Segmentation
Social Marketing
Social Media Integration
Support Ticket Management
Task Management
Template Management
Territory Management
Third Party Integrations
Visual Analytics
Website Visitor Tracking
Workflow Management
Alternatives to Creatio CRM
Rommel
Costa Rica
Verified LinkedIn User
Information Technology & Services
Used the Software for: Not provided
Reviewer Source
Source: GetApp
Great CRM running over a nice business process tool
Comments: BPMOnline, like most of the commercial tools out there, is a CRM build over a customizable framework. The main different with other tools, is what this framework offers, and the knowledge required to work on it. First, the business process tool is easy to use yet powerful and robust. It can be used to automate business tasks, implement rules and also, to develop integrations with third party tools. The framework was build in .NET, so certain customizations and scripts are build either in c# (server side code) or javascript (client side code). If you know those languages, your learning curve in BPMOnline (which is normally shorter than others) will be even shorter than the rest of users. On the user side, the system is very friendly and intuitive, so you normally don't get lost in tons of options. Most of then are hidden and reserved for administrators.
Pros:
Main advantages for BPMOnline: 1) Marketing, Sales and Services is fully integrated and normally don't require external or additional tools to work. 2) No hidden costs. The cost model and licenses are quite simple. Your contract normally provides all (and more) of what you need. It's really weird to find unexpected restrictions in the licenses you buy. 3) Learning curve for users, administrators and technicians is very short. With good guidance during implementation, you can take control very fast.
Cons:
Some areas that requires improvements: 1) Integration to third party tools. There are certain integrations that come with the tool like email and phone systems. But others like legacy system or very particular solutions, requires development that can be difficult (not impossible). The lack of existing solutions in the market (free or paid) force you to develop those integrations. 2) Changes are easy to do, but they normally requires compilation. This can take some time, and if it's executed incorrectly, you can affect your instance. 3) The security is very detailed and can be aligned to every model. But, some changes applies just to new records, not to historical information. This can require customizations to work properly. 4) Analytics tool is simple to use and powerful, but it still require some additional features, like calculated variables and export.
Alexander
Business & sales analyst in Ukraine
Oil & Energy, 1,001–5,000 Employees
Used the Software for: 1+ year
Reviewer Source
Cutting-edge agile software solution, designed to optimize your conversion rates and drive business
Comments: We recognize that implementing Studio Creatio earlier would have been a strategic move. The platform has proven to be a game-changer for our operations, significantly improving our business processes and increasing our overall resilience, which is paramount in today's rapidly evolving business landscape.
Pros:
Sales Creatio stands out as an exceptional product for automating sales and distribution workflows. As a midsize player in the competitive manufacturing industry, our ability to compete with larger players has been significantly enhanced through our transformational approach and unwavering commitment to continuous innovation. Incorporating no-code tools into our sales/business analytics toolkit has proven to be a valuable addition. These tools have empowered our team to streamline processes and achieve greater efficiency, ultimately contributing to our success in the market. Notably, our conversion rates have experienced a significant increase, and our sales team is thrilled with the results.
Cons:
While we have overall been highly satisfied with the platform, we have encountered occasional technical issues. Nevertheless, the support provided by Creatio has been instrumental in swiftly resolving these minor issues, ensuring that our overall experience with the platform has remained uninterrupted.
Alternatives Considered: Salesforce Sales Cloud and HubSpot CRM
Reasons for Switching to Creatio CRM: The availability of no-code tools and a wide array of pre-built workflow solutions were pivotal factors in our decision-making process. These resources offered by Creatio have provided our team with the agility and flexibility to design and implement customized workflows without the need for extensive coding expertise. This comprehensive suite of no-code tools and workflow solutions has been instrumental in driving our decision to choose Creatio CRM as our preferred platform comparing to alternatives.
Verified Reviewer
Verified LinkedIn User
Information Technology & Services, 1,001–5,000 Employees
Used the Software for: 6-12 months
Reviewer Source
Great tool for sales forecasting and operations
Comments: Our experience with Creatio is positive. Implementation and usage have been relatively effortless. We've managed the transformation project internally, and our team now effectively utilizes the system for lead management, opportunity management, sales forecasting.
Pros:
It's user-friendly customization options, and the remarkable improvement in the accuracy of our sales forecasting. Dashboards have significantly enhanced our visibility and helped us better align with different units.
Cons:
We successfully implemented everything within just a couple of months, although we did encounter a few challenges along the way. However, the no-code functionality allowed us to find quick and flexible solutions.
Verified Reviewer
Verified LinkedIn User
Law Practice, 11–50 Employees
Used the Software for: 1+ year
Reviewer Source
Excellent technological execution of the buggy product
Comments: Customer service was great and the team dedication to find suitable solution was beyond reproach. Having said that, I felt that I joined their QA team and kept running into bugs that made use of the product impossible until the bug was fixed. Ultimately, I never truly got to use the product and just gave in.
Pros:
Easily customizable. Excellent support from technical side.
Cons:
lots of bugs. new updates would override the fixes and render software useless until new patches would be applied.
Elvia
Ingeniero en sistemas computacionales in Mexico
Information Technology & Services, 51–200 Employees
Used the Software for: 6-12 months
Reviewer Source
learning and satisfaction of successful use :)
Comments: I like it, I love it, the more I get to know and understand it, the more I like it. For me, learning is very important, and applying this learning makes me feel useful, that I am progressing in my knowledge. It makes me feel good. Thanks for asking.
Pros:
It is a software that by getting to know it one learns to identify and become familiar with its functionality. If it's hard work. However, by striving and pacting, one grows fond of him, falls in love with Creatio. Because by understanding it, you get to know everything that can be done with creatio. Thank you very much for designing, developing and building such an excellent product.
Cons:
I have seen that it takes time to respond, the waiting times are very slow, I don't know why everything is compiled at the time of making a change. Another point is the dependencies that it has, they are complicated to understand, and therefore, as a result of this, errors have been made, I believe that understanding this issue is solved, or that there is a more in-depth documentation of issues in more depth.