15 years helping Australian businesses
choose better software
What Is EZOfficeInventory?
Our leading asset lifecycle management software enables you to create POs, schedule services and manage vendors effortlessly. Easy depreciation management and custom reports help you make well-informed business decisions. Use our all-new mobile app for RFID, Barcode and QR Code scans; gain compliance with regulatory bodies. Location and maintenance histories make this a must for fixed asset management. We are also integrated with Zendesk and Jira. Try Us Out For Free!
Who Uses EZOfficeInventory?
It caters to the needs of different industries by making it easy for them to track all types of items including IT assets, AV equipment, furniture, construction tools, medical equipment, etc.
Where can EZOfficeInventory be deployed?
Cloud-based
On-premises
---
About the vendor
EZO
Located in Leander, US
Founded in 2011
EZOfficeInventory support
EZOfficeInventory pricing
Starting Price:
USD 40.00/month
Yes, has free trial
No free version
EZOfficeInventory does not have a free version but does offer a free trial. EZOfficeInventory paid version starts at USD 40.00/month.
About the vendor
EZO
Located in Leander, US
Founded in 2011
EZOfficeInventory support
EZOfficeInventory videos and images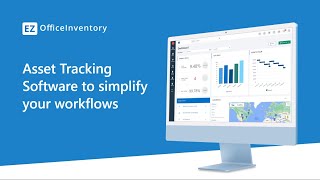 Features of EZOfficeInventory
Access Controls/Permissions
Accounting Integration
Activity Dashboard
Activity Tracking
Alerts/Escalation
Alerts/Notifications
Asset Images
Asset Library
Asset Lifecycle Management
Asset Planning
Asset Tracking
Audit Management
Audit Trail
Barcode Generation
Barcode Recognition
Barcode/Label Management
Barcode/Ticket Scanning
Barcoding/RFID
Billing & Invoicing
Budget Tracking
Calendar Management
Calibration Management
Check-in/Check-out
Compliance Management
Compliance Tracking
Contract/License Management
Contractor Management
Cost Tracking
Customizable Fields
Customization
Dashboard
Data Import/Export
Data Visualization
Depreciation Management
Document Management
Electronic Signature
Equipment Maintenance
Equipment Management
Equipment Tracking
Exhibit/Vendor Management
Expiration Date Management
Facility Asset Management
Fixed Asset Management
For AEC Industry
For Mechanical Equipment
For Medical Purposes
For Small Businesses
Historical Reporting
IT Asset Management
IT Asset Tracking
Inspection Management
Inventory Auditing
Inventory Control
Inventory Management
Inventory Optimization
Inventory Tracking
Item Management
Job Management
Kitting
Label Templates
License Inventory
License Tracking
Location Tracking
Maintenance Management
Maintenance Scheduling
Mobile Access
Multi-Currency
Multi-Location
Order Management
Parts Management
Preventive Maintenance
Product Identification
Project Tracking
Purchase Order Management
Purchasing & Receiving
Quotes/Estimates
Real Time Data
Real Time Notifications
Reminders
Remote Access/Control
Reorder Management
Reporting & Statistics
Reporting/Analytics
Scheduling
Search/Filter
Serial Number Tracking
Service History
Spatial Analysis
Supplier Management
Support Ticket Management
Task Scheduling
Technician Management
Third Party Integrations
Trial License
User Management
Vendor Management
Warranty Tracking
Work Order Creation
Work Order Management
Workflow Management
Alternatives to EZOfficeInventory
Reviews of EZOfficeInventory
Marvin
Merchandise Manager in US
Verified LinkedIn User
, 51–200 Employees
Used the Software for: 1-5 months
Reviewer Source
Very easy to use and understand. Great user interface. Editing is a breeze!
Comments: This software is taking me from several huge spreadsheets and no photos to a streamlined, searchable, history tracking, photo attached inventory system. No longer do I have to track multiple files and spreadsheets. It is all in one place.
Pros:
It is FAST and very simple to use. I can change records so easily if I need to correct or edit anything. Adding custom fields is great for unique data. Searching is with the ability to search multiple terms at once. Filtering allows me to further 'drill down'. The three different types of items make it simple to separate company owned, client owned and disposable inventory. Adding photos and other documents is also very easy. Managing photos is fairly simple, but see 'cons' below. User permission has a very deep control mechanism allowing viewability to be finely tuned and managed as needed. The cart feature is awesome for checking out multiple items at once. You can then check in the same cart for fast returns. Searching with the mobile app via text, or scanning QR codes is blazing fast. Zero time is wasted waiting on EZO. Any lag is all on me. I use this software to track items in a photo studio, the things that belong to our clients that we are photographing. As such, we must isolate those items so that there is no client crossover. This works great!
Cons:
As of this writing (5/2018) the view is not 'responsive' to your screen size. It is also not possible to manually resize column widths. Some views allow you to hide the right sidebar while others do not. This is promised to be an updated feature coming in 7/2018. When interacting with individual records after a search, it is not possible to return to the search results. The search must be repeated. There is no feature to create shelf barcode or QR code labels. Must use external software, but you can easily link those, one by one.
Peter
COO in Denmark
Verified LinkedIn User
Construction, 2–10 Employees
Used the Software for: 1-5 months
Reviewer Source
Great customer service and good value for money
Comments: Good value for money. Quick and nice customer service. They respond within the same day and are very solution minded.
Pros:
It is relatively easy to get started setting up assets etc. in the system. As with most (all?) platforms it takes a while before your are 100% comfortable how to handle the different situations in the system. We use the QR scanner app which works flawlessly.
Cons:
It is OK intuitive to use - but not perfect. The UI is not a big issue - but it can be improved.
Alternatives Considered: Asset Panda, Sortly, ODT Rentals, Booqable, Rentman and HireHop
Reasons for Switching to EZOfficeInventory: Various reviews. Ease of implementation. Cost. Guidelines on webpage.
Civil Engineering, 2–10 Employees
Used the Software for: 6-12 months
Reviewer Source
Wow what a great product
Comments: I could not be happier overall there are some that I would like more tailored but overall great produce
Pros:
this is a feature-rich inventory management software that tracks and trends all of our gear
Cons:
i really wish there was a way to transfer the cart without checking everything back in
Alternatives Considered: 123 Sheets and Airtable
Reasons for Switching to EZOfficeInventory: it had the best GUI for my employees
Thomas
Warehouse and Logistics Administrator in US
Construction, 51–200 Employees
Used the Software for: 6-12 months
Reviewer Source
EZ Office Review
Pros:
It is relatively simple to learn and implement. I learned the basics very quickly
Cons:
The search feature can be annoying. Creating groups and sub groups helps narrow searches, but too often hen using the search bar, the items searched is not narrow enough. The group and sub group feature is very impotent.
Information Technology & Services, 1,001–5,000 Employees
Used the Software for: 2+ years
Reviewer Source
EZO in IT at SIU
Comments: We had difficulty maintaining an accurate inventory of IT assets so annual inventory processes were very manual and difficult to find items, especially with the increase of remote workers after COVID. Now everyone can respond to an inventory audit from wherever they are located on their own to acknowledge possession of the assets they have.
Pros:
I like the ability to assign assets to individual users to give them a sense of accountability. They perform their own audit responses and maintain their own location changes making it easier on back office functions. I also like the reporting functions both in the built-in reports as well as the custom reports that cater to the organization's needs.
Cons:
One problem we have had consistently over the years is that we have some 3000+ assets in the system but when we do the annual inventory, we cannot request the audit for our entire list of inventory at one time. We can only request the audit 25 lines at a time so that is time consuming.
Alternatives Considered: Asset Panda and eQuip
Reasons for Switching to EZOfficeInventory: It has the the desired functionality for a lower cost compared to others evaluated. We pay for a given number of users and a max number of active assets. The ability to attach equipment loan forms, images of assets, and user accountability make this a great tool.