15 years helping Australian businesses
choose better software
What Is Capsule?
The ideal CRM tool for companies with 10-1000 employees. Over 10,000 businesses across the globe use Capsule to better organize their customer facing and sales activities. Capsule is easy to use, yet powerful and customisable so you can adapt it to your business. It integrates with other popular apps such as Google G Suite, QuickBooks, MailChimp and Zapier for advanced sales automation. Starting from as little as $18 per user, you can get started in just a few minutes with our free trial.
Who Uses Capsule?
Owners of small and growing businesses that want to better organise their business and customer activities. Sales/Marketing Heads/VP's of small to medium sized businesses looking for a sales solution.
Where can Capsule be deployed?
Cloud-based
On-premises
---
About the vendor
Zestia
Located in Manchester, UK
Founded in 2009
Languages
English, Spanish
Capsule pricing
Starting Price:
USD 18.00/month
Yes, has free trial
Yes, has free version
Capsule has a free version and offers a free trial. Capsule paid version starts at USD 18.00/month.
About the vendor
Zestia
Located in Manchester, UK
Founded in 2009
Languages
English, Spanish
Capsule videos and images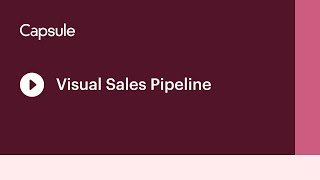 Features of Capsule
Activity Dashboard
Alerts/Notifications
CRM
CRM Integration
Calendar Management
Calendar/Reminder System
Campaign Management
Client Management
Collaboration Tools
Commenting/Notes
Contact Database
Contact Management
Customer Database
Customizable Fields
Customizable Reports
Dashboard
Data Import/Export
Document Management
Document Storage
Email Management
Email Marketing
Email Templates
File Management
For Real Estate
For Small Businesses
For Startups
For iPad Devices
Forecasting
Interaction Tracking
Lead Capture
Lead Distribution
Lead Management
Lead Nurturing
Lead Qualification
Lead Segmentation
Marketing Automation
Mobile Access
Mobile App
Opportunity Management
Performance Metrics
Pipeline Management
Predictive Analytics
Process/Workflow Automation
Quotes/Estimates
Referral Tracking
Reporting & Statistics
Reporting/Analytics
Sales Activity Management
Sales Pipeline Management
Sales Reports
Sales Trend Analysis
Search/Filter
Segmentation
Social Media Integration
Task Management
Territory Management
Third Party Integrations
Visual Analytics
Workflow Management
Peter
Director in UK
Verified LinkedIn User
Aviation & Aerospace, 2–10 Employees
Used the Software for: 6-12 months
Reviewer Source
Best CRM I've ever used
Comments: Peace of mind for my business
Pros:
Visual presentation of the data, ease of access, monthly subscription, data capture, project tracking, email link capability, mobile access.
Cons:
The CRM had no functions that I disliked
Alternatives Considered: Act!, Salesforce Sales Cloud and SugarCRM
Reasons for Switching to Capsule: All other products were too complex with difficult to set up daily interactions
Zestia Response
3 years ago
Hi Peter, Chloe here from Capsule. Thanks for taking the time out to write a review about Capsule - we're really glad it's helping your business!
Robert
CEO in Australia
Verified LinkedIn User
Education Management, 2–10 Employees
Used the Software for: 6-12 months
Reviewer Source
A simple CRM that allowed us to hit the ground running
Comments: Overall I have been pleasantly surprised. I at first thought the system would be too underpowered for what we needed, but it has actually delivered on what we have needed and the simplicity of changing things has allowed us to easily experiment with our processes until we have things right. It has suited our small team very well - and I look forward to seeing how well it scales with us.
Pros:
I like the simplicity of the system. It was very quick and easy both to setup (and make changes to) and then to use the system. It has been very easy to train new employees on. The system has some good power around workflows - which have helped us lock down our processes and helped new staff to follow them. It has a good integration with Xero which has saved us a lot of time and has just released an integration into a mail campaign tool (Transpond) which looks to be a nice added bonus.
Cons:
The system doesn't have a document generation tool (so you need to generate invoices and quotes in a separate system). It also is comparatively underpowered in the reports you can generate (even when you upgrade to the higher tiers that have additional reporting functionality). You can export full data sets to CSV - so we have built what we needed in Excel, but it would be nice to have it saved as reports and visualisations in the system. There also isn't the flexibility around notifications that I am previously used to (and so we have had to adjust the workflows a little).
Alternatives Considered: Salesforce Essentials
Reasons for Switching to Capsule: The initial price point was cheaper for Capsule (about half the price of Salesforce) - and I and other key staff members of the team had experience of setting up Salesforce and found that there was just a lot more to do before you could start using the system (and another step change of work before you could start using it again).
Zestia Response
last year
Hi Robert, Chloe from Capsule here. Thanks for taking the time to write a detailed review - it really helps our team when we receive first-hand feedback. We're so happy to hear that Capsule is helping your business and saving you time in a variety of ways. We've also taken onboard your feedback regarding document generation, reports and notifications. If anything should change on any of those fronts - you'll be the first to know. Regardless, we're very happy that you've been surprised by Capsule and look forward to helping your business scale in the future.
Verified Reviewer
Verified LinkedIn User
Computer Software, 11–50 Employees
Used the Software for: 6-12 months
Reviewer Source
Features and Format Lacking, Good for the Basics
Comments: Overall, Capsule seems middle-of-the-road. It's been useful as a database to keep our pipeline and outreach organized at a base level but hasn't impressed beyond that.
Pros:
The ability to export to Mailchimp has been very useful, it allows us to immediately update lists without having to go through multiple extra steps.
Cons:
Certain features I'm used to in a CRM are missing. The only way to correlate multiple organizations (as a subsidiary or similar case) is to make a note of it in the organization description and that doesn't link through. You're also unable to categorize a contact under multiple organizations, so you need to create a new person with the same name if you want to put them under more than one company. It would also be nice to have a better search and reporting function. The only things you can search for are the person, organization, case, and note content, so every other bit of information you'd like to search for and compile must be placed as a tag, which gets clunky and disorganized easily. There is some sales pipeline reporting, but the options are not as robust as other CRM systems I've used in the past.
Leisure, Travel & Tourism, Self Employed
Used the Software for: Free Trial
Reviewer Source
Day #1 of the evaluation
Pros:
DAY #1 - yes, I know, I know its early days but after using a high-powered corporate CRM for 20 years I find Capsules underlying principles of operations intuitive , and easy to understand. I accept there is much to do to get me back up and running in my small business but I'm really confident after my painful transition from a large US corporate CRM that it wont be as painless and frustrating. Also let me highlight an outstanding feature of Capsule. Hardware, software, R&D catchup, and leapfrog etc is the nature of the industry. But what my intuition tells me after a long time in the game what will set this company apart (and I've seen many over the years: good and abysmal) is the quality and calibre of the support. The support team wants me to succeed! :) and that gives me a lot of energy. I have spent 40 years in the IT game and to get a support response from halfway round the world in 4 hrs gives me great confidence. I will report back again year!
Cons:
I will report back in the next 6 months to give an update.
Jesse
Business Owner in US
Online Media, Self Employed
Used the Software for: 6-12 months
Reviewer Source
Capsule is simple to use and just the right number of features
Comments: I've been using Capsule for several months and I am very happy. Occasionally I try other apps just to see, but none of them are as easy to use. Capsule feels like a gem of a CRM in a field crowded with lots of apps. If you need reminders of who to follow up with and when, Capsule does that really well—and can grow with you as you grow. Next year I'll likely need to upgrade from the free level, and I'll gladly do so.
Pros:
As a service provider I have a lot of contacts to track. I tried several CRMs (Hubspot, Monday, etc) but none were as simple to use as Capsule. I had basic needs: track new contacts and set reminders to follow up. While other apps had those features alongside dozens of other tools, Capsule made it very easy to start tracking and reminding right away. And that's on a free level! The Gmail extension works really well and makes adding tasks quick and easy.
Cons:
If I was nitpicky, I'd say maybe a more modern design. But it's not strictly utilitarian, and it's simplicity makes it easy to do what I need.
Alternatives Considered: Pipedrive, Brevo, monday.com and HubSpot CRM
Reasons for Switching to Capsule: Other CRMs were pretty complicated for what I needed. I first tried Hubspot, but I was lost in all the features. All I needed to do was set reminders to follow up with people. While the other CRMs do that, it felt like I had to swim through a dozen other features to get there. I was able to start using Capsule immediately and knew exactly what to do. And with the Gmail extension, it's even simpler.
Zestia Response
2 years ago
Hi Jesse, Chloe here from Capsule. Thanks for taking the time to write a review - that's really going to help other people considering Capsule. We're happy to hear that you're finding Capsule so easy to use, especially compared to alternatives you considered and that it's helping you to do what you need to.