What Is Kickserv?
Kickserv provides users a custom user interface that allows them to monitor various aspects of their organization's workflows update and distribute invoices, monitor field technician status and more. The solution offers mobile applications for iOS and Android devices that help technicians and workers to send automated or custom job updates, notes and comments to the team in the office.
Who Uses Kickserv?
The service company looking to eliminate paper based processes, convert more leads, track & close opportunities better, get control of job scheduling & streamline invoicing and collection of payments.
Where can Kickserv be deployed?
Cloud, SaaS, Web-based, Mac (Desktop), Windows (Desktop), Windows (On-Premise), Chromebook (Desktop), Android (Mobile), iPhone (Mobile), iPad (Mobile)
About the vendor
KickServ
Located in Mill Valley, US
Phone Support
Chat
Countries available
Australia, Canada, United Kingdom, United States
About the vendor
KickServ
Located in Mill Valley, US
Phone Support
Chat
Countries available
Australia, Canada, United Kingdom, United States
Kickserv videos and images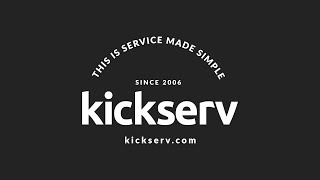 Compare Kickserv pricing with similar products
Features of Kickserv
Accounting Integration
Activity Dashboard
Activity Tracking
Alerts/Notifications
Appointment Scheduling
Automated Scheduling
Availability Management
Bid Management
Billing & Invoicing
Booking Management
CRM
Calendar Sync
Client Management
Communication Management
Confirmation/Reminders
Contact Database
Contact Management
Contract/License Management
Customer Database
Customer History
Customer Management
Customer Portal
Customizable Templates
Dispatch Management
Document Storage
Electronic Payments
Electronic Signature
Email Management
Employee Management
Employee Scheduling
Equipment Management
Estimating
Financial Management
For Carpet Cleaners
For Commercial and/or Industrial Electrical Contractors
For Handyman Industry
For Moving Companies
For Pest Control Companies
For Plumbing Industry
GPS
Image Capture
Intake Management
Interaction Tracking
Invoice Management
Job Costing
Job Management
Job Scheduling
Lead Management
Location Tracking
Maintenance Scheduling
Marketing Automation
Messaging
Mobile Access
Mobile Alerts
Mobile App
Mobile Signature Capture
Multi-Location
Online Booking
Online Payments
Online Time Clock
Payment Collection in the Field
Payment Processing
Pest Activity Tracking
Preventive Maintenance
QuickBooks Integration
Quotes/Estimates
Real-time Scheduling
Real-time Updates
Recurring Appointments
Recurring Orders
Reminders
Repair Tickets
Reporting & Statistics
Reporting/Analytics
Routing
Scheduling
Self Service Portal
Service History
Surveys & Feedback
Technician Management
Third Party Integrations
Time & Expense Tracking
Time Tracking
Work Order Creation
Work Order Management
Workflow Management
Ted
Vice President in US
Verified LinkedIn User
Construction, 2-10 Employees
Used the Software for: 2+ years
Excellent functionality and ease of use
Comments: Kickserv offers us the opportunity to quickly reschedule and update work orders in real time. The Quikbooks integration saves us time and money because we only enter customer info once.
Pros:
Kickserv enabled us to scale up the business and offers us excellent tracking for billing, communication, and customer service.
Cons:
There are no issues or downside for my company.
Kickserv Response
4 years ago
Thank you Ted. Your loyalty and willingness to take a moment to give us feedback is worth a lot to us. I hope it also helps others. Cheers!
Doug
General Manager in US
Music, 11-50 Employees
Used the Software for: 2+ years
Servicing Company - Long-time User
Comments: Generally very good.
Pros:
- As a CRM software, we are able to manage all of our customers, scheduling, invoicing and reporting (not as bookkeeping or Financial Statements) in a generally good way. - The inter-connectionedness of the various parts of the software makes it easy to navigate from one function to another. - Although there has been some down time (which can be very difficult because we cannot function), but over the long-term it has not be crucial. Being an online CRM allows me to use any device. - We are able to save virtually anything (pics, docs, etc.) for future use, which has been crucially important to us. - The integration with Stripe for payment from our customers is now essential to our processes. It has worked flawlessly, easy to use, and easy to deal with Stripe for various things we need to do, including refunds. - It works well for both our field service and in-shop jobs. This is crucial because using two systems would be very difficult. -We are easily able to tailor the Products/Services, pricing, descriptions, to our specific needs - not being locked into some format that we don't like.
Cons:
- Support is sometimes tedious. - New features added (if we find out about them at all) can be very disruptive to our processes, and confusing. While some of them make sense in a wider world, they sometimes are baffling and frustrating in our business. - We have 2 locations (and hope to have many more) and need to have separate systems. Kickserv requires us to use separate browsers for each. How are we going to be able to do that with 5 or 10 locations? And we're finding that some functions (e.g. access to support!) are no longer working on Firefox, one of the best and most popular browsers available. This is a serious problem for us. - Although a great deal of our business is field work, we do not/cannot use the mobile app with our techs because it is far too limiting. They need to be able to access much more information than what is available to them, and so we have them login through a browser on their phones. - There are essential functions that we have to do in business that Kickserv has not been able to program into the system (even when we offered to pay big $ to get them). E.g. There are several email templates, and auto sending emails: We need one to be sent as a follow up to Jobs, and another (sent out 6 or 12 months later) to remind people to schedule services . We have to do all of this manually, and would love to find a way to get it done automatically. Summary: Some things are hard to get into the software that other companies would also make good use of.
KickServ Response
9 months ago
Thank you Doug for your continued support and taking the time to leave us some feedback. We greatly appreciate it. Know that your feedback does not fall on deaf ears and we are always working on ways to improve Kickserv.
Construction, 2-10 Employees
Used the Software for: 2+ years
Alternatives Considered:
HVAC Company
Comments: Great would not trade
Pros:
Taking payments and history and tech support
Cons:
Nothing I can think of just highly recommend
KickServ Response
2 months ago
Daniel - thank you for the great feedback. 10 out of 10 is certainly what we are working so hard to achieve for every customer. Email us and we discuss further.
Josh
Support mananger in US
Information Technology & Services, 11-50 Employees
Used the Software for: 2+ years
Lack of response to concerns. Converted us to new platform a day early while open.
Comments: Our experience with this software was average until the migration from SSK to Kickserv. 1) Our migration was scheduled for the evening of 2/2/17 but instead was run during the morning.
2) This resulted in us not being able to access our entire database for the entire workday. We lost customers and business as a result.
3) The only response we have gotten from Kickserv is "Sorry about the confusion".
4) Responses to issues about the new platform are not helpful and delayed.
5) Cannot upload certain file-types as attachments (Old SSK allowed anything)
6) Editing estimates does not work correctly
7) There are problems with payment capturing in Kickserv. Kickserv seems to ignore some line items.
8) When asked how to permanently complete tasks for re-occurring jobs, the only response I got was "Let me see if I can explain how to do this one".
9) None of our questions or issues have been resolved.
Pros:
drag and drop capabilities
Cons:
Since switching over to the new platform, there are issues with billing and attaching. Customer support is not helpful
Kickserv Response
5 years ago
The experience you had with the migration of your account was very unfortunate. Having your system not available during your working hours is a serious issue and we apologize for that error. We did work with your co-worker on the phone to handle the major issue which was mainly getting the sync working successfully again. To acknowledge some of your comments here we currently don't restrict file types. I have requested for your company to send us any file types that seem to not upload. Also, with the issues of editing estimates and capturing certain line items we are not aware of any issues and appreciate any specific feedback on these issues through the normal lines of support at any time. We will clarify with you on what occurred exactly with your earlier question via our support lines of how to complete tasks for re-occurring jobs. We very much appreciate your loyalty with us and hope we can make up for the disruption to your business as we move forward.
Linda
ADMINISTRATIVE ASSISTANT in US
Consumer Services, 2-10 Employees
Used the Software for: 2+ years
Great Software
Comments: I am a lot more comfortable with the software now. However, in the beginning I used customer support A LOT. They were always prompt and helpful, which is a treat when learning a new software.
Pros:
I love the ease of use and the ability to create a customer account and follow it through from the iniital contact, scheduling an estimate and the actual work itself, keeping track of payments, keeping track of customer services/purchases , downloading customer job information and sending out receipts. For me, who does not a very good memory, the reminder notes is paramount. I refer to them multiple times during a job and these notes have saved me many times because I do a lot of followup and the ability to pull up each day's followup notes is just great. I don't generally tend to miss a beat with my customer service - all because of Kickserv!!
Cons:
The only think I can think of, based on what I use, is being able to get to the Reminder section as quickly as I want to. If I am in the Job section, I have to go back to the customer name and then go to the Reminder section. Not a BIG deal, just a little glitch.
KickServ Response
3 months ago
Another satisfied customer of Kickserv. I agree with the use of the reminders. I have so much to remember and the reminder of notes is a great way to never miss task or a follow-up. Thank you Linda.