15 years helping Australian businesses
choose better software
What Is Lightspeed Retail?
Manage all locations from a unified POS and payments platform that evolves with your business. Streamline operations and accelerate growth with industry-leading tools, payment technology and integrations that enable you to keep up in today's fast-moving and competitive retail landscape.
Get real-time insights into your sales, product and team with customisable reports available anywhere, anytime. Experience unified commerce with a truly unified platform by connecting all your stores and channels to provide seamless customer experiences at every touchpoint. Depend on dedicated 24/7 support from retail specialists who know your business.
Who Uses Lightspeed Retail?
Lightspeed powers businesses in over 100 countries. From Apparel to Home & Gardening, Lightspeed Retail supports entrepreneurs to improve efficiency and increase visibility across different areas such as inventory and sales in their store, or chain of stores.
Where can Lightspeed Retail be deployed?
Cloud-based
On-premises
---
About the vendor
Lightspeed
Located in Montreal, Canada
Founded in 2012
Lightspeed Retail support
Phone Support
24/7 (Live rep)
Chat
Languages
Dutch, English, French, German
Lightspeed Retail pricing
Starting Price:
$79.00/month
Yes, has free trial
No free version
Lightspeed Retail does not have a free version but does offer a free trial. Lightspeed Retail paid version starts at $79.00/month.
Pricing plans
get a free trial
About the vendor
Lightspeed
Located in Montreal, Canada
Founded in 2012
Lightspeed Retail support
Phone Support
24/7 (Live rep)
Chat
Languages
Dutch, English, French, German
Lightspeed Retail videos and images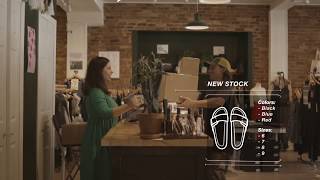 Features of Lightspeed Retail
API
Accounting
Accounting Integration
Activity Dashboard
Barcode Recognition
Barcode/Ticket Scanning
Barcoding/RFID
Billing & Invoicing
CRM
Cataloguing/Categorisation
Channel Management
Check-in/Check-out
Content Management
Cost Tracking
Credit Card Processing
Customer Accounts
Customer Database
Customer Management
Customisable Branding
Customizable Fields
Customization
Data Import/Export
Data Synchronization
Discount Management
Electronic Payments
Email Marketing
Employee Management
For Bakeries
For Jewelry Stores
For Liquor Stores
For Retail
For Small Businesses
For iPad Devices
Gift Card Management
Inventory Auditing
Inventory Control
Inventory Management
Inventory Optimization
Inventory Tracking
Item Management
Loyalty Program
Marketing Automation
Mobile Access
Multi-Channel Marketing
Multi-Location
Multi-Store
Order Management
Ordering Automation
Payment Processing
Point of Sale (POS)
Pricing Management
Product Identification
Product Management
Promotions Management
Purchase Order Management
Real Time Data
Remote Access/Control
Reorder Management
Repair Tracking
Reporting & Statistics
Reporting/Analytics
Retail Inventory Management
Retail Management
Returns Management
Returns Tracking
SEO Management
SSL Security
Sales Orders
Sales Reports
Search/Filter
Serial Number Tracking
Shopping Cart
Supplier Management
Third Party Integrations
Touch Screen
Transaction History
Transaction Management
Website Management
eCommerce Management
Alternatives to Lightspeed Retail
Reviews of Lightspeed Retail
Zondre
General Manager in US
Verified LinkedIn User
Retail, 11–50 Employees
Used the Software for: 1+ year
Reviewer Source
Great integrated system
Comments: Lightspeed has been great. We have been using it for over a year and it has met my expectations. Whenever I request help, which isn't that often anymore they are quick to respond.
Pros:
The best feature of LIghtspeed is the analytics package. As a senior manager you can spend a lot of time calculating your performance manually in excel. But the Analytics package takes care of all of that. It's easy to see the performance of your inventory, employees and marketing at any time. There are also a lot of apps that work with Lightspeed that make it the most functional POS system I've used. The fact that the ecommerce is integrated as well makes it a great fully integrated system. You could pay a lot more to piece together all the of the systems you need. Or you could spend a huge amount of money creating a custom system.
Cons:
There are some small idiosyncrasies like not adjusting sync times for your local time zone. So, yesterday is never accurate you have to wait for the next days sync to get have accurate information. I would also like to be able to have our time management app sync employee time to Lightspeed so we don't have to enter it manually. I've given up on tracking employee hourly performance for this reason. Or if they offered a better time clock management natively that would help. I'd also like them to include the previous year comparisons in their dashboard. And, I'd like to look at seasonal performance rather than just month to month and week to week.
Alternatives Considered: Clover, Shopify POS and Vend
Reasons for Choosing Lightspeed Retail: I wanted a cloud based integrated system
Switched From: Clover, Shopify POS and Vend
Reasons for Switching to Lightspeed Retail: I looked at a couple of others too that I can't remember. A lot of them had great features, but none of them had all of the features to have a fully integrated system for our customers to shop online or in person. And, none of them had the analytics tools that Lightspeed has.
Verified Reviewer
Verified LinkedIn User
Telecommunications, 501–1,000 Employees
Used the Software for: 1+ year
Reviewer Source
The Point of Sale solution
Comments: Overall, the software does a great job in helping Accountants, managers and front liners in the Retail industry. What's great is that it integrates with ECommerce to be more efficient in selling your products out there, not just from the brick and mortar setup, but in the online as well.
Pros:
I tinkered with this software and got ot know this from the inside and out. I like the functionalities as it allows you to break free from the spreadsheet and manual entry. Gone are the days of tallying and doing adjustments on a piece of paper. It has filter functions for reporting, it auto calculates taxes by assigning it in the initial setup, browser printing integration, you can conveniently import inventory from a csv file to your POS system and export those reports in a csv format. The hardware associated to it works seamlessly like the tablets, scanners, and printers. Although , it endorses Apple products, it works perfectly fine with Windows operating systems. It also has a companion product which is called Lightspeed Accounting that is comparable to Quickbooks
Cons:
A few bugs are slowly being fixed as each maintenance and update is released, just like any other software. Although workarounds can be done to remedy it, but you'd have to seek assistance from Tech Support.
Alternatives Considered: QuickBooks Desktop Enterprise
Reasons for Switching to Lightspeed Retail: We were after functionalities that Lightspeed can provide. Although both of them are similar, the interface is more user-friendly compared to Quickbooks. And that is important for us, since learning a new tool can be taxing with the time you need to spend navigating and learning it from the inside and out.
Ekin
Operations Specialist in Türkiye
Wholesale, 11–50 Employees
Used the Software for: 6-12 months
Reviewer Source
Solid system for retail
Comments: It is capable software system can handle your small retail shop with ease. inventory management, barcoding, point of sale, price tracking, reports etc all work well. It is bit hard to reach for customer service and lots of training required.
Pros:
Software is intact, does not give random errors. you can count on
Cons:
it is a bit hard to settle if you have an inventory at some other software. it would be better to have more sync options.
Verified Reviewer
Verified LinkedIn User
Retail, 11–50 Employees
Used the Software for: 1-5 months
Reviewer Source
Source: GetApp
Not compatible with existing WooCommerce / Terrible Customer Service
Comments: A true business interruption costing us significant time and money!
Pros:
It was so dumbed down that anyone could use it, sadly this also makes it vulnerable to security breaches and theft
Cons:
Almost everything, from being totally mislead in the sales process, squeezed into their processing, ignored and dismissed on support tickets. Terrible service overall.
Alternatives Considered: Square Point of Sale, Clover, KORONA POS and Hike
Reasons for Choosing Lightspeed Retail: QB POS End of life
Reasons for Switching to Lightspeed Retail: The salesman was relentless and lied to me about it's capabilities even with detail Q&A. I was mislead by their white papers and sales process only to be dropped like a hot potato and bounced from department to department with no resolution or solutions. They refuse to escalate anything to a management member.
Lightspeed Response
last month
Hi, We would like to sincerely apologize for your recent experience with Lightspeed. It is our utmost priority to provide products and services that allow our customers to focus on running their businesses with ease. We value all feedback and would like to learn more about your specific experience, to have the opportunity to address your needs and concerns. As we are unable to identify your account within our records, please feel free to contact our Customer Success team should you wish to provide further feedback. You may reach us via email at [email protected].
Food & Beverages, 2–10 Employees
Used the Software for: 2+ years
Reviewer Source
Source: SoftwareAdvice
Bs money grab don't use this system.
Comments: Terrible
Pros:
This was an amazing system until they showed their true colors by forcing me (and others) to pay them $400 more a month if you don't use their payment system. After comparing their prices to my current rates it is cheaper to pay them $400.
Cons:
This company has no ethics. They forced their user base to switch to them to do payment processing. They said it made it easier to do it that way. Complete lie. I pull my sales from them to quick ooms them pull my banking from eleven I to quick books. At no time.e does their system need me to use their payment system but they still are foing to charge an extra $400/month if I don't move to their higher rates. One way or another they decided that they needed more of money.