Jitbit Helpdesk
What Is Jitbit Helpdesk?
Jitbit Helpdesk is a great helpdesk app with clean UI and simple set up process. But all the features are there: automation engine, file-attachments, integrations (JIRA, Slack, Dropbox, Github etc), email-integration, Knowledge-base module etc. etc.
Jitbit Helpdesk is offered both as a SaaS version and an on-premise tool installed locally on a server.
Who Uses Jitbit Helpdesk?
Jitbit aims at both startups and small self-funded companies and big enterprises with 50+ support agents.
Jitbit Helpdesk Details
Jitbit
Founded in 2005
Jitbit Helpdesk pricing
Starting Price:
USD 29.00/month
Yes, has free trial
No free version
Jitbit Helpdesk does not have a free version but does offer a free trial. Jitbit Helpdesk paid version starts at USD 29.00/month.
Pricing plans
get a free trial
Jitbit Helpdesk Details
Jitbit
Founded in 2005
Jitbit Helpdesk videos and images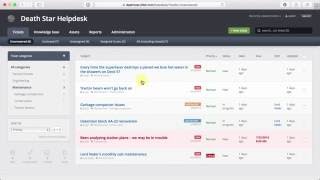 Jitbit Helpdesk deployment and support
Support
Email/Help Desk
FAQs/Forum
Knowledge Base
24/7 (Live rep)
Chat
Deployment
Cloud, SaaS, Web-based
Windows (Desktop)
Linux (Desktop)
Windows (On-Premise)
Linux (On-Premise)
Android (Mobile)
iPhone (Mobile)
iPad (Mobile)
Training
Live Online
Documentation
Videos
Features of Jitbit Helpdesk
API
Access Controls/Permissions
Activity Dashboard
Activity Tracking
Alerts / Escalation
Alerts/Notifications
Automated Routing
CRM
Call Center Management
Chat/Messaging
Client Portal
Customer Database
Customer History
Customisable Branding
Customisable Forms
Customizable Fields
Customizable Reports
Customizable Templates
Data Import/Export
Document Storage
Email Management
Email Templates
Feedback Management
Help Desk Management
IT Asset Management
Interaction Tracking
Knowledge Base Management
Live Chat
Macros/Templated Responses
Monitoring
Multi-Channel Communication
Network Monitoring
Performance Metrics
Prioritization
Real Time Notifications
Real-Time Chat
Remote Access/Control
Reporting & Statistics
Reporting/Analytics
Self Service Portal
Service Level Agreement (SLA) Management
Social Media Integration
Support Ticket Management
Support Ticket Tracking
Surveys & Feedback
Third Party Integrations
Ticket Management
Workflow Configuration
Workflow Management
Matt F.
Telecoms Engineer in UK
Verified LinkedIn User
Telecommunications, 11-50 Employees
Used the Software for: 2+ years
Fantastic Self Host Helpdesk
Pros:
The pricing model for Jitbit self hosted makes the product exceptional value for money, made even better by the license being perpetual. With the backend being SQL this also allows for database level backups to be taken and managed, as well as 3rd party integration at database level. The interface is clean, and simple to use both from a tech and end user perspective. Unlike other helpdesk software on the markets the message thread is clean and easy to read. There is also a well build mobile application available.
Cons:
The reporting element of the helpdesk software is somewhat lacking in the number of reports which can be generated. These reports are also very rigid and allow little customisation.
Michael M.
IT Support Supervisor in US
Industrial Automation, 1,001-5,000 Employees
Used the Software for: 2+ years
Jitbit - The best Bang for the Buck!
Comments: Jitbit has provided me clear viability into my current workload for my team.
I am now able to create a strong business plan to grow my department, delegate the work efficiently , and allow me to interact with other lines of business without interrupting my day to day operations.
Pros:
Flexibility, speed and ease of use are what make this software the premier application for a Web based HelpDesk. There is hardly any delay when waiting for a ticket to come in, and with a robust rule structure you can quickly get the ticket to the right support rep with minimal downtime or delay for the user.
Cons:
There's not a lot because every time I find a challenge or a missing feature, the Jitbit team is quick to review and address it.
Alternatives Considered: Zendesk
Reasons for Choosing Jitbit Helpdesk: Speed, ease of use, flexibility, modern programming
Switched From: FootPrints
Transportation/Trucking/Railroad, 10,000+ Employees
Used the Software for: 1-5 months
Source: SoftwareAdvice
Worst Customer Service
Comments: Worst customer service ever, The App doesn't work. Please keep your money. You will never get this to work on your own, and they offer no help at all.
Pros:
Nothing, It didn't work
Cons:
It doesn't work
Alex Response
3 years ago
We're sorry you were unable to set it up. I assume you were trying to install the on-premise version that does require some technical skills or administering a web-server, setting up a MS SQL database, configuring windows-integrated authentication and other tricky stuff depending on your requirements. That is why we also offer the SaaS (hosted) version that works in the cloud and requires literally zero setup. But nevertheless I regret and apologize the lack of support you experienced from us. If you could provide more details, we can investigate further.
Verified Reviewer
Content & Experience Manager in Italy
Verified LinkedIn User
Financial Services, 51-200 Employees
Used the Software for: 2+ years
Ottima soluzione per la gestione dei ticket
Comments: Complessivamente trovo la gestione dei ticket completamente tracciabile e flessibile: ottimo il sistema di risposte interno al ticket, di cui apprezzo il campo di testo a cui è possibile allegare qualsiasi documento, oppure incollare direttamente uno screenshot. Comoda la possibilità di personalizzare le impostazioni per configurare gruppi di utenti, ad es. "Reparto IT", "Reparto Vendite" e così via, e gli agenti assegnati a tali gruppi riceveranno notifiche tramite posta elettronica. Comoda la possibilità di collegare due ticket, oppure di unirli.
Pros:
In generale permette di avere una chiara visione del attuale carico di lavoro per ciascun elemento del team. Inoltre struttura il flusso di lavoro in modo efficiente e permette di interagire con gli altri reparti in modo veloce. Molto comoda l'Integrazione della posta elettronica, che permette di rispondere ai ticket via mail. Ho davvero apprezzato l'integrazione con Trello. Molto interessante la possibilità di sapere in tempo reale di sapere chi sta guardando o scrivendo un ticket, tramite gli alert "anche l'utente X sta guardando questo ticket e sta digitando una risposta"
Cons:
Non ho rilevato nessun difetto strutturale. Per quanto riguarda la versione mobile, non c'è la funzione "Cerca" e il layout non è organizzato come nella versione desktop: questo aspetto è molto migliorabile.
Verified Reviewer
Verified LinkedIn User
Used the Software for: 1+ year
Source: GetApp
Affordable and easy
Comments: We've been using this for 2.5 years. First, we wanted to go with the on-premise version (the company offers one) but then they convinced us to try the cloud-hosted and it worked great. We connect our users using SAML authentication use a hosted AD on Azure, and this makes life soo much easier.
Pros:
Low price, responsive customer support, very nice UI.
Cons:
Lack of social media integration, but you hack your own using Zapier. Also, there's no "Search" function in the Android app, hope they add this.