15 years helping Australian businesses
choose better software
What Is Kantata?
The Kantata Professional Services Cloud is purpose-built to help organizations with 50 to 5000+ employees unify resource management, project management, financial management, business intelligence and team collaboration all in one solution. Elevate your performance and unlock your potential with better operational execution throughout the entire professional services project lifecycle.
Who Uses Kantata?
Kantata is ideal for professional services organizations with 50-5000+ employees. Focused in marketing, advertising, creative agencies, software, IT services, and management consulting industries.
Where can Kantata be deployed?
Cloud-based
On-premises
---
Kantata support
Phone Support
24/7 (Live rep)
Chat
Kantata pricing
Starting Price:
Yes, has free trial
No free version
Kantata does not have a free version but does offer a free trial.
Pricing plans
Kantata support
Phone Support
24/7 (Live rep)
Chat
Kantata videos and images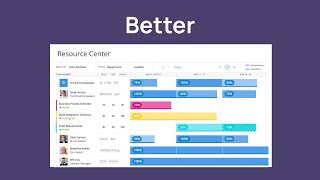 Features of Kantata
@mentions
API
Access Controls/Permissions
Accounting Integration
Activity Dashboard
Activity Tracking
Alerts/Notifications
Approval Process Control
Assignment Management
Bar Chart
Billable & Non-Billable Hours
Billing & Invoicing
Budget Management
Budgeting/Forecasting
Business Process Automation
Calendar Management
Campaign Management
Capacity Management
Change Management
Client Management
Client Portal
Collaboration Tools
Color Codes/Icons
Commenting/Notes
Communication Management
Cost-to-Completion Tracking
Customizable Templates
Dashboard
Data Import/Export
Dependency Tracking
Document Management
Drag & Drop
Event Triggered Actions
Expense Tracking
File Sharing
Forecasting
Gantt/Timeline View
Graphical Workflow Editor
Idea Management
Invoice Management
Kanban Board
Milestone Tracking
Mobile Access
Mobile Time Tracking
Multiple Projects
Online Time Tracking Software
Overtime Calculation
Percent-Complete Tracking
Performance Metrics
Portfolio Management
Prioritization
Progress Tracking
Project Management
Project Planning
Project Planning/Scheduling
Project Scheduling
Project Time Tracking
Project Tracking
Real Time Data
Real Time Updates
Remote Access/Control
Remote Support Software
Reporting & Statistics
Reporting/Analytics
Reporting/Project Tracking
Resource Management
Resource Request
Resource Scheduling
Risk Management
Role-Based Permissions
Search/Filter
Skills Tracking
Status Tracking
Tagging
Task Management
Task Progress Tracking
Task Scheduling
Template Management
Templates
Third Party Integrations
Time & Expense Tracking
Time Tracking
Timesheet Management
Utilization Reporting
Vacation/Leave Tracking
Visualization
Workflow Configuration
Workflow Management
Mike
Project Manager in UK
Verified LinkedIn User
Marketing & Advertising, 51–200 Employees
Used the Software for: 1+ year
Reviewer Source
Awesome platform that's only getting better
Comments: Overall, using Mavenlink has been great - it has made a very positive impact on day-to-day functions as a business. I would recommend it highly to agencies for its flexibility and extensive functionality to manage resources and projects.
Pros:
The reporting functionality Mavenlink offers is extensive and has enabled us to get much better visibility to our project, program, portfolio and resourcing data. Which in turn has allowed us to set/adjust our KPI/KRIs and better inform business decisions with the data we have available. In using Mavenlink how it's meant to be used, not only have we improved our business practices but our PMO has gained valuable insight into important aspects of the business that were previously siloed. The fact that Mavenlink actually continues to improve its platform based on user feedback is a massive plus, as new functionality becomes available to better utilize the platform.
Cons:
There are some small (very small in most cases) problems we have with some functionality i.e. the naming/categorization of metrics in the reporting suite could be clearer, when approving/rejecting timesheets, adding a comment to a specific entry would be preferable, rather than the comment being published to all entries.
Alternatives Considered: WorkflowMax and Adobe Workfront
Reasons for Choosing Kantata: Budgetary reasons mainly but we also needed a platform that would allow us to manage resources more efficiently as well.
Switched From: Adobe Workfront
Reasons for Switching to Kantata: Fitted to our budget and offered functionality we saw as essential to resource management.
Andrew
Head of Group Operations in UK
Marketing & Advertising, 201–500 Employees
Used the Software for: 2+ years
Reviewer Source
Effective tool with ease of use and a broad range of features
Comments: Very good. We have made suggestions that have been listened to and implemented, we have worked with their customer success team extensively to our benefit. Their help support is excellent when you encounter problems and the software was adaptable to all our needs.
Pros:
There is a lot to like about the product. Easy task management with lots of capabilities, time and expense tracking that is simple. Extended resource management options for minute details or broad allocations and a really engaged Customer Success team.
Cons:
Not a lot to write here. I think the only issue is that it is hard to use at a hourly scale where you need to set time deadlines in the day.
Brendan
Associate in Canada
Management Consulting, 51–200 Employees
Used the Software for: 1+ year
Reviewer Source
Good system but some frustrating issues
Comments: Useful overall, but the more time I spend with it the more I realize it is missing some key functionality that would save a lot of time. It's much more difficult to update a project in Mavenlink than past systems I've used, and I think there are some beneficial tweaks that could be made
Pros:
From an ease of use standpoint, time entry and project creation is fairly straightforward. It's also nice to have access to so many reporting features, although I imagine that's even more valued by the leadership team rather than staff.
Cons:
Three major issues stand out to me and my colleagues: 1- the software is very slow at times, and the more time I spend making edits to a project the longer it takes. In some cases, the lag is so bad that a task that should take 10 minutes ends up taking 30 since I wait so long for the system respond. The more tasks and individuals assigned to a project, the worse it is. Customer service suggested I delete my cache, but this was a temporary and fairly ineffective solution 2- It'd be great to have a simple place where I can see exactly how many hours a team member has on a project. Right now, we can only see time assigned to individual tasks, and then need to calculate the total manually 3- When tasks get extended or shortened, it'd be great to have a way to have Mavenlink automatically distribute time accordingly. For example, if I have 1 hour assigned for a 1-week long task, it'd be nice if I could automatically change this to 30min/week if that task were extended to being 2 weeks long. I know time can move automatically if the gantt is updated, but that only works if the task stays the same duration and hasn't started yet. Other systems offer this feature
Construction, 2–10 Employees
Used the Software for: 6-12 months
Reviewer Source
Avis kantata
Pros:
Kantata software is very good software for task management. Not only do I save time and productivity, but its user interface is easy as well as the prices which are proportional
Cons:
The disadvantages of kantata are that it does not have a free version and despite the easy access of its user interface, the latter remains a little customizable
Jessica
Game Programmer in US
Verified LinkedIn User
Computer Software, 201–500 Employees
Used the Software for: 1+ year
Reviewer Source
Kantata has transformed project and cost management
Comments: Using Kantata , we finally have a way to track the time and effort put in by our engineers across all of the projects they're working on. We were able to respond to questions from our leaders much more quickly, which helped us avoid certain personnel problems.
Pros:
Kantata has revolutionized our approach to budgeting and task management. The opportunity to centralize all of our initiatives in one place and provide individualized reports that tracked our development in relation to our key performance indicators is something we are really grateful for. We also take pleasure in learning where we may be under- or over-allocating our engineers, so that we may swiftly adjust our course.
Cons:
As far as we can tell, employing Kantata does not come with any major drawbacks. Reports are not sorted alphabetically or numerically, however these are minor issues.