15 years helping Australian businesses
choose better software
What Is DataSnipper?
DataSnipper is an Intelligent Automation Platform within Excel that accelerates Audit and Finance teams' productivity.
DataSnipper helps to eliminate repetitive tasks, extract, cross-reference, and document the source of any audit and finance procedure.
The Excel Add-in streamlines your work processes and helps you reach your deadlines faster.
Trusted by Deloitte, EY, KPMG, PwC, BDO and other market leaders. Active in 85+ countries and used by over 500.000 finance professionals.
Who Uses DataSnipper?
DataSnipper can help all auditors and finance professionals around the globe, large or small. One solution for all your audit and finance procedures.
Where can DataSnipper be deployed?
Cloud-based
On-premises
DataSnipper pricing
Starting Price:
Yes, has free trial
No free version
DataSnipper does not have a free version but does offer a free trial.
DataSnipper videos and images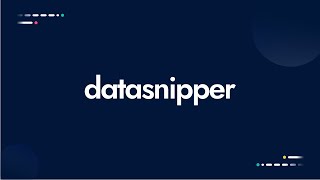 Features of DataSnipper
AI/Machine Learning
Audit Management
Audit Planning
Audit Trail
Auto Extraction
Bank Reconciliation
Billing & Invoicing
Cash Management
Compliance Management
Customer Statements
Customizable Reports
Dashboard
Data Aggregation and Publishing
Data Import/Export
Data Management
Document Extraction
Document Management
Email Address Extraction
Expense Tracking
Forms Management
General Ledger
Image Extraction
Income & Balance Sheet
Pricing Extraction
Profit/Loss Statement
Purchase Order Management
Reporting/Analytics
Risk Analysis
Risk Assessment
Task Management
Third Party Integrations
Version Control
Alternatives to DataSnipper
Juan
CEO in US
Verified LinkedIn User
Computer Software, 2–10 Employees
Used the Software for: Free Trial
Reviewer Source
The must-have tool to boost my productivity in audit and finance
Comments: What stands out the most is its ability to automate repetitive tasks. Before, I spent hours manually extracting and cross-referencing data, but with this tool, I can accomplish these tasks in a matter of minutes.
Pros:
What I liked the most is its ability to automate repetitive tasks and speed up my productivity in audit and finance. With just a few clicks, I can extract data, cross-reference, and document the source of any procedure quickly and easily.
Cons:
One of the drawbacks I have found is that at times the data extraction can be a bit limited in terms of the variety of formats that can be parsed. Sometimes when working with more complex files or databases, I have experienced difficulties extracting certain specific data.
Harischandra
Partner in Sri Lanka
Accounting, 51–200 Employees
Used the Software for: 1+ year
Reviewer Source
Auditing with DataSnipper
Comments: Our team has been using DataSnipper for several months now, and it has considerably improved our efficiency in audit work. The automation features have saved us a significant amount of time on repetitive tasks, allowing us to focus on higher-risk areas. The intelligent audit features have also helped improve the accuracy and quality of our work. However, there are some functional issues, such as the Validation Snip and Table Snip, that need improvement. Additionally, the pricing structure can be prohibitive for small and medium practitioners with low license volumes. Despite these issues, DataSnipper remains a valuable tool for auditors looking to streamline their workflow and improve efficiency.
Pros:
DS has truly impacted the way we audit over the last year. We have been using the tool for a few months now, and we can confidently say that it has saved us a considerable amount of time on repetitive tasks. This has allowed us to shift our focus towards more high-risk areas and tasks that require the attention of senior resources. As a result, we have been able to improve the quality and accuracy of our work.One of the key benefits of DS is its automation features. The tool automates many of the manual tasks that we used to perform, such as vouching, verifying, copying and pasting data, and reconciling data. This has freed up a lot of our time and resources, which we can now allocate towards more valuable tasks that require our attention.Another benefit of DataSnipper is its seamless integration with Excel. Most of our audit work is done in Excel, so having a tool that integrates with it is incredibly convenient. This also makes it easy for us to get started with the tool without extensive training, as we are already familiar with the Excel interface.The user-friendly interface of DataSnipper is another advantage. The tool is intuitive and easy to use, even for those who are not Excel experts. Overall, DataSnipper is a tool that any auditor should consider. It streamlines our workflow and improves our efficiency, which allows us to provide better value to our clients.
Cons:
While DS has been a useful tool for automating certain audit tasks, there are some areas for improvement that could impact its overall effectiveness. One issue is the high price, which may be prohibitive for small and medium practitioners with low license volumes. Additionally, the pricing structure can be discriminatory towards customers with lower volumes, which can be frustrating.There are also some functional issues that could potentially affect the reliability and accuracy of the tool. For example, the Validation Snip does not actually validate amounts and users may unintentionally mark something as validated when it is not. The Table Snip also has issues when editing rows, which can cause data to be merged incorrectly.Another area for improvement is the lack of formatting options and inability to change general settings of functions, such as font size and color. Additionally, it would be helpful to have the ability to insert audit ticks into imported documents.While the FIND ALL SUMs function is useful, it does not always accurately check the totals when there is a net total, and the SUM Snip may pick up some numbers with a minus sign when they should be positive. Overall, while DS can be a helpful tool for automating audit tasks, users should be aware of these potential issues and weigh them against their specific needs and preferences. DS's use may cause Excel to freeze and it's incompatible with older versions of Office, but doesn't detract from its overall value.
Dennis
Supervisor in Israel
Accounting, 1,001–5,000 Employees
Used the Software for: 1-5 months
Reviewer Source
Not impressed
Pros:
It's a cool tool to attach documents to a working paper with easy referral to the desired place in the document.
Cons:
The data recognition gave me many discrepancies that I couldn't use the tool to check the relevant data
DataSnipper Response
11 months ago
Good afternoon, Dennis, thanks a lot for your review and for bringing this problem. My assumption that it might be connected to Hebrew OCR. I asked my colleagues to contact you for further investigation and I hope we will find a solution that would work! Best regards, DataSnipper Marketing team
Shea Sheenamae
Analyst in Philippines
Accounting, 1,001–5,000 Employees
Used the Software for: 1+ year
Reviewer Source
Efficient
Comments: Overall, it very useful and efficient to use.
Pros:
It helps users save time of copying and pasting data from pdf to excel file. It makes the work more efficient.
Cons:
When having big multiple files imported, it slows down the opening of workpapers.
Anja
Audit Supervisor in Netherlands
Accounting, 11–50 Employees
Used the Software for: 2+ years
Reviewer Source
Datasnipper is worth it!
Comments: Datasnipper solves the time problem in audit by eliminating the need to capture support manually and also human error where mistakes are made when documents are captured. These documents are imported and the detail thereon is either extracted or snipped instead of being captured manually by retyping from physical documents. Which saves alot of time and also does not leave juniors stuck on tasks for hours and hours.
Pros:
Datasnipper eliminates phantom ticking - one of audit engagements worst threat (the threat that an audit member will state that it is correct without checking the support or substance) Due to the ability of the software to import the support and then allow the manager to check it that what is tested is correct is fantastic. Also significantly reduces capturing errors made by junior staff when capturing a lot of support.
Cons:
Some features are not available and require additional expansion or products to get the use of the functionality. The standard model is great but is not really competing with all the additional features that are available and you are limited to the subscriptions purchased by the organization as a user.